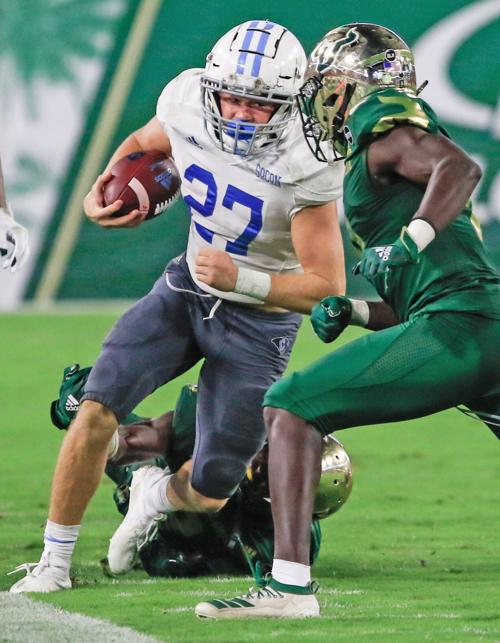 FLORENCE, S.C. — Cooper Wallace showed promise in The Citadel's spring game as its quarterback, rushing for a 24-yard touchdown run and then leading a 66-yard scoring drive — a game he capped off with a TD.
But that was when he was quarterback.
Six months later, the former West Florence star is still making an impact — but as a Bulldog A-Back in the triple option. He started in last weekend's 27-6 loss to South Florida, and rushed five times for 11 yards. His biggest gain was an 8-yarder.
"I got to the edge once or twice. I had one or two good runs," Wallace said. "It was pretty stuffed up most of the time (the Bulldogs finished with 200 rushing yards). We were having struggles getting the ball rolling. But when I did get to carry the ball, it was fun."
As for today's 4 p.m. game at top-ranked Clemson (ACC Network), Wallace is second on the depth chart behind Keyonte Sessions, who was inactive last week.
"It's been crazy," Wallace said. "I came in, and they had talked about (the switch) the whole time I was here but they didn't made the switch at the time. But this year, with corona, and having a couple of our veteran guys opt out (Dante Smith and All-American Alex Ramsey), I got thrown into the fire and had to do it. And now, I'm just trying to make the most of it."
Before signing with the Bulldogs, Wallace certainly made the most of his senior year at West Florence, where he was co-Region 6-5A offensive player of the year. On the football field, Wallace finished with 1,354 passing yards and 13 touchdowns. In addition, he finished with 1,407 rushing yards and 27 more touchdowns.
And off the field, he was Florence One Schools' 2019 Male Athlete of the Year.
But once The Citadel discovered how thin its corps was going to be at running back, the Bulldogs were determined to see if Wallace could run the ball just as effectively at the other position.
"We really didn't have a choice but to try it," Wallace said. "I had to move. It was pretty quick. One day at practice, the coaches said, 'Go get some reps over at A-Back.' And, the rest was history. That was it."
Now that Wallace has played in a college game, he's ready for more.
"Last week was a lot of fun. I'm fine playing whatever, as long as I'm on the field," Wallace said. "I just hope to keep getting better."
Wallace balances football, of course, while waking up at 5:40 every morning to live the life if a Citadel cadet. He plans to major in physical education with the goal of becoming an athletic director.
Today, however, will just be about football.
Although Wallace is not projected to start today, he'll still see playing time — at Death Valley, of all places.
"It'll be a challenge, for sure," Wallace said. "But it'll be a great experience. Growing up, I had seen like 10 games there. And now that I get to play in it, that's awesome."
Be the first to know
Get local news delivered to your inbox!