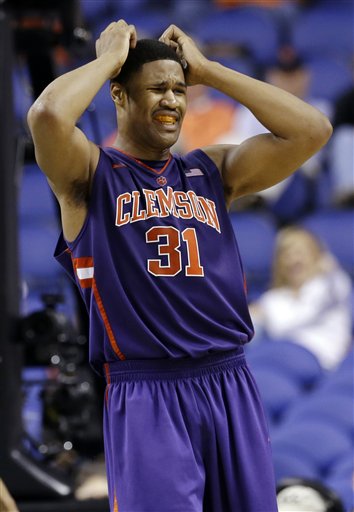 GREENSBORO, N.C.  — For once, Michael Snaer didn't have to hit a last-second shot to help Florida State win a close game.
The senior hit four free throws in the final 22.4 seconds to help the reigning champion Seminoles hold off Clemson 73-69 on Thursday night in the first round of the Atlantic Coast Conference tournament.
Snaer — who had hit four buzzer-beating winners this season — finished with 10 points for the sixth-seeded Seminoles (18-14), who let a 14-point lead with 3 minutes left slip to a single bucket late. But Snaer's last two free throws with 6.9 seconds showing made it a two-possession game and helped FSU hang on.
"I guess it feels good that we could have a big enough lead to where we didn't need an amazing shot to win the game," Snaer said. "I definitely didn't want it to come to that — if it did, I would be ready — but I definitely didn't want it to come to that."
Okaro White scored a career-high 24 points for FSU, while Terrance Shannon added 12 — including six straight to spark a 14-3 second-half run that helped the Seminoles take control after trailing by 10 in the first half.
Florida State advanced to Friday's quarterfinals to face third-seeded North Carolina.
Jordan Roper scored 18 to lead the 11th-seeded Tigers (13-18), who lost their seventh straight to close their worst season in nine years. Clemson had posted seven straight winning seasons, but finished with its fewest victories since winning just 10 in 2004.
Still, the Tigers nearly pulled off an improbable comeback before losing their seventh straight game.
The Tigers fought back to within 69-66 on Roper's 3-pointer with 23.1 seconds left, but Snaer answered with two free throws to make it a two-possession game. Then Devin Booker hit another 3 to close the gap to 71-69 with 12.1 seconds left, only to see Snaer — who had four buzzer-beating baskets this year for wins — live up to his clutch reputation by calmly sinking two more foul shots.
Florida State shot 49 percent for the game, while Clemson saw a solid start evaporate with an 8-for-22 performance (36.4 percent) after halftime. That included a drought of almost 3½ minutes as the Seminoles made the go-ahead push.
The Seminoles swept the three meetings with the Tigers this season by a combined 12 points, with one coming on Snaer's banked-in 3-pointer at the horn on Jan. 24.
"You know it's very difficult," Clemson coach Brad Brownell said. "Obviously, the fact that our guys are competing helps because we're going to practice every day and working at it and really trying. We have some deficiencies that we have to improve. Until we do that, this is going to be the outcome. ... Unfortunately, this script was seen many times this year if you followed our team."
Florida State got a boost with the play of Shannon, a 6-foot-8 forward who at one point was thought to be out for the season with a neck injury suffered in January. He returned two weeks ago and played 3 minutes at North Carolina, then sat out the next two games before coming up huge in this one.
"I'm hard on myself," Shannon said. "I felt like I couldn't do anything against Carolina when I came back the first game, so I made a conscious effort that I'd provide a spark today. It was a real good feeling."
With the game tied at 46, Shannon hit two free throws, then scored on a stickback and added two more free throws to give Florida State a 52-46 lead with 6:18 left. White later scored on a goaltending call inside and added a 3-pointer to give the Seminoles a 60-49 lead with 4½ minutes left.
But they struggled to close the game out and ended up making the finish a lot more stressful than it should've been.
"I thought we played excellent basketball until about the last 2 minutes of the game," FSU coach Leonard Hamilton said. "And then it was like, fouling 3-point jump shooters, missing dunks, going long when you're supposed to run to the ball. It was like we were trying to invent ways to give the game back to Clemson. Thank goodness they didn't take it."
With Florida State's win, it marked the first time that all four higher seeds won their first-round games to reach the ACC quarterfinals since the league's first expansion in the 2004-05 season.