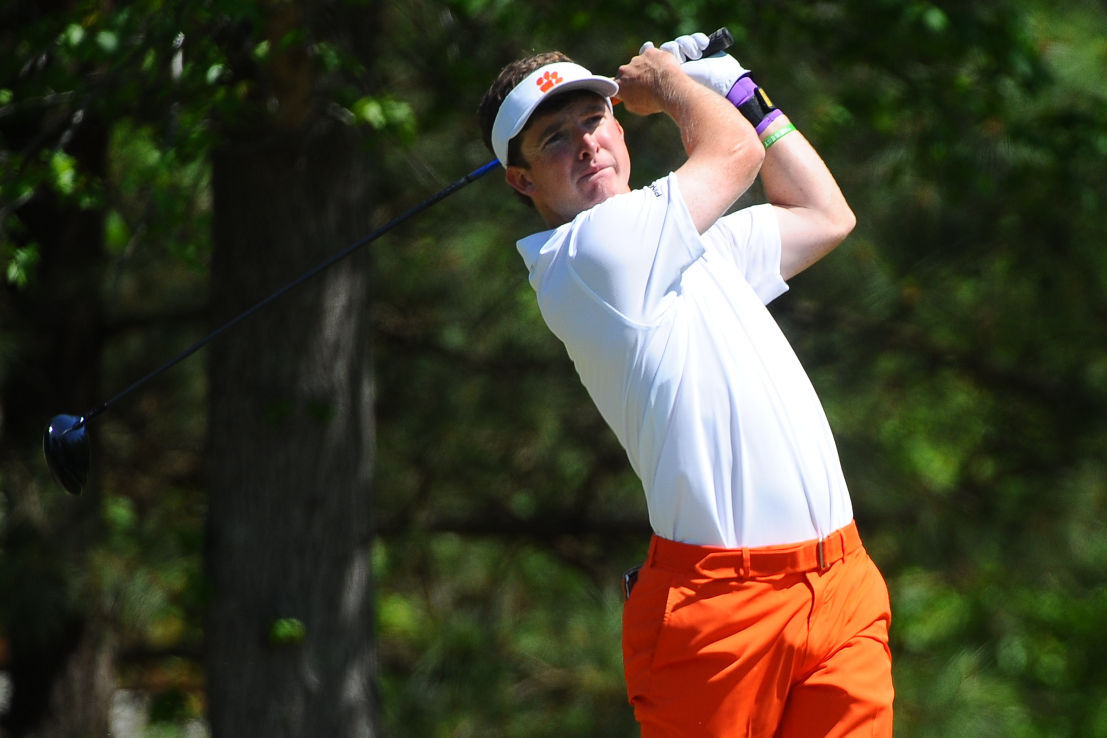 FLORENCE, S.C. – The AmateurGolf.com Mid-Amateur Player of the Year award wasn't something that was really even on Stephen Behr Jr.'s radar as he navigated a pandemic-shortened season.
But he knew he finished 2020 strong – and as it turned out, strong enough to be at the top of the points standings when all was said and done.
AmateurGolf.com is one of if not the leader in covering amateur golf worldwide, so while it was surprise to earn the site's top award in late December, it was certainly a welcome one.
"For them to recognize me as Mid-Amateur Player of the Year is a badge of honor," said Behr, the former West Florence High School and Clemson University standout. "When I found out I was very happy. It's a very cool honor. ...
"It's kind of like the cherry on top of a very strong year competitively for me, and I hope to take some of that momentum into this year (2021)."
Behr beat out Northern Ireland's Matthew McClean 1,550 points to 1,150 despite competing in just eight events this season. His schedule is reduced because he works full-time for SAP in Atlanta doing financial reporting and sales ops for a group there.
Things were further complicated by the COVID-19 pandemic, which wound up canceling the year's big event – the U.S. Mid-Amateur Championship – and pushed back the dates of a number of other tournaments.
"Definitely a weird year," Behr said. "Since I work for a living, I try to space out my tournaments because I want to remain competitive, but at the same time I can't take off too much work. So a lot of the tournaments that were supposed to be played earlier in the year got pushed toward the end of the year.
"Luckily for us, golf got impacted less than other sports."
Behr's season began to take a turn at the Golf Club of Georgia Amateur tournament where he finished in the top 14. Next up was the Azalea Invitational in Charleston in his home state, and the former Knight actually held a two-stroke lead heading into the final day of play.
He ended up in third place after shooting a 75, but the finish was just the shot of confidence he needed, Behr said.
"That was a really cool experience for me and getting to play with some of the best amateurs in the world," he said. "I think even though I wasn't able to get the job done, I gained a lot of confidence knowing that my game is good enough to compete with those guys.
"So when I went into the Birmingham (Ala.) National Invitational the next week, I felt like I was the best player out there."
Behr showed it – taking a two-shot lead into the final round again and this time finishing things off with a 68 to claim a four-stroke victory.
"That really felt good," he said. "Because to be honest, I don't think I've won a tournament individually since high school maybe before that – a big amateur event like that. I never won in college. I had a lot of high finishes, and I was a consistent performer, but for me to finally win one was a huge monkey off my back.
"I was really proud of how I finished that one off."
Now Behr turns his attention to 2021. His main goal still centers on the U.S. Mid-Amateur, which will be at Sankaty Head Golf Club in Nantucket, Massachusetts, this year. The winner earns not only earns a spot in the U.S. Open field but at The Masters as well.
He qualified for the tournament and actually earned medalist honors in 2018 before dropping a close match in the round of 16.
"Just earning an award like this makes me realize that my game is good enough to go in and have a chance to win a tournament like that – this kind of validates that," Behr said. "I just want to do my part to qualify for that tournament every year and get myself in the mix there, but I don't want to put too much pressure on myself."
Even so, the former Byron Nelson Award winner plans to take advantage of his new World Amateur Ranking. Behr went from being ranked in the 3,000s to No. 325 in the span of a few months – his highest ranking since college when he was No. 75.
"I do plan on taking advantage of the high ranking," he said. "I never thought with my work schedule that I'd be able to play in enough tournaments to get my World Amateur Ranking back up to where it was when I was in college. But having the success I've had in the last half year, I now have a ranking that can get me into more of the tier A top amateur events, so I plan on playing in a few of those this year."
While the amateur award was big, as was winning the Birmingham tournament, there's another moment from this past year that probably will stick with Behr the longest, he said.
"The highlight of the year was winning, but the memory I'll probably take with me for the rest of my life was my dad caddying for me at the Azalea Invitational," he said. "For my dad to be on the bag and both he and I working together and competing, it just doesn't get a whole lot better than that for me."