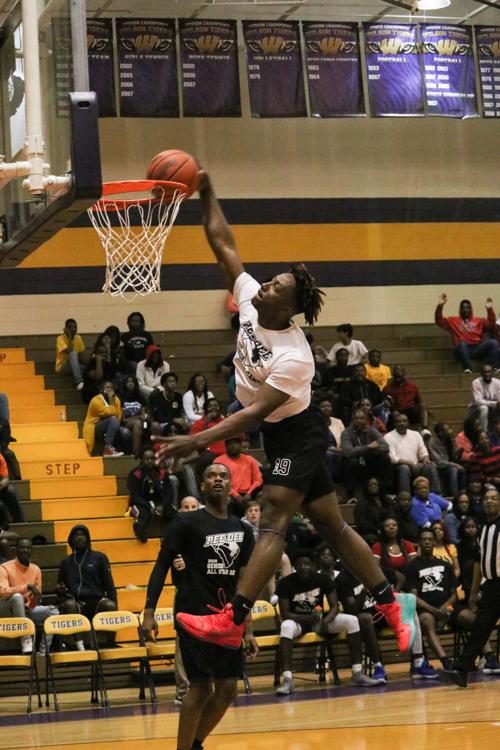 FLORENCE, S.C. – They came. They played. They dunked.
So it went in Friday's first Pee Dee Senior All-Star Game at Wilson High School.
Timmonsville's JaMaric Morris won the dunk contest (Hartsville's Trae Hannibal, a South Carolina signee, did not participate), and South Florence's ShyKiera Brown won the 3-point contest.
"I'd say it was a fun experience for it to be my first time," said Morris, who signed to play football this fall at Georgia Military College. "It was a fun environment."
Brown said she simply found her shooting touch at the right time.
"I felt the flow of the shot," Brown said. "Winning this means a lot to me because it's my last time playing basketball in high school."
And in the girls' all-star game, coach Bradley Knox's Black Team won 76-56 over coach Jessica Gerald's White Team. The Black Team's Teighlor Buchanan, of Trinity-Byrnes, was this game's MVP after scoring 14 points.
"(Buchanan) brought energy," said Knox, who is also the girls' coach at Darlington. "I texted her earlier this week and asked her if she was coming to practice Thursday, but she said she had a softball game and I said, 'We've got to have you here.' So she came in her softball clothes. She came out and executed."
Although Buchanan thought she struggled with turnovers, she quickly adjusted.
"I tried to make up for it by playing harder defense and just trying to find my teammates when they were open," Buchanan said. "That's how we came together and made enough plays to win the game."
Lee Central's A'yanah Lucas scored a game-high 20 points, followed by Sumter's Ki'Ari Cain with 15 and Florence Christian's Zoe Cauthen with 11.
The White Team was led by Wilson's Jada Nowlin with 15 points, followed by Tiger teammate Kiki Jones with 13, Lamar's Nari Coe with 11 and Mullins' Janell Sindab with 10.
And as for the boys' game, Darlington's Kenynon Scott made the go-ahead free throw with less than 30 seconds left for the White Team's 107-106 win over the Black Team. Scott then stole the ball after his free throw, and his squad held the ball until the clock ran out.
Although Hannibal was not in the dunk contest, he made up for lost time during the game and finished with a game-high 36 points to earn MVP honors.
"It's just a blessing to come out here and play and have fun and be close to home," Hannibal said. "My uncle and mom came here to support me, and other members of my family were here. It was just awesome."
Andre Weathers, the boys' coach at Marion, was also Friday's winning coach.
"It was fun," Weathers said. "We said from the beginning we wanted to have fun and not have anybody get hurt. It was a joy watching so much talent and letting people know how much talent we have in the Pee Dee area."
Also for the White Team, Wilson's Darius Boatwright scored 20 points followed by Morris with 10.
And for the black team, West Florence's Darius Dawson scored 20, followed by Wilson's Allen Williamson and Sumter's Jalen Johnson with 17 each. West Florence and Lee Central's Javonte McCloud rounded out the high scorers with 10 each.