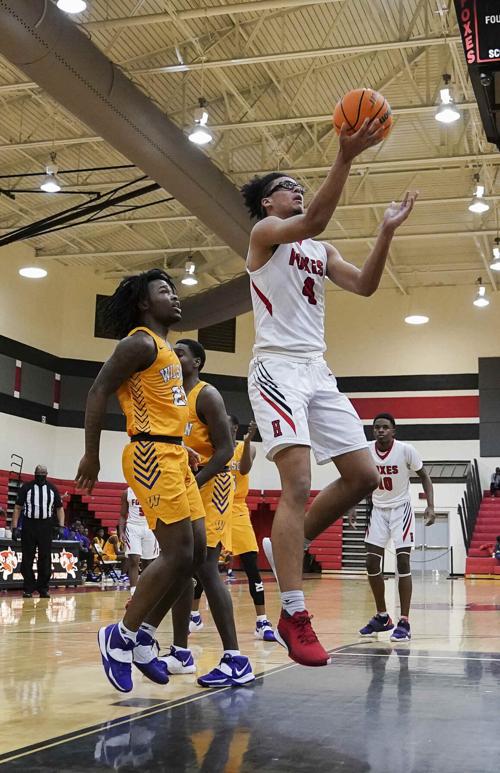 HARTSVILLE, S.C. — Cesare Edwards heard the criticisms of his game following his sophomore year at Hartsville High.
"Everyone was saying, 'All he can do is shoot and rebound — he doesn't get in the paint, he doesn't drive, he doesn't do anything else,'" the Red Fox senior said. "I didn't want to be known just for shooting. The game plans were going to be too easy against me. I wanted to be more versatile."
Fast forward two years and Edwards' versatile game not only helped him sign with Xavier University, but on Thursday he picked up one of the top high school basketball honors in the nation as a McDonald's All American nominee.
The All America Games usually showcase the top talent in the country in a pair of contests in the spring, but for the second year in a row, the COVID-19 pandemic has forced the cancellation of the games.
Still, Edwards was pleased to join the exclusive list and follow in the footsteps of former teammate Trae Hannibal, who was also nominated in 2019.
"It's a really big deal for me," Edwards said. "It's a big accomplishment. In eighth grade, I wasn't really looking at playing in college or anything like that. I didn't really have the confidence in my game to say I could really do this until probably the summer of my sophomore year."
The reality of having to step up and become a team leader his junior season and fill a bigger role is what helped Edwards turn a corner mentally, he said.
"That kind of matured me basketball-wise on the court and off the court it gave me a lot more confidence to play well and know what my skills were," he said.
He also worked on becoming a more versatile player offensively — especially around the basket.
"I started doing hook shots, fadeaways, drop steps while still shooting threes and getting shots of the dribble," Edwards said. "There are a lot of things I still need to improve on, but it's been good to see that the things I worked on in the summer start to come through in games."
The new well-rounded Edwards has averaged close to 20 points and 12 rebounds per game this season and was a big reason why the Red Foxes took home the Region 6-4A tournament title — scoring at least 14 points per contest in the three games.
Hartsville coach Yusuf English has seen a marked uptick in Edwards' game even since last season.
"It's been a drastic jump on his aggression on the inside," English said. "He's been making better decisions in shot selection and posting up on the basketball.
"He worked really hard over the summer — even with all the COVID-19 conditions — to put himself in this position and capitalize on the hard work."