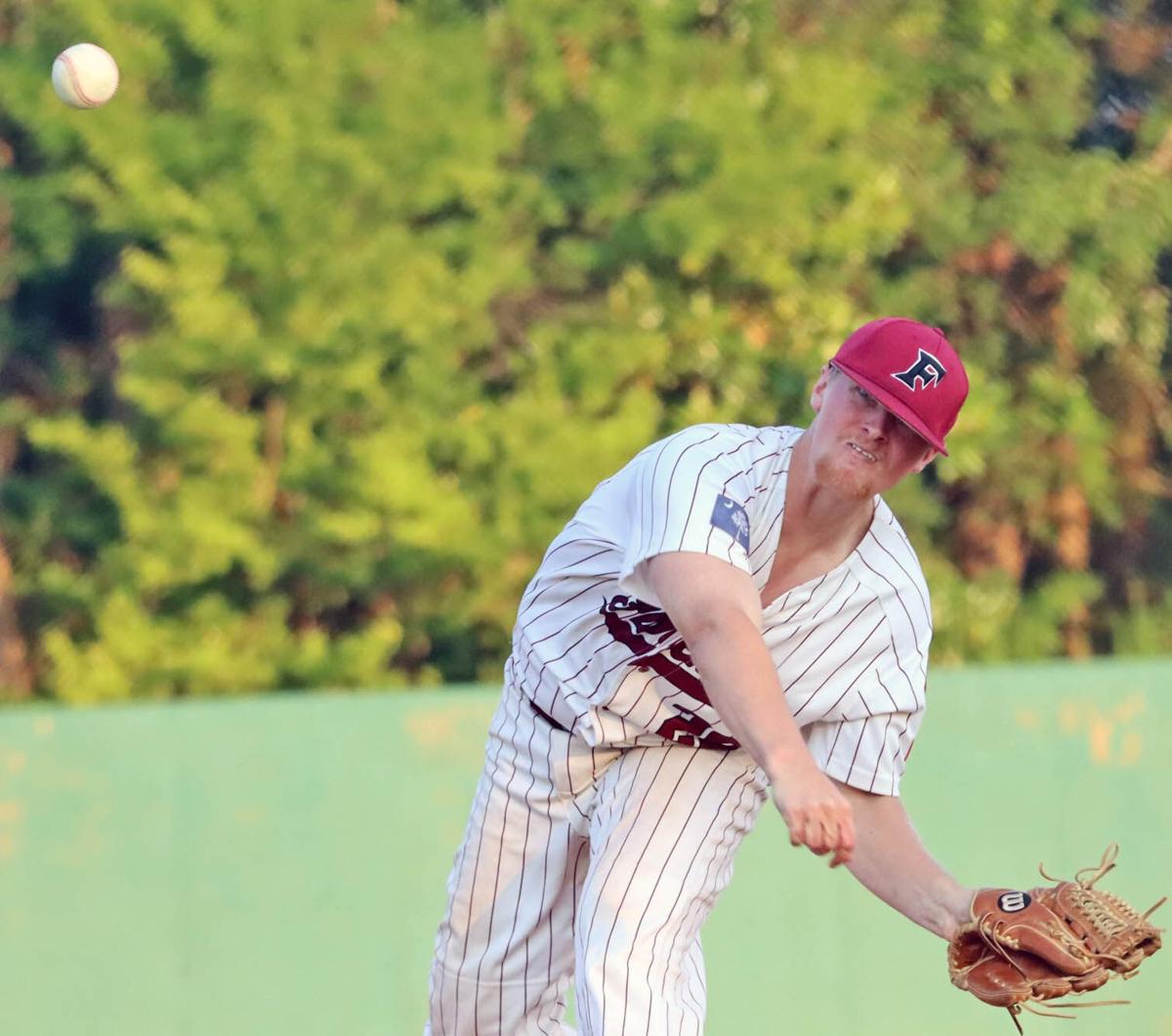 FLORENCE, S.C. –Somewhere lodged in the Jordan family tree is a Post 1 baseball cap. How else can one explain one family's connection with one American Legion team since the 1960s?
Bobby Jordan was a shortstop for Post 1 in the 1960s while playing for future College Football Hall of Famer Fisher DeBerry and held an officer position in the early 1990s. His son, Robert, was an infielder for Post 1 in the early '90s. Another son, Spencer, pitched for Post 1 in 2008-09 before being part of the University of South Carolina's College World Series championship team in 2011.
Now, another Jordan pitcher – Robert's son, Robbie – is on this year's Florence American Legion squad and will start Game 1 of Monday's first-round series against Dalzell-Shaw (7:30 p.m. at American Legion Field).
Although they go by Bobby, Robert and Robbie, they are actually Robert Earl Jordan Sr., Jr. and III.
"The whole Jordan family has been an asset to not only American Legion baseball here in Florence, but baseball in general," said Post 1 coach Derick Urquhart, whose program has won four state titles since 2012. "I got to play with Robbie's dad, and I coached Spencer and have had the pleasure of having Robbie on my team for three years.
"And Robbie's granddad and my dad were of the same generation and they played with and against each other coming up," he added. "The Jordan family has a special place in baseball here in the Florence community, and they are all talented. Robbie's other uncle, Lake, was also a talented baseball player as well."
But Robbie is the latest Jordan to try for a state championship ring. And if Florence does make a run and win state, Robbie will be the first Jordan to be a part of that.
"It'd be really cool to win a state title," said Robbie, a recent Florence Christian graduate who has signed to continue his baseball career at Francis Marion University. "Every year, that's the goal. I think being able to win a state title in my third year on the team would be something special to have memories of as I grow up and look back upon that."
Robbie will certainly be a key after flirting with a no-hitter in last week's start against Murrells Inlet. He enters the playoffs with a 5-0 record and .62 ERA during 34 innings of work.
"His velocity is up, which is a product of being a senior, and he has tremendous maturity," Urquhart said. "He doesn't get discouraged by a bad call or bad pitch. His control has improved tremendously. He has walked maybe five batters all summer. If you have a guy who can throw upper-80s and has three good pitches and shows maturity on the mound, he can give you a chance to win."
Of course, Robbie's father and grandfather were Post 1 infielders. For advice particular to his position, he also seeks out his uncle, who was also coached by Urquhart.
"His best advice to me is to trust myself even on my worst days when I don't have all my stuff," Robbie said. "Just keep pushing forward and trust the ability I have and keep pitching."
Spencer, who also played at Florence-Darlington Tech before USC and then finished his career at Francis Marion, thinks Robbie takes that advice well.
"I want him to be better than I was and have a great career," Spencer said. "He goes out there and gives it his all every single time on the mound. As long as you compete and give it your best shot, even when you don't have your best, you've got a chance to win with all those hitters in the lineup."
"The key is that I'm playing on a great team," said Robbie, who also quarterbacked FCS' football team to a state crown in 2018. "We have a ton of great players playing defense behind me. I know if I just go out there and throw strikes, they're going to make plays and we're going to be successful."
And no one has had a better seat to all this than Bobby, the grandfather.
"It's been a lot of fun," said Bobby, who played three American Legion seasons for Timmonsville, coached by Bill Pate (a member of the S.C. Football Coaches Hall of Fame), before playing for DeBerry at Florence. Bobby also played college baseball at Wofford.
"It's been very special for us," he added. "And to see Robbie play, it's a fun family thing for us to keep watching players from our family play."
And, of course, Robbie's father, grandfather and uncle are along for the ride.
"It's a lot of enjoyment watching Robbie play," said Robert, who walked on with Wofford's baseball team for a season. "It's fun to see him continue the tradition of enjoying baseball. While in the bleachers, we have certainly enjoyed watching him play."