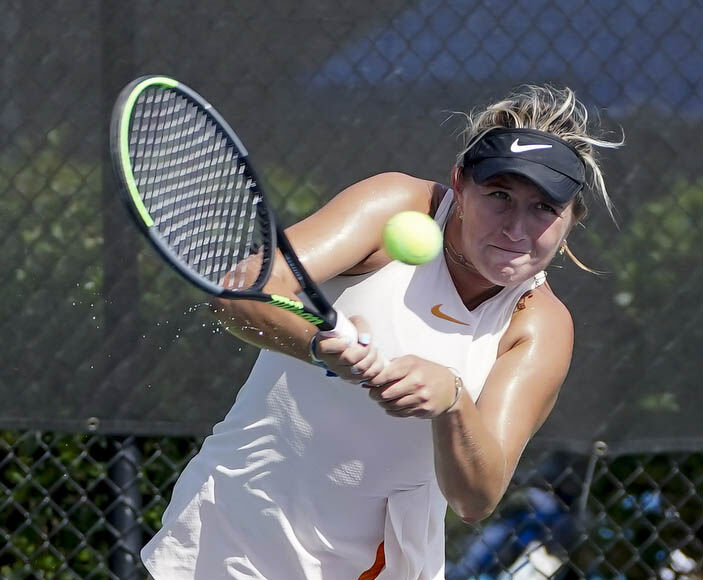 FLORENCE, S.C. – Charleston's Sophie Williams felt at home – at least, the closest to home the 17-year-old had played in a long time. Her progress at this week's McLeod for Health Florence Open is proof of that.
At the Dr. Eddie Floyd Florence Tennis Center, Williams reached the main draw of a pro tournament for the first time, winning two qualifying matches earlier this week. The latter was a stirring rally after trailing 2-6, 0-5. Williams won the next seven games to close out the second set, and then win 10-4 in the third-set tie-breaker over Australia's Olivia Tjandramulia.
"That was a pretty good match for me," Williams said. "I felt good about how I played. I played smart."
In Williams' first pro main-draw event Wednesday, China's Jia-Jing Lu proved too much with a 6-1, 6-2 victory.
"She beat me," Williams said. "I didn't do anything wrong; I played well. She's 31 years old, older and more experienced. There just a few things I could have done better. I played the right way; I could have just done them better."
Williams, who experienced winning a SCISA state title at Porter-Gaud, is now home-schooled and a senior. Driving back and forth from her home each day this week, she is taking only positives from Florence.
"I played here two years ago, but I lost in the second round of qualifiers," said Williams, a University of Florida tennis commit. "Today, I fought from the beginning to the end and gave it all I had."
Williams is already trying to put herself in position once she enrolls in college in Gainesville, Fla., to also play in pro events in the fall.
"I'm trying to get as many points as I can," she said. "The goal is to keep growing, and see how many big events I can play in and keep growing. After a few years, maybe if I do well, I can go pro."
Florence was a short drive. But in July, Williams traveled to play in a tournament in Tunisia.
"Now that was an experience," Williams said, laughing. "But I think my game has changed a lot in two months. I train in Naples, Fla., half the time. But my dad has ALS, so I want to be home. So this has been way better for my tennis, so it has worked out."
The proximity of Williams' tournament also helped her experience a family affair.
"I love playing so close to home because I can still go home," Williams said. "My mom works full-time, but she was able to come here Monday to watch me. And she had not had a chance to watch me play in a tournament in so long. And to have my coach here to watch me is great because it's tough for him to travel."
Xiyu Wang def. Anastasia Sysoeva 6-2, 6-0; Whitney Osuigwe def. Moyuka Uchijima 6-3, 7-6; Amy Zhu def. Paula Ormaechea 6-4, 5-7, 1-3 (RET.); Tessah Andrianjafitrimo def. Yuriko LilyMiyazaki 6-2, 6-3; Mirjam Bjorklund def. Alexa Graham 6-4, 6-2; Alana Smith def. Emily Appleton 7-5, 4-6, 6-3; Gabriela Lee def. Danielle Lao 7-6, 6-4; Francoise Abanda def. Alycia Parks 6-2, 7-6; Maria Mateas def. Sophie Chang 6-2 (RET.); Fernanda Contreras Gomez def. Katja Wiersholm 7-6, 6-3; Katie Volynets def. Lulu Sun 3-6, 6-4, 6-0; Jia-Jing Lu def. Sophie Williams 6-1, 6-2; Emiliana Arango def. Elysia Bolton 6-3, 6-2; Kurumi Nara def. Nadja Meier 6-2, 6-0.
Madalina Man/Laura Marti def. McKenzie Davis/Allie Murrell 6-4, 6-4;