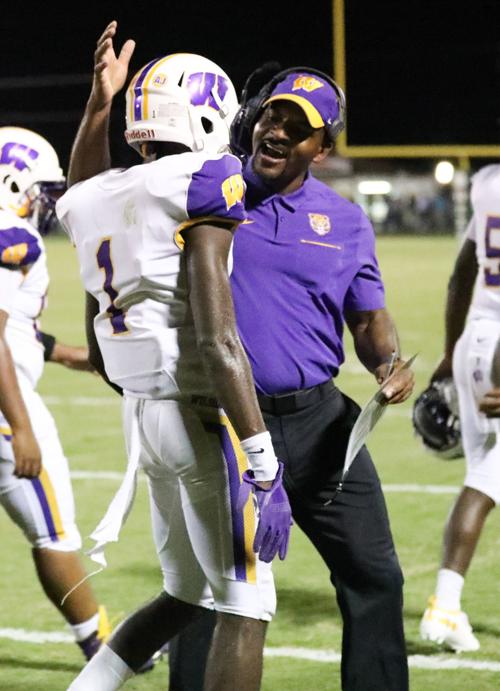 FLORENCE, S.C. − Derek Howard resigned Tuesday from his position as Wilson High School's football coach to take the same position at his alma mater, Ridge View.
"I'm obviously extremely excited about coming home," said Howard, who still lives in Columbia, seven minutes from Ridge View. He was Ridge View's offensive coordinator before taking the job at Wilson in late July 2017.
Howard also lived in Florence between the ages of 4 and 9.
"I really enjoyed my time at Wilson and what we accomplished," said Howard, the 2017 Morning News Football Coach of the Year. "I'm really excited for the future of that program."
Howard had a lot to do with that, bringing stability to a program after he was hired in 2017 as the Tigers' third coach in three years. But in his first year, Wilson won the first of its two city championships under him (the other was in 2019). And the Tigers won their first-round playoff games in '18 and '19.
Howard replaces the Ridge View head coach he once coached under, Perry Parks, who left to become receivers coach at Charlotte. Howard played in the first year of Ridge View's existence as a sophomore and was the Blazers' first quarterback. He went on to be a star running back at Morehouse College, majoring in chemistry.
Although Howard's morning commute is about to become much shorter, and he's about to coach at his alma mater, he emphasized how hard it is to leave Wilson.
"It was an extremely hard decision to make," Howard said. "It wasn't an easy decision at all. Making this move is more about family than anything. I have three young kids (daughters Drekere and Drew, and Derek III). As they move into some really important years, I want to be there with them, more."
Count Ridge View Principal Brenda Mack-Foxworth is excited as well to see Howard take over the program's reins.
"We are beyond excited to welcome coach Derek Howard home to Ridge View High School as our head football coach," Mack-Foxworth said in a Ridge View statement. "He is a true Blazer, and I am confident that he will continue the tradition of excellence within our football program. He is going to be a tremendous asset to our school and our community."
Ridge View athletic director Brian Rosefield is well aware of what Howard could do while he was the Blazers' offensive coordinator.
"Coach Howard brings cutting-edge football, and an enormous amount of experience, to our football program at Ridge View High School," Rosefield said. "Fans and our community alike will be excited to see how hard his kids will play and how skilled they will be. We can't wait to see what coach Howard will be able to do with our program."
But to once again illustrate how much Howard reveres Wilson, this passage is part of his Tuesday night Twitter post:
"Wilson Tigers, you gave me an opportunity to live my dream of being a head coach and welcomed me from day one with open arms," it stated. "You showed me what community love, pride and support is all about. I was always proud to represent you and made sure that whenever given the opportunity, I would boast just how special a place Wilson High School is."