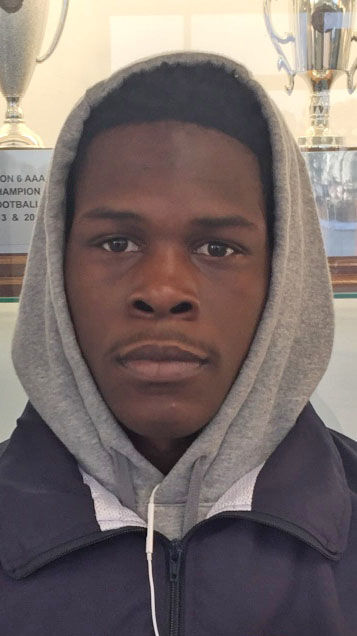 FLORENCE, S.C. – Trokel Prew had just finished an impressive football season, recording 71 tackles and five sacks at linebacker.
After the South Florence junior's season was over, wrestling was the furthest thing from his mind.
"At first, I wasn't even going to consider it," Prew said. "But then, I came out for it probably a week and a half after the first practice started. And, I actually started to like it."
Turns out, Prew found another sport to be successful at, as he's ranked fourth in Class 4A's 182-pound class with a 25-3 record as of Wednesday afternoon.
"He's just a good kid; he works hard and gets after it," said Marquis Camp, South Florence's wrestling coach. "He's a sponge; he absorbs it and gives it all he's got. He goes zero to 100, and he'll die before he gives up on himself. That's crazy, but it's good to see such a blue-collar worker doing so well in a blue-collar sport."
Camp's teaching to his Bruins, considering this is a first-year program, has been simple. But that simplicity has led by huge results for Prew, who has recorded 20 pins.
"Technique is what we focus on," Camp said. "The simplicity caters to our kids, and it's easier for them to grasp. Wrestling can really be complex if you make it that way. And when you make it complex, that messes everything up. The simple wrestler wins matches. If you do it effectively and execute with high-percentage stuff, you can score big and win matches."
Prew agrees that simplicity on the mat is key.
"It's important because you work on the simple moves; you work on them a lot," Prew said. "You then perfect them and execute them."
Prew doesn't see much similarity between football and wrestling. But one crucial part is executing on a pin like a linebacker trying to bring down a ball carrier.
"When I try to pin him, I really want to pin him and get him down to the mat," Prew said. "I don't want him to get away, because if he did, I'd have to waste more energy to try and do it again."
If the match goes the distance, the competitors face three two-minute periods of intensity on the mat.
"You force your will and grind it out," Camp said. "Six minutes is a long time to be on the mat against someone, grapping and rolling. That's why we focus this season on keeping things simple and basic with our guys."
That's what Prew loves about the sport.
"It's about that grind, really," Prew said. "You come to practice every day and give a full effort. And in the matches, you also give full effort and forget about all the outside stuff. You come to the middle of the mat and try to look for the first advantage to get points or the pin."