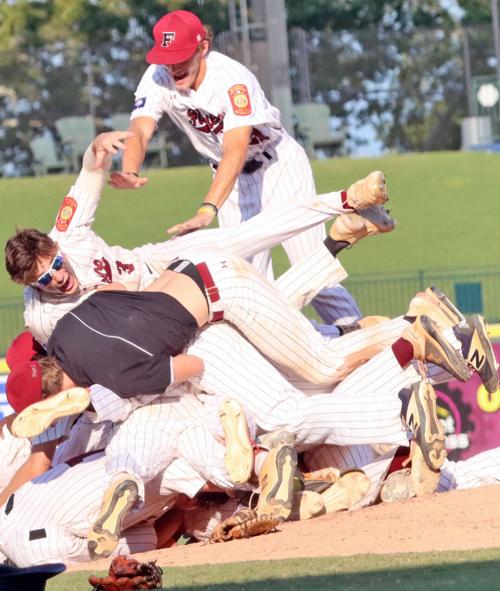 COLUMBIA, S.C. — Florence Post 1 scored five runs in the bottom of the sixth, rallying past Fort Mill for a 10-6 victory and the program's first state championship since 2017, and fifth since '12.
In this roller-coaster of the game, just after Fort Mill was on the upper end with a 6-5 lead, Florence made its biggest statement of the season — of course, with its biggest hits of this 2021 summer.
Tournament MVP D.P. Pendergrass tied the game at 6 with an RBI double. Teammate Ashani McFarland then beat out a bunt to give Florence the lead for good.
But Post 1 was not done yet.
After first baseman Kody Hanna drew a walk to load the bases, Noah Carter brought home another run with a sacrifice fly, making it 8-6. Owen Taylor followed with a two-run triple, and that was more than enough comfort for Florence's deep pitching staff.
After Fort Mill runners put on first and second, Florence coach Derick Urquhart replaced winning pitcher and the tournament's most outstanding pitcher, Robbie Jordan, with Thomas Skipper, who won a state title this past spring with Lake View High School. Skipper made sure Fort Mill would not score again, and it soon was bedlam at the Florence pitcher's mound, with coaches and players leaping and piling upon each other.
"That was definitely the hardest of the five state championships," said Urquhart, whose team is 31-3 and will begin play in the Southeast Regional, starting Wednesday in Pelham, Ala. "There's not an out on their offense. We weren't comfortable in that last inning, either. We knew they were capable of putting together a big inning. But you've got to give our guys credit. They battled back, never gave up despite getting down a couple of times. They kept fighting. This is an incredible feeling, and I'm so happy for the guys."
After Fort Mill led 2-0 in the 2 1/2 innings, Florence responded with four of its own in the third. On one play, a Florence runner scored when McFarland hit into a fielder's choice. And another scored when McFarland's fielder's choice play resulted in an error. Hanna hit an RBI single, and Carter brought home the inning's fourth run on a sacrifice fly to lead 4-2.
But Fort Mill, which beat Florence by the score of 7-4 Saturday, and had to win a 1 p.m. Sunday game against Camden (12-4) just to get to the tournament's final game against Post 1, would not go quietly. Fort Mill added one run in the fourth, and three more in the fifth.
But then, Florence closed Sunday's game out for good, and its players and coaches celebrated along I-20 back home.