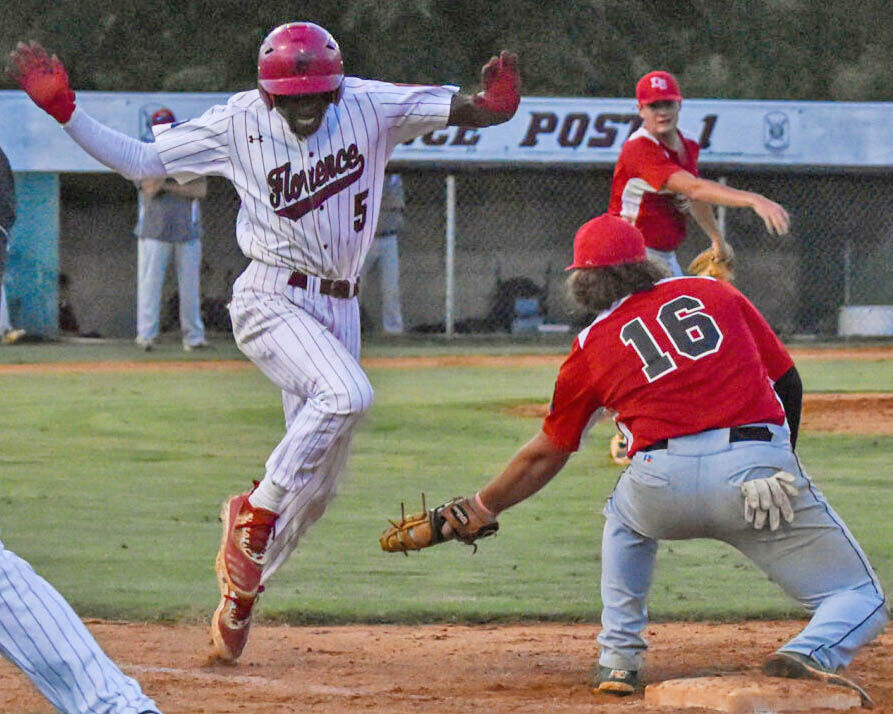 FLORENCE, S.C. – D.P. Pendergrass wakes up, and he stretches.
He does it again in the afternoon.
Before a game? During a game? Why, of course.
The University of South Carolina signee and ex-Hartsville star does whatever his doctor and trainer want in order to help his surgically repaired left labrum back to 100 percent. Pendergrass is able to play this summer for Florence Post 1, but only as a pinch/courtesy runner and designated hitter (he was cleared to begin hitting in Week 4 of the American Legion campaign).
To illustrate Pendergrass' impact, he is hitting .469 with two doubles, a triple and 15 RBI – that even includes a recent home run against Murrells Inlet.
"That felt great," Pendergrass said of the home run. "I had not hit one of those since travel ball or rec ball."
Although Pendergrass is not allowed right now to dive head-first into bases, he still has 15 successful steals in 17 attempts.
Pendergrass, however, didn't immediately discover his injury.
"I felt it at the beginning of the 2020 season, and I couldn't throw. Then, the season got cut with COVID, so I didn't really get to see how messed up it was," said Pendergrass, the 2020 Morning News Football Player of the Year. "Then, I wound up playing football that fall, and I went down a couple of times and it kind of hurt when I landed on it. After football season, I got it checked out, and that's when they told me I had a labrum tear."
Pendergrass had surgery, and then missed his senior baseball season with the Red Foxes. After the Legion season started, and Pendergrass was progressively cleared to compete, he embraced what he was allowed to do.
"I don't think I was really apprehensive about it, I was just ready to hit again," Pendergrass said. "That's what they told me I could do. Whatever they tell me I can do, I'm going to go out there and do it."
Pendergrass said after going 0-3 in his first game at the plate, he went 3 for 3 the next.
"It just felt great to be doing that again," he said.
And while watching from the dugout, Pendergrass is able to pick up on teammates' strengths and work on self-improvement. Also, he shares advice from his experience with teammates to help make them better in return.
"I get to play with all my friends, and I know they didn't like to see me out. I didn't like to see myself out," Pendergrass said. "All I could do was lift them up and help them out. And once I got the opportunity to play again, I felt great all over again. I now love baseball even more; there's nothing better than getting on the field."
Pendergrass credits his rehabilitation training for his home run.
"I guess with the therapy, they brought me back and brought me back stronger, and I just started hitting better," he said.
Pendergrass said he won't be back to 100 percent until after he enrolls at USC in the fall.
"It'll probably happen at college within the first couple of weeks," Pendergrass said. "I'm still going to therapy, and I'm still working with them to make sure (the labrum) is back right."
Meanwhile, Post 1 coach Derick Urquhart – a USC Hall of Famer himself, for baseball – thinks fans have seen just a glimpse of what's to come from Pendergrass.
"I hate it for Hartsville that he missed out because of the injury. He would have been a tremendous asset to coach (Tony) Gainey and the other coaches on that team," Urquhart said. "But I think now, what we're seeing is what the Red Fox fans had missed. It did take him a week or so to get back into the swing of things. But his numbers now are proof of why he's a high Division I signee. I'm looking forward to see what he can do in Columbia."