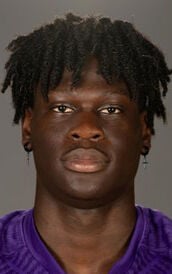 FLORENCE, S.C. – Jakobe Quillen's freshman season at Western Carolina is in two parts: Three games in the fall, then eight more in the spring because of the pandemic.
That's just fine with the former Wilson High School star, who played in each of the Catamounts' three fall games and even started at receiver in their final one at North Carolina on ESPN's ACC Network. Against the Tar Heels, Quillen caught a 3-yard pass. 
More importantly, as is the case with any freshman who plays this early, experience is just as valuable as production. After all, that early experience often sets the tone for greater production in the future.
"It was a big difference, I had a lot of things to learn," Quillen said. "There's more talent to compete against at this level, so you have to be prepared."
Quillen hopes to experience just that when the Catamounts open their spring Southern Conference schedule on Feb. 20 at Furman. To make up for the pandemic-shortening offseason team practice time, Quillen had to do a lot of work on his own to stay in prime condition before the fall games.
"I did a lot of different drills that I learned to be able to prepare for games and different situations," Quillen said.
This whole 2020 football season was a different situation, all right. But Quillen's goal was to play early, and he accomplished that.
Of course, Quillen had primed himself for college football by being a big-play receiver at Wilson, where he caught 104 career passes for 1,662 yards and 21 touchdowns. During his senior season (selected for Touchstone Energy Cooperatives Bowl) for coach Derek Howard's Tigers, Quillen accounted for 937 receiving yards and 14 TDs on 62 catches.
Now, after playing in three college games, Quillen wants more.
"That was a lot of experience for me," he said. "That's experience that will help me for the rest of my seasons here. Now, I have a better idea of how to prepare myself and get ready for things. And to start the final fall game for us, that meant a lot. That showed the confidence they have in me, that they believe I'm ready, and that they want me to get that experience."
Quillen also has the advantage of two postseason meetings with his coaches. After the post-fall season meeting, he has a better idea of what's expected of him in the spring.
"They need me to play a big role at receiver, they need me to be big," said Quillen, who stands 6 feet 3 and weighs 190 pounds. "I know the importance of everything like route running and everything. Everything is important. You have to work harder than you did in high school. Don't take anything for granted. Also, make sure you take everything they teach you and turn it into a good experience."
With the next season ahead, Quillen has not rested during the holidays. On Christmas Day, he ran routes at home and caught passes by current Wilson QB Zayshaun Rice and former Tiger QB (and Jakobe's brother) Jacob Quillen.
Although the Catamounts lost their three fall games (Eastern Carolina and Liberty were the other two opponents), that experience gave Quillen a taste of what to expect in the spring.
"It gives me a lot of confidence, because we played higher talent, so I've basically seen what I'm going to see during the second half of my freshman season," Quillen said. "So, I'm very prepared for it. I want to be on the Southern Conference all-freshman team. That's a big goal."
Quillen said class at Western Carolina resumes Jan. 11, and then the team will soon start preparing for its spring season. He is also looking forward to Western Carolina's first home game on March 6 against Virginia Military Institute.
"I'm ready to see how that environment is in a home game," Quillen said. "And so far, it's been really fun for my family to watch me play on the collegiate level. That's always been the dream for all of us."