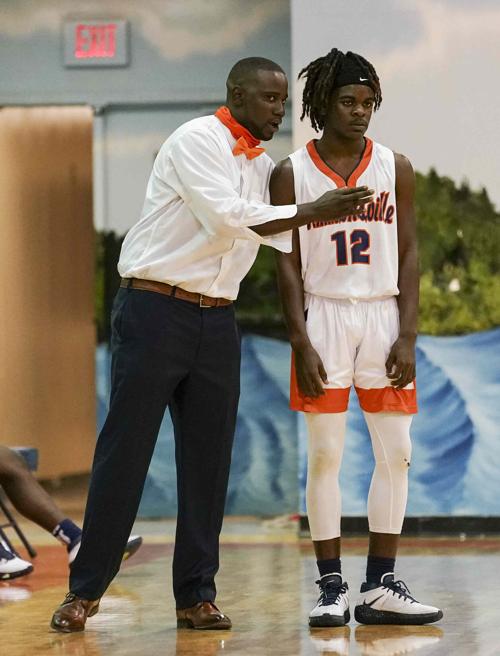 TIMMONSVILLE, S.C. – Carlton Graham believes his Timmonsville boys' basketball team has what it takes to compete in Region 5-A.
After all, he's seen a lot of these same players do it before. Graham was the junior varsity coach at THS for two years and has been an assistant varsity coach the past four seasons.
So it wasn't too much of a transition to assume the main role when it was announced that Chris Lewis would not return as the head coach – but everything else about this season has certainly been challenging.
"It's been tough," Graham said. "With the school situation and everything going on with the pandemic, we just haven't been able to practice, and we're kind of going and adjusting on the fly.
"You've got 12 to 13 guys in your locker room dealing with everything going on, so it's just a challenge every day."
But it's a challenge that Graham believes both he and his team are up to. His JV teams lost just two region games combined while he was at the helm, and he has faith the Whirlwinds can turn their early season struggles around. Timmonsville is 0-3 overall at the moment and 0-2 in the region, with a game at Hannah-Pamplico scheduled for Friday.
"Overall I think we can do it," Graham said. "Once we change our mindsets and get focused and locked in, I think we can move forward. I believe we still have a chance to win the region. I like our chances."
The Whirlwinds have a mix of returning and new players, led by senior Christian Taylor. The Morning News Preseason All-Pee Dee Team member averaged 18.3 points and 11.7 rebounds per game last year and has started off this season strong as well.
Taylor scored a game-high 42 points last Friday against Lake View and finished with 10 rebounds.
"Obviously if Taylor can continue to score 20 and 10, as he's done, I think that makes us one of the top teams in the region," Graham said. "When he gets going and Jaheim (Greene) gets going, we're a tough team to beat. We've just got to get them both in gear at the same time along with the rest of our guys.
"It's just about playing with energy and making shots when you need to. We've got I think four road games left, and I think we can win them."
Richard Ennis, Xavier Brown and Tremel Echols are some of the newcomers the Whirlwinds look to continue to improve this season as well. Brown and Echols were the third- and fourth-leading scores for Timmonsville during Friday's matchup against Lake View.