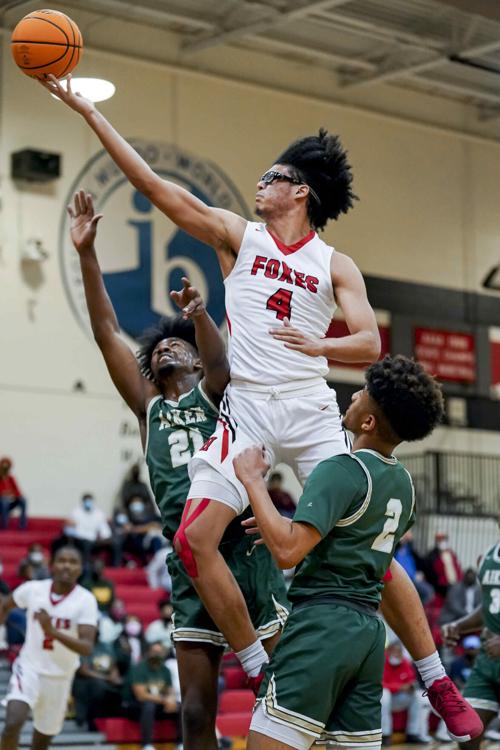 HARTSVILLE, S.C. — The game, and the season, were slipping away from Hartsville.
Aiken had just stretched its early fourth-quarter lead to 37-29, and a Hornet defender had almost stolen the ball from Red Fox star Cesare Edwards in Thursday's SCHSL Class 4A lower-state semifinal.
Once Edwards regained control, he sank a short jumper, which keyed a 12-1 run and eventual 47-42 Red Fox win, along with a trip to Monday's 6:30 p.m. lower-state final against Hilton Head Island at James Island High School. This will be Hartsville's first lower-state final since 2013, when the Red Foxes beat Darlington in 3A at the Florence Center and went on to win the second of their back-to-back state championships.
"It's been a lot of hard work and a lot of hard days," Hartsville coach Yusuf English said on reaching this year's lower-state final. "I really don't know how to feel right now; it's an amazing feeling."
Edwards and teammate Jordan Blue led the Red Foxes (9-3) with 11 points each. It was Jamari Briggs' 3-pointer, from the left corner however, that gave Hartsville the lead for good at 40-38.
"That was Jamari again stepping up in the clutch," English said. "He has made big shots for us all year. Once he hit that, our confidence rose, and you heard the crowd get behind us. At that point, there was no looking back."
Briggs' heroics were the peak of a furious charge English's team had made since Edwards' recovery and basket that started everything.
"That was a big shot," English said of Edwards, a Xavier signee. "We all know about the accolades he has. But to make that shot at that moment to spark us on, that was just what he does. But I don't even think that's the play that did it, that made him more physical. It's when he went up and tried to dunk on his defender."
It was a dunk that Edwards missed.
"But it was the start of him being more aggressive," English said. "The made jump shot after that was like him saying, 'OK, I'm here.' He had been slowed a bit because the defenders had been so physical with him. That got him ready, though, and got his confidence ready to shine."
After that Edwards basket trimmed the Hornets' lead to 37-31, two Blue layups helped tie the game at 37. After Aiken briefly held the lead one more time, 38-37 on a Dee Roberson free throw, Briggs was about to deliver one of the Red Foxes' biggest shots of the season.
After Briggs' 3-pointer, which was between two missed 3-pointers by Aiken's R.J. Felton, Kameron Foman scored on a putback and free throw a short time later to give Hartsville a 43-38 lead with 50.2 seconds left. Blue made two of his next four free throws, and Edwards sank two of his own with 3.6 seconds left to seal the win.
Although this Monday will be Hartsville's first lower-state final since 2013, this is the first one for English, who previously coached Denmark-Olar.
"Ever since I had been at Denmark-Olar, it had always just been reaching the second or third round, and then go out," English said. "But I had never had the opportunity to coach in a lower-state championship with the chance to go on win state. It means so much to our program because of all the hard work we had put in, from the former players we have had until now. We're excited and hope to keep going."
Howard 2, R.J. Felton 16, Williamson 6, Holland 5, Roberson 1, Mazone 9, Carter 2.
Briggs 5, LeXander 6, Cesare Edwards 11, Jordan Blue 11, Foman 7, Thaggard 7.