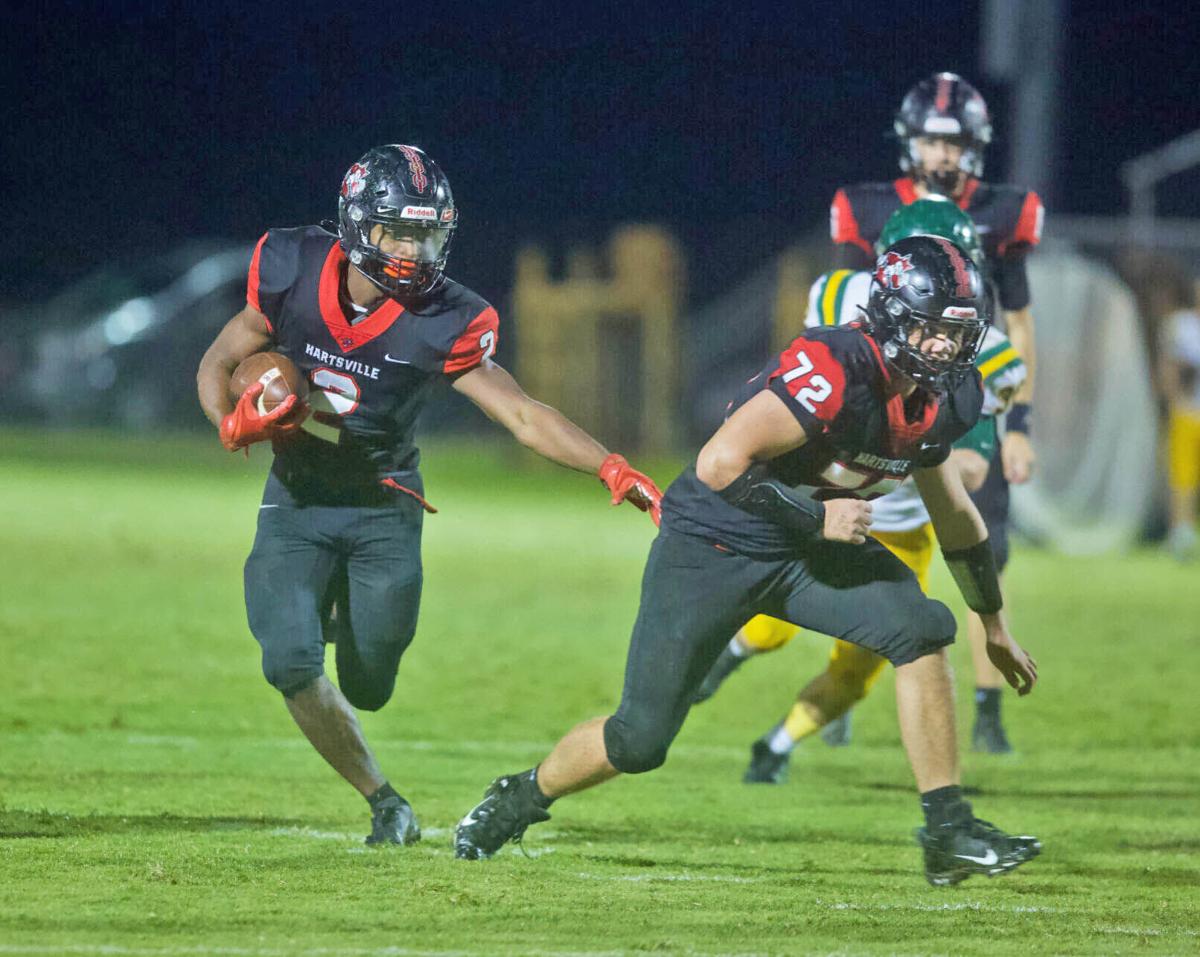 HARTSVILLE, S.C. – For all of the strides Hartsville has made, winning two consecutive games after losing its first three, the Red Foxes will get to measure just how far they've come when they play at 7:05 p.m. Friday at third-ranked Myrtle Beach.
By now, after beating Region 6-4A opponents North Myrtle Beach and West Florence, Hartsville coach Jeff Calabrese realizes every region game is an immense challenge.
"Every time we play a game in our region, it's a big game," said Calabrese, whose team is 2-0 in the region. "It's a big game, and it's a big week, and it has been that way all year. We certainly have a ton of respect for Myrtle Beach and their program and the things (Seahawks coach Mickey Wilson) does and stands for."
The Seahawks have won the previous four meetings, including last year's game by the score of 40-35 on the Red Foxes' home field.
Now having to go on the road, Calabrese knows his team has its work cut out after winning its latest game two weeks ago against West Florence by the score of 33-13.
"Whether you're playing the green and gold of West Florence, or the green and gold of Myrtle Beach, it's another good football team that you have to get ready to play," Calabrese said. "It's exciting. It's exciting we get to play. With COVID and everything else, getting ready to play a good football team is always a blessing. It's a moment we'll embrace and be excited for."
The Red Foxes will face a team led by Seahawks quarterback Ryan Burger, who is committed to Appalachian State.
"(Burger) understands the system he's in. He can run it, and he can throw it. There's a reason Appalachian State wants him," Calabrese said. "There are obvious problems that are presented when you're defending him. He just stretches you. He's an amazing player and one that has grown in recent years."
The Red Foxes have taken notice.
"We've got to be comfortable with our plan from a mental standpoint and understand what they're trying to execute because Myrtle Beach will attack you," Calabrese said. "You've got to have that knowledge base on what you're going to see and be comfortable with the things you see and be prepared for the things you don't see.
"And overall, just be ready to play fast," he added. "The biggest thing with Myrtle Beach is they throw a lot of different things at you. Can we handle that? And, can we play fast against a really good opponent? That's what we're working on, to put everything in so the kids can play relaxed and play fast."
Meanwhile, Hartsville is excited about the allure of a big-time game.
"For us, it's a great opportunity to play against someone like that. If you're going to win championships, whether it's region or state titles, you have to play great players and have to be tested and have to know the things that you can do and can't do against a team like that," Calabrese said.
Hartsville, meanwhile, has its own share of playmakers on offense with running backs J'Shawn Anderson and Carmello McDaniel. Anderson has rushed for 617 yards and eight touchdowns, and McDaniel has 584 and eight. And, Hartsville quarterback McKendrie Douglas has 659 passing yards and six touchdowns, and he has 188 rushing and another score.
"During our off week, hopefully we stayed sharp and hopefully got a little healthier," Calabrese said. "So hopefully, we'll have a really good product Friday that we're putting on the field."