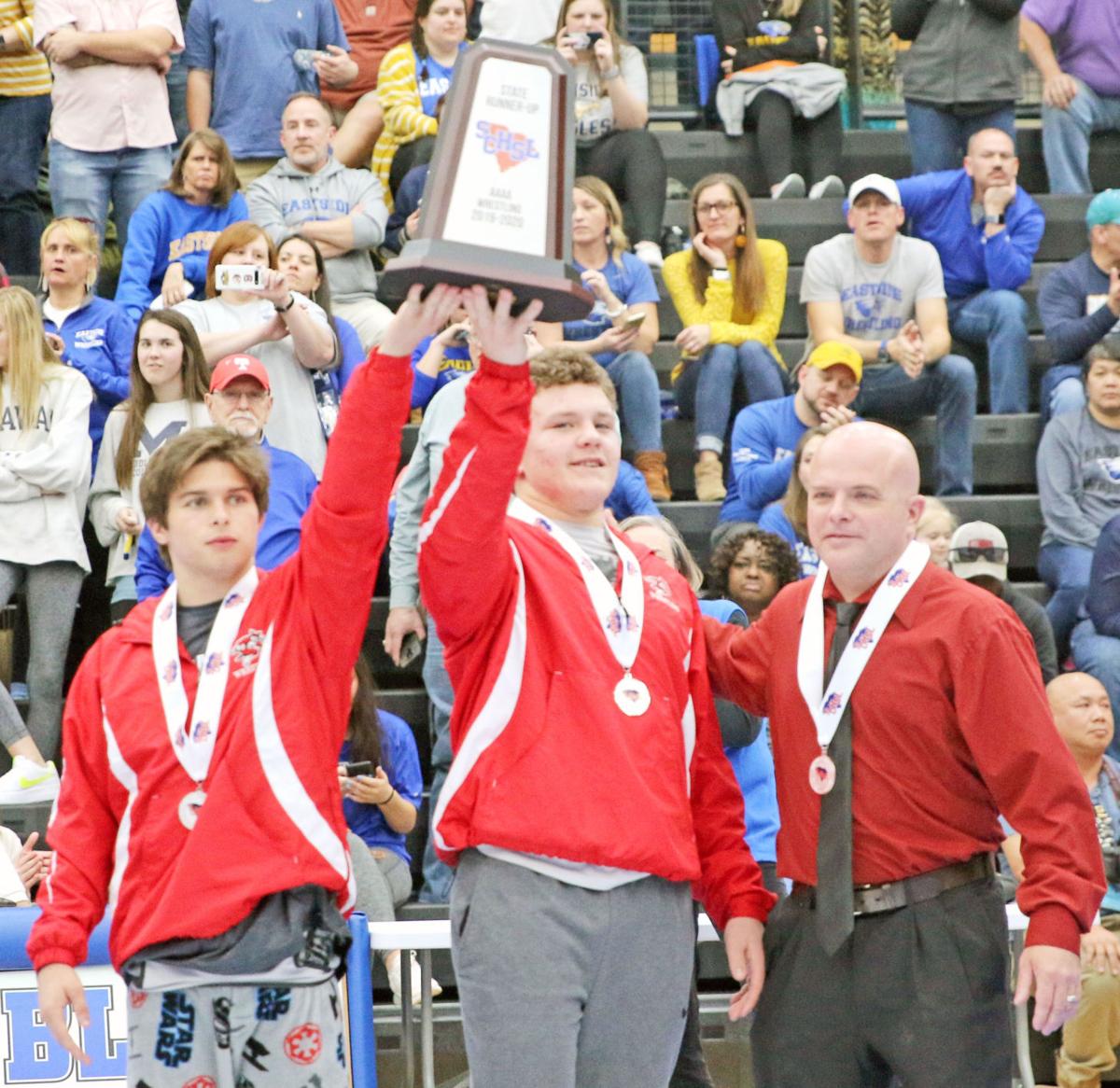 COLUMBIA, S.C. — No sorrow, nor tears. Just plenty of optimism by this young Hartsville wrestling team that lost 61-15 to Eastside on Saturday in the Red Foxes' first state duals championship appearance.
While Eastside celebrated its fifth consecutive crown (15th overall), Hartsville coach Michael Lynch chose to look at what's ahead for his program.
How could he not after his Saturday lineup had four seniors and eight freshmen?
"The kids fought hard today, every one of them," said Lynch, whose Class 4A lower-state champions finished the duals season at 33-6. "Hopefully, we'll be back next year."
Lynch thinks Saturday set the tone for the future in exactly how he wanted it.
"They learned they can make it here, that they can make it to state," Lynch said. "We scored on them, and that's what we were trying to do. A lot of today's matches were rough, even the ones we lost. We just flat out fought hard today."
The Red Foxes even took a 6-0 lead when senior Jordan Lynch pinned Lane Schrader at 120 pounds. After teammate Logan Berger won by decision at 132 for a 9-5 Hartsville advantage, Eastside started rolling.
And rolling — six consecutive pins until the Red Foxes' Colby Catoe won at 220 via forfeit.
Now, Hartsville will begin preparations for the state individual tournament. Two of the Red Foxes' wrestlers — Lynch, a senior, and Berger — were state runners-up last year.
"Hopefully, this will be Jordan's year to win it," Michael Lynch said. "And hopefully, Logan can also bring an individual state title to us, too."
Wyatt Wilson, Richard Williamson and Gabe Moore were the other three seniors who competed Saturday.
Looking back on this duals season, Michael Lynch has nothing but pride.
"It's been great," he said. "We knew at the beginning of the season when we had five returning qualifiers back, we were going to be tough, and we showed that we're going to be tough."
106: Tyler Tice (E) p. Josh Askins
112: Colt Schrader (E) def. Kimbel Moore by major decision
120: Jordan Lynch (H) p. Lane Schrader
126: Roy Price (E) def. Danchez McNeal by tech. pin
132: Logan Berger (H) def. Aden Leonard (E) 7-1
138: Tucker Allen (E) p. Gabe Moore
145: Ben Maholtz (E) p. Luke Phillips
152: Riley Augustine (E) p. Alex Hunt
160: Ryan Augustine (E) p. Wyatt Wilson
170: Bear Nelson (E) p. Robert Williamson
182: Jack Perry (E) p. Josh Mullins
195: Miles Scott (E) p. Richard Williamson
220: Colby Catoe (H) won by Forfeit
285: Chase Barnes (E) p. Bryan Catoe