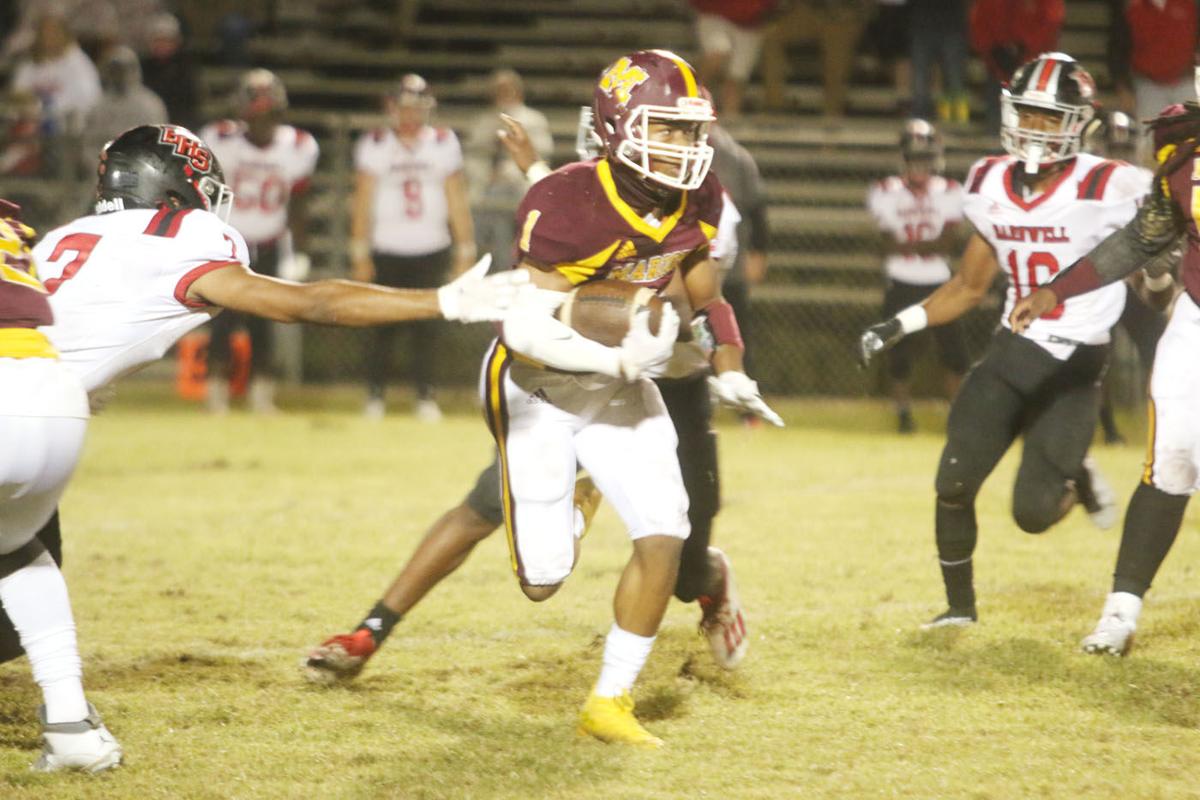 MARION, S.C. – Marion running back Qua'Liek Crawford is a touchdown waiting to happen.
Just ask Swamp Fox coach Randall State. Better yet, just ask the previous two teams Marion has played.
Take Marion's most recent victory, a 21-7 win in the Class 2A lower-state semifinals against Barnwell, when Crawford rushed for 171 yards and two touchdowns – one for 32 yards, and the other for 30.
But that wasn't exactly his breakout game. The Swamp Foxes' 33-21 victory against Andrew Jackson in the first round was better. That time, he rushed for 196 yards and three touchdowns.
"He's just a big part of our offense," State said. "We knew coming into this year if we gave him his touches, we'd have a chance to win."
That has certainly been the case, as Crawford has rushed for 940 yards and nine touchdowns through the Swamp Foxes' seven games. As a result, Marion is 6-1 and one win away from its first state championship game since 1987.
That, however, is only part of what motivates Crawford. What pushes him more was Marion not qualifying for last year's postseason at all.
"Last year, we didn't finish the season how we wanted to," Crawford said. "We didn't make the playoffs like we wanted to. After that, we made a promise to ourselves we would make the playoffs and then make run at it."
Next up for Marion in the home lower-state final at 7:30 p.m. Friday is a game against an Andrews team the Swamp Foxes have already defeated.
During that 28-20 victory, Crawford returned two punts for touchdowns.
"If Qua'Liek can get ahead and get out into the open field, it's almost impossible for defenders to bring him down," State said.
Part of that reason is speed. The other is added strength.
"I've gotten a lot stronger and a little faster and see the field better than I used to," Crawford said. "I'm quicker on my feet."
After going through a much more intensive weight-training program than last year, Crawford has bulked up to 5 feet 11 inches and 185 pounds.
But Crawford also knows he can't accomplish what he has if it wasn't for his offensive line.
"Our offensive line is phenomenal," Crawford said. "Having them block and for me to run behind them is a good thing. Knowing they'll block for me the way they do, that gives me more confidence to make the runs that I try to make."
Crawford, also a baseball star for Marion, started out in recreation football as a quarterback. But in middle school, coaches saw his potential in the backfield and made the switch.
And since that switch was made, Crawford had hoped to have the kind of chance he has Friday.
"This means a lot," said Crawford, a senior. "And for the team, this means a lot to us. We really want to win this next game and play for a state championship."
And after the preseason doubt about whether there would even be a season because of the pandemic, Crawford knows to embrace the moment.
If there was no 2020 season, not reaching the 2019 playoffs would have been his lasting memory.
But now, he pushes a little bit harder.
He runs a little bit faster.
It's now or never, and Crawford doesn't see any reason to stop now.
"I don't want to go home. We worked too hard for this," Crawford said. "To get this far and lose is not an option. I've got to do what I can do, and that's put my foot down and go."