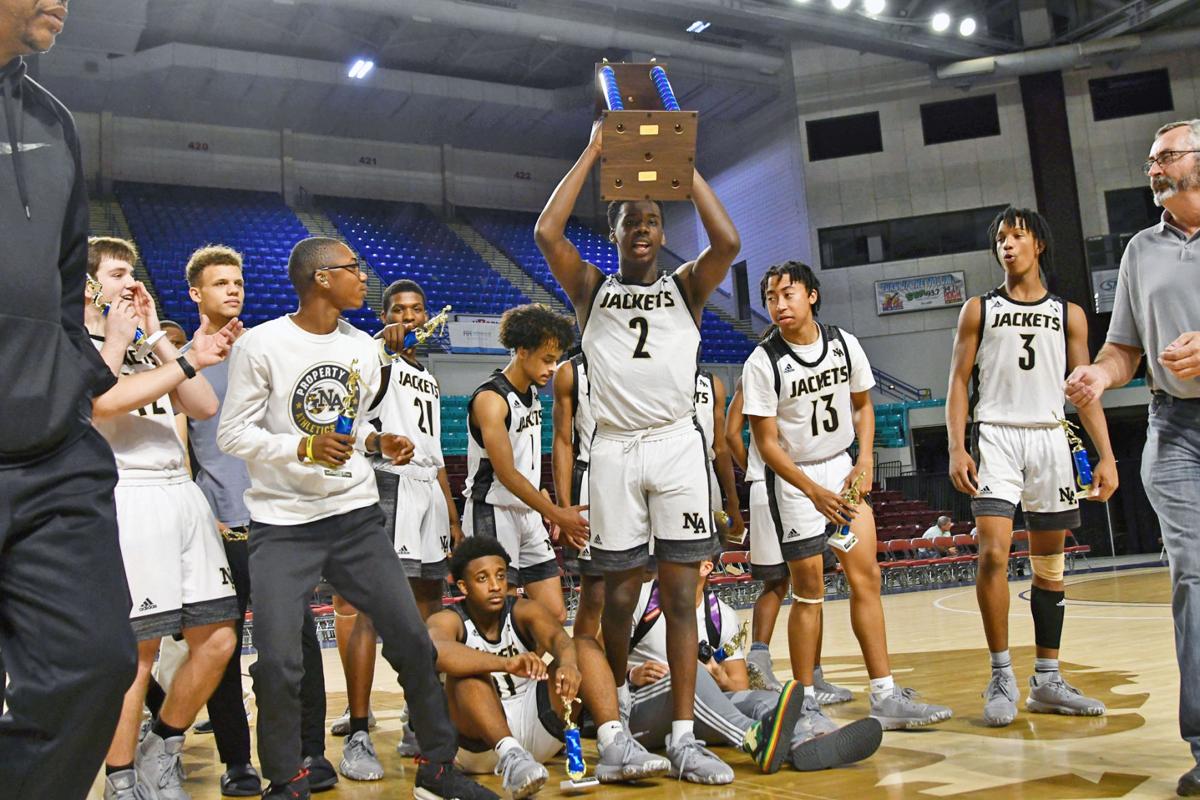 FLORENCE, S.C. — The wait is over. North Augusta's Yellow Jackets now have a championship trophy from the Pepsi Carolina Classic to take back home.
Former Cheraw coach Tony Harrell's team took control in the third quarter and won 52-44 over Lee Central at the Florence Center.
Besides losing in the 2017 final in overtime to Hartsville, North Augusta had also placed third twice.
Not that Harrell is any stranger to success in the Pee Dee, having guided the Braves to three final-four appearances.
"This is a great tournament and a great environment to play in," said Harrell, who also played at North Augusta. "There are quality basketball teams in this every year we've been here. We've been close before. But tonight, we had a good game plan and played strong in the first three quarters.
"But give Lee Central credit," he added. "They fought hard in the fourth quarter, made it real tight. But we made enough plays in the end to win."
On Saturday, after inching away from the Stallions, North August got clutch outside shooting by Austin Harrell, who made three 3-pointers during the third quarter alone. That third one even gave the Yellow Jackets their first double-digit lead at 40-30.
Before it got to that point, North Augusta snapped a 13-13 score with a Chase Tillman layup which gave North Augusta control through the rest of the first half. Hammond's basket was followed by a steal and layup by teammate Omarion Byrd, and Myles Cooper sank a 3-pointer a short time later to give his team a 20-15 advantage.
After the Stallions rallied and got within 21-19 on a DaVeon Thomas layup, North Augusta again came up with the big shot. This time, it was a 3-pointer by none other than Harrell to maintain the five-point advantage the Yellow Jackets carried into halftime.
North Augusta, which led 44-33 going into the final quarter, withstood one final Stallion charge.
After Lee Central got within 44-42 on Daurrion Kelley's layup, the Yellow Jackets defense saved the game. Just when Lee Central's LeBron Thomas drove to the basket, North Augusta's Jordan Wilburn — the tournament's MVP — swatted his attempt away. All that did was lead to Naijah Buchanan's putback on the other end to extend North Augusta's lead to 46-42.
The Yellow Jackets simply maintained their distance from there. Soon thereafter, North Augusta's long-awaited celebration as Carolina Classic champion could begin.
"They made the bigger plays. They wanted it more," said Xavier Harry, Lee Central's first-year coach. "I feel we kind of ran out of gas at the end. We got it to two, but we got stagnant They made the effort plays, and we didn't."
As for Lee Central, Saturday marks an impressive end to the 2019 portion of its pre-region schedule. The Stallions, whose only loss prior to Saturday was against Darlington in the Turkey Shootout final, are 11-2. Up next for Lee Central are 2020 non-region games against Sumter and Lakewood before starting region play Jan. 10 by hosting Lewisville.