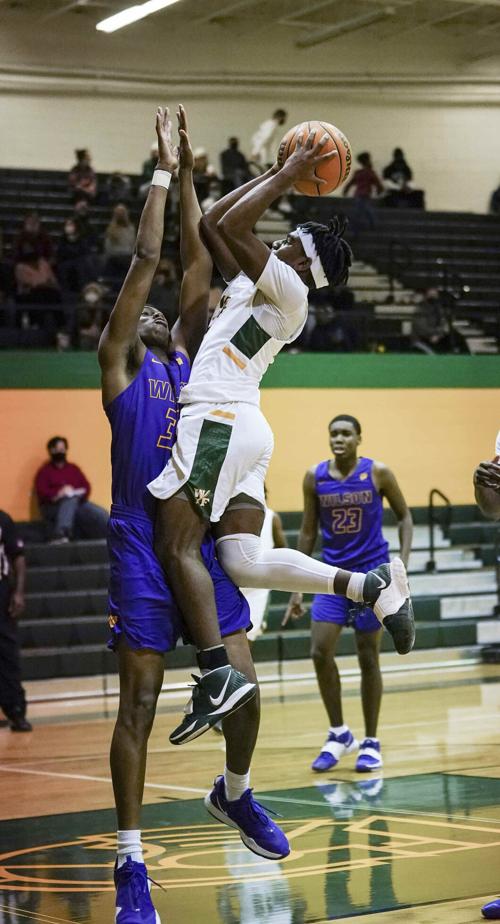 FLORENCE, S.C. – NyJae' Hines' basket with 1.2 seconds left gave Wilson a 66-64 win at city rival, West Florence, Tuesday night.
First-year coach Carlos Powell's Tigers improve to 3-0 in the first game since 2020 for both teams.
West Florence had the ball with less than a minute left and the game tied at 64, but Wilson's Brycen Boone swiped at the ball dribbled by Knights guard Darren Lloyd. After the ball got loose, Boone pounced on it and called time out with 15.7 seconds remaining.
That set up Wilson's game-winning play: A motion set during which Zandae Butler handed the ball to Hines, who went to the left side and made the game-winning shot.
It was an impressive win for Wilson, considering the Tigers fell behind 16-5 in the first quarter. West Florence's Travis Cooper had a lot to do with that, scoring eight of his 12 points during the game's first eight minutes. But after two short surges, Wilson whittled the deficit to 23-20, and it was a close matchup from there until the game-ending buzzer.
Cooper, however, left the game with an ankle injury after making a putback in the third quarter that gave the Knights a 38-34 lead. And with Wilson having already resorted to a smaller lineup, relying on quickness on both ends, the Tigers made their charge on an 8-3 run to take their first lead of the game – a Butler layup for a 42-41 lead.
After Wilson stretched its lead to five, a steal and layup by West's Terry McKithen sparked a 6-0 run that closed the third quarter for a 48-47 West lead.
After West stretched its lead to 54-47 early in the fourth, Wilson's Jevon Brown answered with a 3-pointer, and the Tigers were back in it. Another Brown 3-pointer a short time later tied it at 58.
After Lloyd's jumper tied it at 64 with 1:21 left, the game's fate was left to a determination of will. Boone, who scored a team-high 18, made that hustling play on defense that set up Hines' heroics. Teammates Butler and Josh Green followed with 15 points each.
West's Avion McBride, meanwhile, scored a game-high 19 points, and Lloyd had 11.
Hines 8, Zandae Butler 15, Jones 2, Brycen Boone 18, Brown 8, Josh Green 15.
Graves 7, Bruce 7, Darren Lloyd 11, McKithen 4, Avion McBride 19, Williams 3, Travis Cooper 12.
STORY WILL BE UPDATED WITH QUOTES WEDNESDAY AFTERNOON