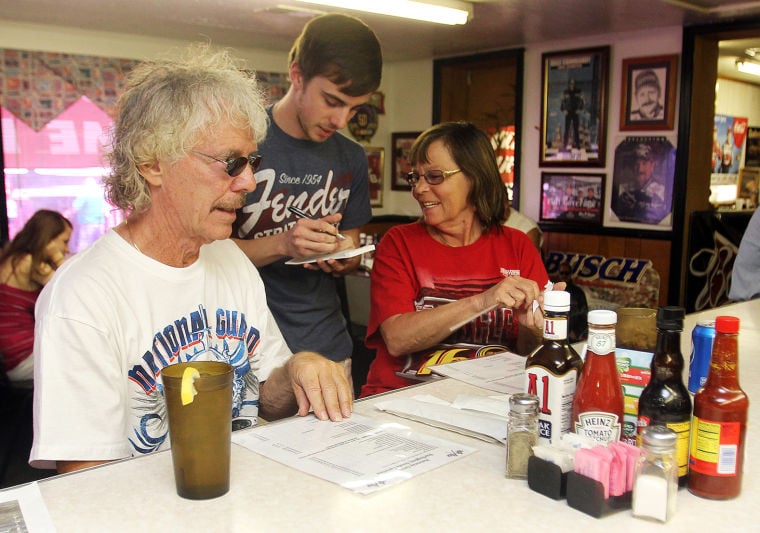 DARLINGTON, S.C. – During NASCAR weeks, "Start your engines" also means, "Start your appetites!"
How does Darlington Raceway president Kerry Tharp get HIS appetite going on race weekend? One would be quite surprised.
"It's something that's somewhat lighter, it's a type of salad, or maybe even some type of cold-cut plate," Tharp said. "I'm not one to sit down and have a heavy meal on race weekend. I've got to move around on the property. I can't go out to my RV and take a nap. So, it can even be a salad or a pasta."
But for those who eat at the next-door Raceway Grill, owner Tony Beard has a good idea of what this year's race fans will start THEIR appetites with.
"It's probably our hamburger steak," Baird said. "That's what this place is known for. It's a 12-ounce hamburger patty, and they get it topped however they want."
After not being able to take advantage of big crowds at Darlington Raceway last year because of the pandemic, all of these local restaurants are chomping at the bit to capitalize this time around as the Track Too Tough to Tame is allowed to host full grandstands and camping for the first time since 2019.
"I believe the enthusiasm of race weekend draws visitors as well as locals to restaurants," said Holly Beaumier, executive director of the Florence Convention and Visitors Bureau. "It's exciting to be not only getting back to normal but to once again host one of the largest sporting events in the state."
But hey, what if a fan on the camping ground wants to grill out? That's where grocery stores are just as willing to help. Just ask Marty Massey, store manager at Florence's Piggly Wiggly.
"We always enjoy seeing the race fans, pit crew members and certainly the drivers," Massey said. "We do see a sales increase when the race comes to Darlington, but not like we did in the old days. We sell a variety of merchandise while they're here, from beer to suntan lotion and a large quantity of ice. We hope with the upcoming race coming with full attendance we will realize a 20% sales increase over the previous verses race without fans. We may even get lucky and have the race rained out so the fans will remain local with us for a bonus day. That would be icing on the cake!"
Will this make up for all the losses restaurants suffered last year, when Darlington was not allowed to host fans for its three races (two Cup, one Xfinity) in May, and was only allowed to host limited fans last Labor Day Weekend (only for the Sunday night Southern 500)? No. Not even close.
"If they sell out, like they're talking, I think it'll be huge," Baird said. "But as far as replacing what we lost? I don't know if that would be a drop in the bucket. Last spring, it was a 70% loss, compared to what we would have made.
"Last Labor Day Weekend? It was probably 50-60% off to what we do normally," he added. "We also have stuff on property like campsite rentals that didn't occur. One thing that did help us was that we tried to rent some spots out and set up some TVs for people to watch. But we were still off, even with that."