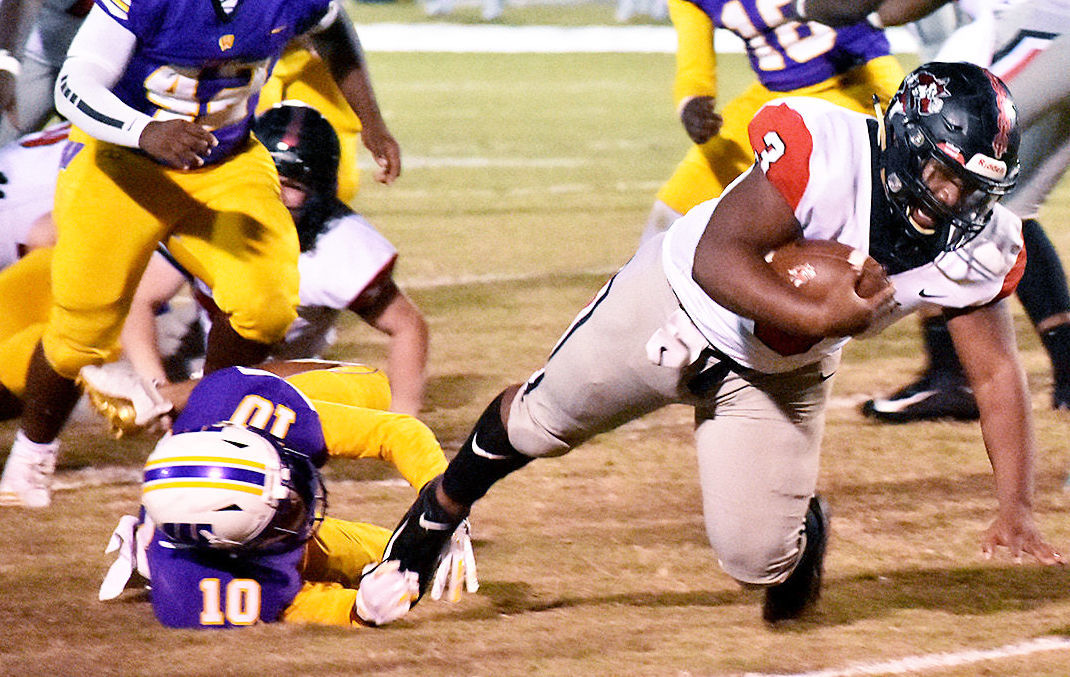 FLORENCE, S.C. — Wilson fans were in a celebratory mood Friday night with fans filling the seats more than an hour before kickoff of the Tigers' homecoming game against Hartsville.
Midway through the third quarter, the near-capacity home side had grown much quieter as the celebration had shifted across the field for most of the night.
Dominating both lines of scrimmages from the onset, the Red Foxes racked up 318 yards rushing and six touchdowns — four by Darian McMillan — to defeat previously unbeaten Wilson 55-13.
The victory gives Hartsville (5-3, 2-1 Region 6-4A) a shot at potentially claiming at least the No. 2 seed from the region with home games against North Myrtle Beach and Darlington remaining on the schedule.
It probably was the best game the Red Foxes have played this season, but was it a statement of things to come?
"I don't know," Hartsville coach Jeff Calabrese said. "Our football team prepared hard this week. They kept getting better, they believed in each other and this Friday night they played a heckuva ballgame against a very, very good Wilson team.
"So I'm just pleased with our group and very happy."
The Tigers (7-1, 2-1) will have to regroup on a short week. They will face the top-ranked team in 4A and defending state champion Myrtle Beach on Thursday at Memorial Stadium.
"Hats off to coach Calabrese and his staff," Wilson coach Derek Howard said. "We were outcoached and outplayed in all phases of the game. I think the kids have definitely been humbled — and sometimes you need those lessons to maybe take a step back so you can take two or three steps forward.
"Hopefully we can learn from this and come back stronger on Thursday, because it doesn't get any easier."
The Red Foxes' opening drive was an early sign that things were going to fall their way, as a 13-play drive — helped along by three Wilson penalties — resulted in McMillan's first TD of the night.
He scored two more in quick succession as the Tigers' offense produced two consecutive three-and-outs with the last one leading to a blocked punt that set the Red Foxes up at the Wilson 5-yard line.
"We were able to jump up on them early," Calabrese said. "It's the catalyst to any upset. You've got to come out and have a good start, and we were able to do that tonight. ...
"It was just our night. We were able to carve out a little bit of seams in there, and we were able to run through them."
It was 20-0 when the Tigers finally scored with a 5-yard run from quarterback Zayshaun Rice. But any momentum was lost just before halftime as Hartsville quarterback Owen Taylor found D.P. Pendergrass for a 33-yard touchdown pass with two seconds left.
"They just always seemed to make one more play before we could gain some momentum, gain some confidence and get right back in the game," Howard said. "We had some old habits that kind of showed up. We were on the opposite side of those things the past couple weeks where we were the ones causing turnovers, but that wasn't the case tonight.
"You're not going to win many football games like that."
Hartsville had two big interceptions in the second half, including one by Alvion Pendergrass that he returned 33 yards for a score. McMillan added another rushing TD, as did J'Shawn Anderson. Backup quarterback Roddi Morris got in on the action late with a 15-yard TD run.
McMillan and Anderson ran for 111 and 103 yards, respectively.
The Tigers were held to less than 60 yards rushing, and Rice threw for just 75 yards. The only other score came on a trick play in the third quarter where Rice threw to Jakobe Quillen, who then threw it back to Rice for a 65-yard touchdown.
H — Darian McMillan 1 run (Chase Elsseser kick), 6:04.
H — McMillan 3 run (Elsseser kick failed), 1:15.
H — McMillan 5 run (Elsseser kick), 11:44.
W — Zayshaun Rice 5 run (Vraj Patel kick), 3:13.
H — D.P. Pendergrass 33 pass from Owen Taylor (Elsseser kick), 0:02.
H — McMillan 18 run (Elsseser kick), 5:56.
H — Alvion Pendergrass 33 INT return (Elsseser kick), 4:23.
W — Rice 65 pass from Jakobe Quillen (pass failed), 2:31.
H — J'Shawn Anderson 36 run (Elsseser kick), 11:29.
H — Roddi Morris 15 run (Elsseser kick), 3:16.
RUSHING — H: Darian McMillan 22-111, 4 TDs; J'Shawn Anderson 9-103, TD; D.P. Pendergrass 5-42; Owen Taylor 6-11; Kedarius Jackson 4-13; Roddi Morris 1-15, TD; Kanye Herring 1-14; Shamai Jackson 1-9. W: Zayshaun Rice 10-31, TD; Yavin Smith 7-19; Chris Austin 5-(-3); Andriq Williams 2-2.
PASSING — H: Owen Taylor 3-4-48, TD. W: Zayshaun Rice 9-21-75, 2 INTs; Jakobe Quillen 1-1-65, TD.
RECEIVING — H: D.P. Pendergrass 2-35, TD; Tate Hawkins 1-13. W: Jakobe Quillen 4-31; Zayshaun Rice 1-65, TD; Ja'Travious Sherrills 2-35; Ismail Moses 2-8; DeMarcus Bailey 1-11.