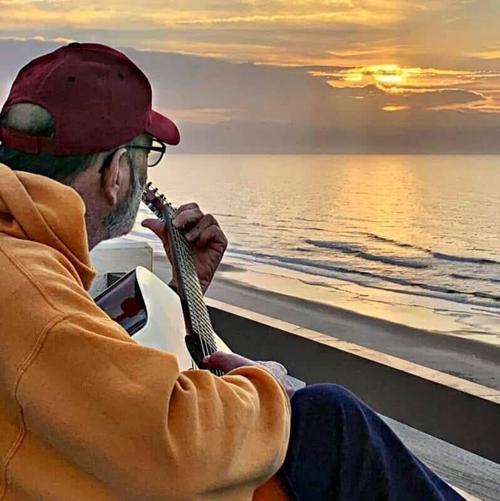 FLORENCE, S.C. — Gray Bostick wanted more time.
He wanted more time like those days he lived and partied in St. Croix.
He wanted more time to spend with his girlfriend, Judy Sharon. Not to mention, he wanted more time to spend with his friend Marshall Griffin, to promote even more the NASCAR legacy of what was once Griffin Motors.
But Bostick wasn't sure how much time he would have on this mid-June day, a week before finding out if his multiple myeloma was in remission.
For almost two years, Bostick had scratched and clawed to fight a devastating form of cancer.
But on this day, Bostick had enough.
He was tired of fear, tired of worrying.
Sitting on a Crescent Beach balcony, Bostick instead looked toward the ocean.
His peace. His inspiration. His strength.
"It brings healing," Bostick said.
It's a break from chemo, radiation and pills.
It's a break from countless early morning visits to Duke Medical Center.
How did Bostick get through it? Of course, one source of strength was Judy Sharon, who gave him that push on those days when he didn't have the will.
But when he had the energy, Bostick also found his fascination with Griffin Motors as motivation to tell the story to as many people as he could.
As one who has even written about Griffin Motors for the Morning News in freelance opportunities, Bostick relishes those moments.
"That's my No. 1 goal, just to keep those guys in our memories," Bostick said.
Those guys. They're who our Southern 500 preview section is all about, among them being Bobby Griffin. Fonty Flock. Buck Baker and Paul Goldsmith.
They were part of a golden time in auto racing that included two Griffin Motors-sponsored Southern 500 winning cars — Oldsmobiles driven by Flock in 1952, and Baker the year after that.
And who better to tell the stories than Bostick? Marshall Griffin, whose uncle was Bobby Griffin (sales manager at Griffin Motors), met Bostick, and their bond tightened through their passion for knowing more about NASCAR history.
"I just love those historic cars," Bostick said. "I got to know Marshall through a story I was doing on his father (Tommy, the dealership's service manager) and Bobby. We became friends while trying to promote this era."
While Marshall could bring history to life with photos, Bostick could bring it to life with words, like one of his stories about how Bobby was a two-time prisoner of war.
But after Bostick was diagnosed with cancer in August 2018, Marshall saw how Bobby's legacy affected Bostick.
"Remembering through awareness of Bobby's racing endeavors, starting in the 1950 first Southern 500, Gray gained courage from Bobby being a prisoner of war two times," Marshall said. "I believe this helped Gray mentally fight his illness through others' sacrifices. Our Griffin Motors Racing awareness campaign, managed by Gray, has given us the strength and direction to make others aware of certain sacrifices that lead to certain achievements and wins."
While Gray would stay in that multi-window Crescent Beach house (purposely constructed that way because Bobby wanted to see as much light as possible after twice being a POW), he'd spend time more quality time with Sharon.
"This was tougher on her; it's been hell on Judy," said Bostick, a Bennettsville native.
But all the while, Sharon herself was inspired by Bostick's fight.
"He won't give up — in anything," Sharon said. "He's 100 percent when his mind is set on something. When he works on history projects for racing, he will pursue and pursue and pursue. And that's how he also was with cancer."
For all the unfair things that happened to Bostick these past couple of years, he could use a break. And in late June, Bostick got his biggest yet as he was found to be in remission.
"I was telling Judy, you hear words like 'love' and 'hero." Those things get overused. I thought they're strong words, and they are strong words. But I had never heard as strong a word as 'remission.'
That's the strongest word I've ever heard in my life because I was so concerned that I wouldn't be in remission," he added. "In that case, it was probably going to be something dramatic in the other direction in the way of procedures."
Bostick still takes chemo medications for 21 days (then seven days off).
But that doesn't keep him from venturing onto that Crescent Beach balcony and using his guitar to act out his fantasies of singing songs of the late John Prine.
"The only thing that's keeping me from being a star is the general public," Bostick said, laughing.
Now that Bostick has even more time to do crazy things like that, it's time worth spent.
That's because he has more time.