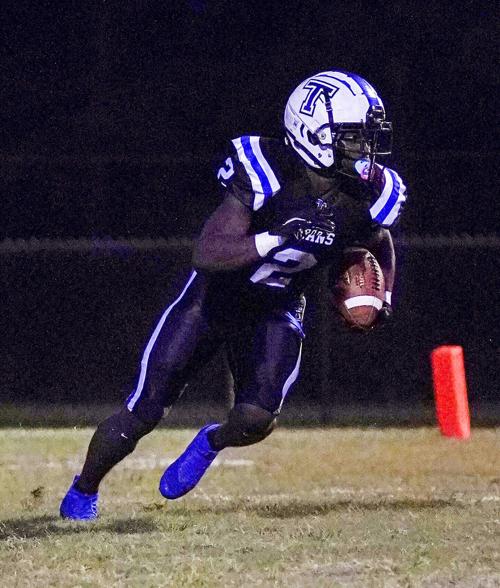 The SCISA football season was delayed by the COVID-19 pandemic in getting started, but through two weeks, everything was on track to finish the 2020 season as usual.
It was not a usual start for several Pee Dee teams, though, and not just because of the new safety protocols for practices and games. Of the nine SCISA teams in the area, four switched classifications and therefore regions in the offseason – with three teams moving up and one moving down.
At the top of the list was Trinity Collegiate. After capturing the SCISA 2A state championship last season, the Titans are now competing in Class 3A and earned their first Region 2 victory on Sept. 4 with a 39-32 win over Pinewood Prep.
"We've talked about that," Amell said of moving on from last year's title prior to the season. "It's very important that our players know a poor 3A team will beat a good 2A team most days of the week. ...
"We have potential, but inexperience at some important roles in some important places right now."
Jordan Jones, Nick Jones and Donovan Lambert are some of the names Trinity had to replace entering the year, but running back Reggion Bennett (1,391 yds, 18 TDs in 2019) did return as the featured back.
In 2A, two teams made the move up into what is now a Pee Dee-heavy SCISA Region 2. Carolina Academy and Pee Dee Academy joined Florence Christian School and Williamsburg Academy in the six-team region that features several state championship contenders (and champions) from Classes A and 2A the past several seasons.
Through two weeks, Pee Dee Academy had the lone region victory with a dominant outing against Florence Christian. The Golden Eagles return experience at a number of key positions, including quarterback (Hudson Spivey), running back (Coleby Sinclair) and wide receiver (Caleb Oakley).
"We have to have some young guys step up. But as far as (a) difference (from last year) goes, we have a lot more depth returning," PDA coach Jonathan King said before the season. "I think we have the ability to have more people to plug in and play, which will be a big thing for us."
FCS meanwhile came into the year without much experience on either side of the ball. The Eagles lost 18 players from their 2019 state semifinal squad, including 14 starters. Senior quarterback Robbie Jordan (1,181 yds, 11 TDs), junior running back Ethan Kelly (1,000-plus yds, 10 TDs) and OL Jackson Gray are among the only returnees.
"We're very, very young," FCS coach Neil Minton said before his team's first game. "I think we've got three starters back on offense and two on defense, so it's a very different team. It's a learning process and it's going to take some time."
Experience wasn't the issue leading into the season for Carolina Academy, but depth was.
"That big junior class that all started last year, they're all returning," Bobcats coach T.J. Joye said before the season. "We're just a little green up front right now and have some young guys on the offensive line that we're working in.
"We've got about 30 kids, which is good, but we don't have a lot of depth at any positions. Any type of injury would be tough on us."
Still, TCA boasts a potent rushing attack with the return of standouts Austin Brown (1,903 yds, 21 TDs), George Wilder (652 yds, 6 TDs) and Jeremiah Brunson (360 yds).
The one team that moved down was Lee Academy, as the Cavaliers join another Pee Dee-heavy region in SCISA Region 2-A. Lee will face Dillon Christian as well as The King's Academy this season.
The Lions returned a core group of players for this year, and coach Keith Rogers is aiming for his team to show a marked improvement from last year's team.
"I think we have a good group of boys, we really do," he said prior to the season opener. "I like where we're at."
Get in the game with our Prep Sports Newsletter
Sent weekly directly to your inbox!