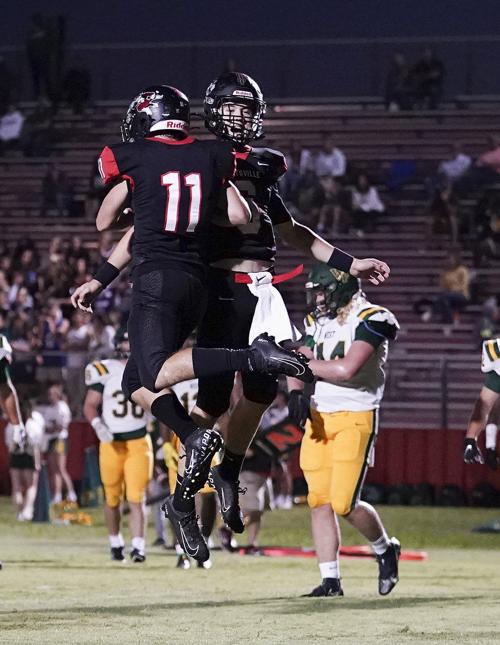 HARTSVILLE, S.C. – Hartsville stumbled through the gate, quarantined from playing Week Zero and then losing to May River on three days practice.
At one point, the traditional power Red Foxes were 0-3.
"I wouldn't say we were down and out, but a lot of people thought we were down and out," Hartsville coach Jeff Calabrese said. "Our kids had to look at themselves in the mirror and ask, 'What kind of football team do we want to be?' And when the story of the 2021 football season is written, what do you want somebody to say about you?"
After Hartsville lost 43-37 to Camden, then 48-47 to Gilbert, one mantra from the Red Fox coaching staff grew larger: "Get Better Every Day."
"Do what it takes to be a better young man; we're constantly focused on that task," said Calabrese, who coached Hartsville to a state title in 2012. "We're not going to belittle players for not having success on Friday; we love them. And, we're going to challenge them and challenge them every day to be the best they can be. Our coaches also had to grow, so it was not just the players who had to be better. Coaches have to put our players in a place to be successful so they can have success on a Friday night."
In the next two weeks after that, Hartsville won 45-20 against North Myrtle Beach and 33-13 over West Florence. Although Calabrese's team is still 2-3 overall, the Red Foxes are 2-0 in Region 6-4A while preparing for Friday's 7:05 p.m. game at third-ranked Myrtle Beach.
One of the more significant reasons Hartsville has improved its record is its youthful defense catching up to speed. After giving up 134 points during their first three games, the Red Foxes have allowed 33 since.
"They've found a way to have success. When you have success, you gain confidence. And when you have confidence, you play faster, more relaxed," Calabrese said. "It's the same kids that gave up a bunch of yards and a bunch of points earlier this season. But they believe in what they're doing. They have a knowledge base of what they're doing and have a comfort level that enables them to have success."
While the team's mentality has grown more confident, it has also grown more resilient.
"We've gone through some adversity, losing a game going for two to win it (Gilbert), and we had a chance to win another game (Camden), and we didn't make that play," Calabrese said. "But there are some games where we've had some stressful moments, and we were able to pull them out."
Case in point: After West Florence scored on a late, first-half touchdown pass to get within 14-13, Hartsville's Alex Hunt blocked the point-after kick. On the ensuing series, McKendrie Douglas found Treion McFarland for a TD pass that ended the first half. Hartsville never looked back.
"Our kids will fight; our kids will play hard for 48 minutes, they're committed to being better players," Calabrese said. "They're committed to becoming better young men. One thing is for sure, regardless of how Friday's game turns out – win, lose or draw – our kids will battle.