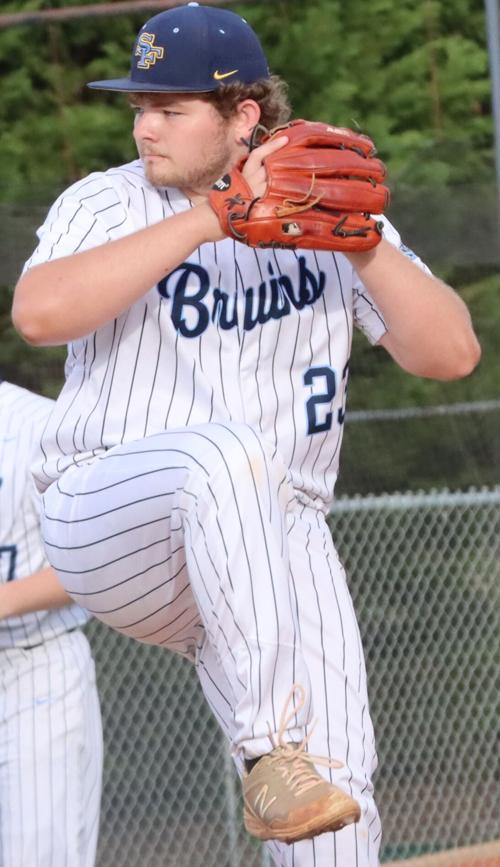 FLORENCE, S.C. — In a span of four days, South Florence went from worrying about its playoff fate to dreaming about a region championship.
After starting the Region 6-4A slate 0-2, coach Kenny Gray's Bruins have won six in a row. The latest wins completed a season sweep of Hartsville this past week, when South won 1-0 Tuesday in extra innings, and 2-1 Friday.
Although South is tied with West Florence atop the standings, the Bruins clinch the region crown if they win their four remaining region games. Gray's squad plays Myrtle Beach twice this coming week, and then twice plays coach Josh Brown's Knights the week after that.
On Friday, South junior Jake Hardee's RBI single in the bottom of the fifth inning gave his team the lead for good. It happened after Hartsville tied it in the top half, when Roddie Morris singled home Chapman Parker.
"(Hardee) really bowed his neck at the plate tonight," Gray said. "He put the ball in play and made good things happen, and that's what you've got to do in those situations."
Meanwhile, South pitcher Mason Lynch turned in his second straight complete-game performance. After going the distance in last week's 4-2 win at Wilson, Lynch did it again Friday at home while striking out four.
Lynch's most important stand happened after Parker doubled to lead off the seventh. He advanced to third on teammate Alvee Fulwood's sacrifice bunt. But then, Lynch struck out Garrett Parker and induced Quez Hadley into a flyout, ending the game.
"I think Mason Lynch was the difference; he pitched one heck of a game," said Gray, whose team's 18th win this season on Friday equaled a personal best during his 23 years as South's coach. He had also reached 18 wins in four previous seasons (2002, '06, '17, '18).
"He came up there in the seventh inning; their guy led off with a double. Then, he came up fielded the bunt and got the first out. Then, he bowed his neck, got the next two outs, and we were able to get the win," Gray added. "I couldn't be more proud of him."
Lynch simply kept his composure after Parker's double.
"Honestly, all I could do was just try to generate a nice little grounder or pop-up, and hopefully get a double play or at least one out," Lynch said. "Honestly, it's just about focusing. My mind was blank, to be honest with you."
At the plate, Lynch was just as effective, helping generate the Bruins' first run with a third-inning single. His courtesy runner, Cade Ardis, reached second on Landon Matthews' sacrifice bunt before scoring while Hardee reached on an error.
Hartsville, on the other hand, dropped to 12-4 and 5-3, and is still in the hunt for a region crown or playoff bid or both. The Red Foxes play twice against Wilson next week, then Darlington the week after. The top two region teams are guaranteed playoff appearances, and there are at-large bid chances after that.
With North Myrtle Beach also in the playoff mix, these next two weeks should be an interesting one. But Friday's loss was a tough one for Hartsville coach Tony Gainey.
"I honestly don't know what the difference was tonight. The offense has gone stale, stagnant. We're still getting great pitching performances. We made a couple of errors tonight, which were totally uncharacteristic. I wish to consult the baseball gurus and let them tell me what's going on," Gainey said. "We're working hard at practices, we're doing everything we know, I've pulled out every trick in the book. We've got to find something."
WP — Mason Lynch (7 IP, 4 H, 1 R, 1 ER, 4 K, 1 BB). LP — Owen Taylor (6 IP, 4 H, 2 R, 1 ER, 6 K, 3 BB).
LEADING HITTERS — H: Chapman Parker 3-3, 2B. Roddi Morris 1-2, RBI. SF: Luke Miller 1-1, 2B; Jake Hardee 1-3, RBI.
RECORDS: H 12-4 overall, 5-3 Region 6-4A; SF 18-3, 6-2.