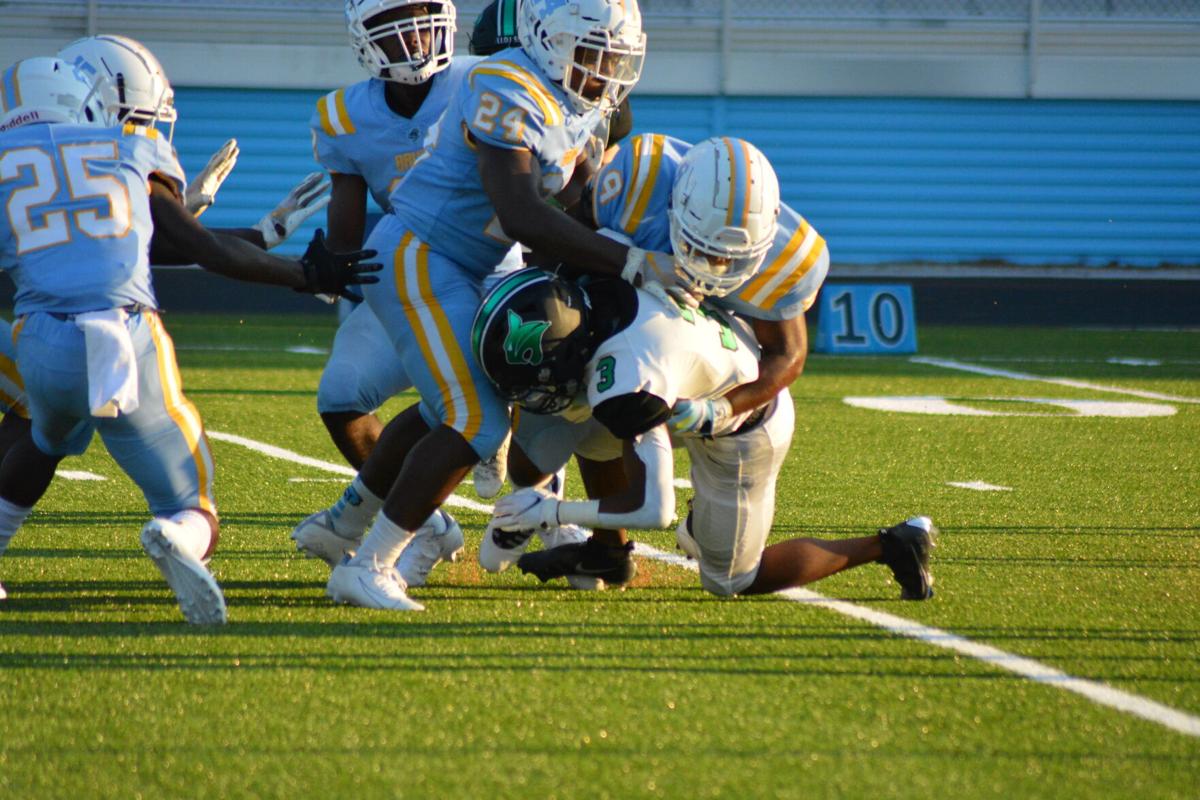 FLORENCE, S.C. – South Florence has a knack for knocking a ball carrier back or taking the ball away. In eight games, the Bruins' defense has made 19 sacks, nine interceptions and six fumble recoveries.
"We thought we were going to be pretty good," South coach Drew Marlowe said. "They have certainly risen to the level of our expectations. We've got a lot of speed, so that's important in football; we've gotten stronger. We have high expectations, and they've lived up to them so far."
The Bruins (7-1 overall, 4-0 Region 6-4A) have a chance to win their first region title since 2014 when they host Myrtle Beach (5-1, 4-0) at Bruin Stadium on Friday night.
A big reason for South's defensive success are its linebacker corps. Middle linebacker Eric Cooper Jr. has 54 tackles, an interception return for a TD, as well as a fumble recovery.
"He has played well for us. He played really well Friday night against Hartsville," Marlowe said. "He just has a really great nose for the football. He plays fast and physical at the point of contact. I need him to continue playing well for us to continue having success."
Outside linebacker Jaylin Davis has 54 tackles (including 12 for loss), four sacks, and an interception. Then, there is fellow outside linebacker Trokel Prew, who has 50 tackles (nine for loss), including five sacks, an interception and two forced fumbles and recoveries.
"They are both relentless. That's the best word I can use to describe them," Marlowe said. "They play hard for four quarters every single night. They've created a lot of value for themselves. They're great at rushing the passer; they're great at stopping the run, and they're both physical at the point of contact.
"I think, at the end of the night, a lot of guys don't want to block them anymore," he added. "That's always kind of what you want from that spot."
And on the defensive line, nose guard/defensive end Xavier Barr has 37 tackles, including three sacks and a safety, as well as a fumble recovery
"Our defensive line has done a really great job. Xavier is a big, strong guy who really, really causes havoc in the backfield a lot of times because he's able to get back there on a fairly consistent basis," Marlowe said. "He had a huge sack at a critical moment last week against Hartsville. He's just a hard worker and great kid. He's the kind of guy you want to have in your program. He does everything right."
The Bruins' defensive coordinator is Cannon Jordan, son of former long-time Conway coach Chuck Jordan.
"He grew up around football," Marlowe said. "I think there's a lot to be said for a guy who has literally been on the practice field his whole life and is the son of a coaching legend in this state. He has the pedigree. Cannon spent time coaching at Conway and Wando, and also coached at Newberry College and The Citadel for a couple.
"I thought he had a great deal of experience in terms of his growing up and college coaching," he added. "He's very smart; he teaches math. He's sort of one of those analytical guys. He has a great mind and great understanding of what you have to do on defense. But he's also a great teacher. It's great to have the knowledge to draw it up on the board. But can you also teach it to the kids and get them to execute it at a high level? He has certainly done that this year."