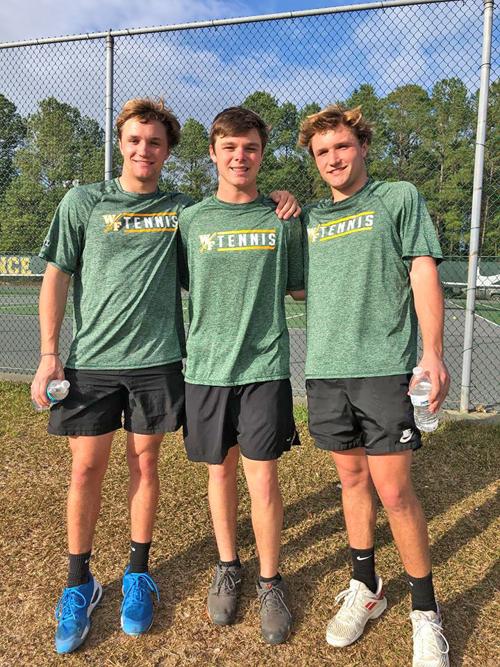 FLORENCE, S.C. — If the West Florence boys' tennis and golf teams play again this spring, introductions of their top three players will be quite similar.
It's actually the same: Hale Emerson at No. 1 seed, followed by twin brother Wyatt Emerson and David DuBose.
They were long-established standouts on the Knights' tennis court, as each had a record of 3-0 before this season was indefinitely suspended because of the coronavirus.
But on the golf course? This was their first season in team play, yet they climbed their way to the top.
"I think it's a fantastic thing," West boys' tennis coach Warren Coker said. "We have really worked hard, me and (West boys' golf coach Jason Brewer) to allow them to participate in both sports."
When school was in session, the three seniors would get out of class at 11:45 a.m. They would go play golf on the team's home course, Traces Golf Club, at 1. Then at 5, they'd practice tennis on the Knights' campus.
"They're good athletes, and they took to golf pretty well," Brewer said. "They have a lot of natural ability and are coachable. And they listen to golf advice really well."
The same view is from Coker.
"I think it's remarkable they've taken (golf) up and gotten so good at it," Coker said. "It's two different types and techniques of swing. To maintain their tennis prowess and develop a golf swing the way they have is just a remarkable example of how talented they are to keep the two sports separated."
When the golf season started, however, the golf team's top three was different: Wyatt at first, DuBose at second, followed by Hale. But in the one tournament the team has played so far this season Hale shot a 95, followed by Wyatt at 97 and DuBose at 99.
"That was a little surprising," Brewer said. "I just wished the season had been able to be played out fully. I would have liked to see how this could have played out."
How they became two-sport players at the same time was rather simple.
"The idea came from Wyatt and David," Hale said. "They had been better than me, they asked me to play. It's our senior year, so let's try it out and enjoy it while we could. In the summer, me and Wyatt would have football practice in the morning, and then play golf in the day or any day we weren't working. And then, we'd take it to the course and play as much as we could."
Wyatt, meanwhile, sees a different dynamic in setting early tones.
"You can have an off day in tennis, and you can still play all right and have a chance at winning," Wyatt said. "But if you have an off day in golf, your score rises high very fast, and you're just not going to have a good finish."
DuBose, meanwhile, is simply glad to add the sport in official team play that he casually played while younger.
"I really got into golf this past summer," DuBose said. "I had grown up playing now and then, but not like this. But now, playing both, it's awesome. We love doing both sports, so why not do both?"
An eight-time APSE national contest honoree, Scott recently authored his first book,"70 Years of Thrills and Chills, Drama and Dents at Darlington Raceway." In college, Scott played on a tennis scholarship and earned degrees from Young Harris College (Ga.) and Berry College (Ga.).