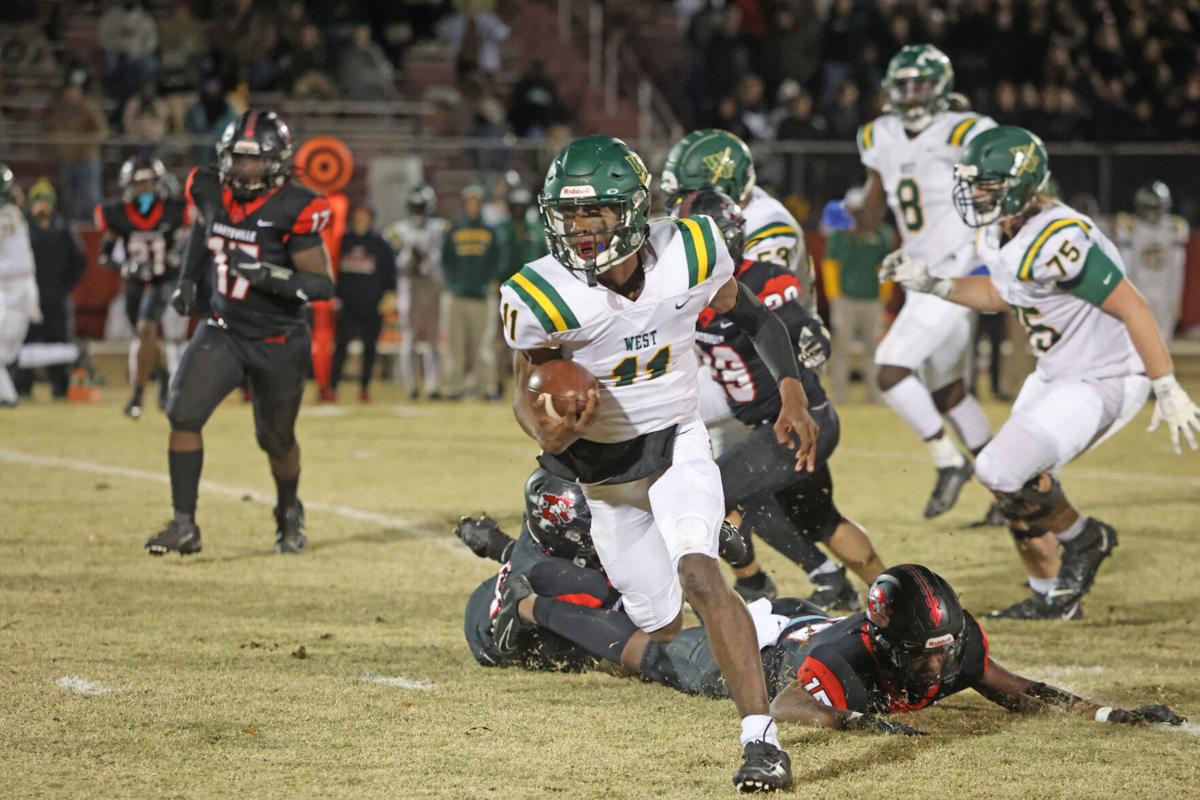 FLORENCE, S.C. – Turkey and football. That's a Thanksgiving menu West Florence had been craving the past 18 years.
Not since 2003, when West finished as SCHSL Class 3A's state runner-up have the Knights been this far, chasing the program's first state football championship.
But first things, first. To make that long-awaited return to the championship game, coach Jody Jenerette's Knights must win this year's Class 4A lower-state final, 7:30 p.m. Friday at Beaufort. This is where West traveled to for last year's first-round playoff game, and the Eagles won 45-14.
But that, as Jenerette emphasizes, was last year.
"That's what we tell our kids. That was a long time ago; we're a totally different team from last year," Jenerette said. "(Beaufort) is basically the same team with a lot of same faces and same guys. But we think we've improved. We think we're a lot faster and more athletic. Does that help us from an X's and O's standpoint, knowing we played them last year? Yes, because they've seen us, and we've seen them. But from an actual football team perspective, it's totally different."
Jenerette knows his team must contain Beaufort quarterback Tyler Haley. During last week's 20-19 win at Myrtle Beach, he passed for 129 yards.
"(Haley) is a super-smart kid," Jenerette said of Haley, who directed Beaufort to its first-round win by the score of 30-14 over South Florence. "He might be as good as anybody we've seen. He does a good job with the (run-pass-option) and reads it well. He's athletic and super-fast. He reminds me of (last year's WF quarterback) George Derrick Floyd, someone who can make something out of nothing. He throws the ball really well and has guys who can catch it."
West quarterback Deuce Hudson, meanwhile, has evolved from one depended upon for efficiency to an outright playmaker. During last week's 31-21 win over Hartsville – which is coached by the previous coach to take West to a state final in 2003, Jeff Calabrese – Hudson accounted for 138 yards total offense, including a TD pass to Avion McBride that put the game away.
Knights running back Terry McKithen, meanwhile, scored two touchdowns last week and has 1,683 yards and 27 scores for the season.
"Terry probably has the most quiet 1,700-yard, 27-touchdown season in the history of high school football," said Jenerette, whose team is 10-2. "He gets some credit, but doesn't get a ton for what he does. Deuce is helping Terry; they go hand in hand. Now, people are starting to get their eyes on Deuce. It's helping Terry, and vice versa.
"Terry has been that four-year guy who has been our rock," he added. "We're going to win or lose with Terry McKithen, no doubt about it."
For Jenerette, who is in the latest postseason stage of his high school career (including his playing and coaching days at Aynor), this is a memorable week. But he also thinks the team has done a good job of staying focused on Friday's game against Beaufort (11-2).
"That's exciting, as a head coach, to see," he said.