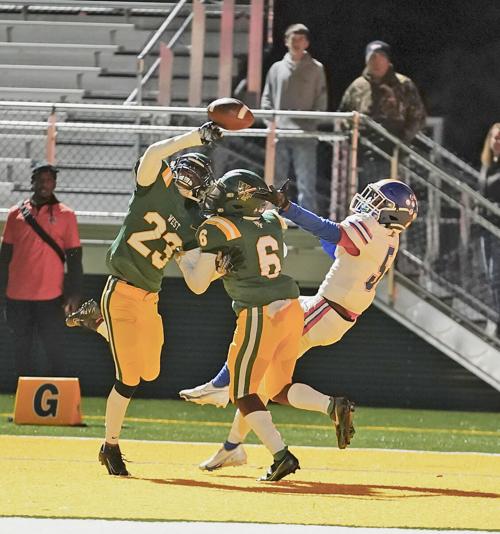 FLORENCE, S.C. – West Florence led Hartsville 24-21 in last week's lower-state semifinal, and the Knights' Twitter account – operated by Knight athletic director Greg Johnson – wanted a Red Fox turnover.
So, Johnson tweeted, "I would like to formally request a fumble or an interception."
Sure enough, West's defense delivered, just as it had all season when Nashon Frison recovered a fumble, which led to a touchdown pass from Deuce Hudson to Avion McBride that put the game away and sealed the Knights' spot in Friday's Class 4A lower-state final at Beaufort.
Knights coach Jody Jenerette gives the credit to defensive coordinator Jerran Devlin, whose unit has 16 fumble recoveries and 12 interceptions this season.
"Those kids believe in him," Jenerette said. "Anything coach Devlin says, they hinge on every word. Their belief is 99 percent of football. If you believe in who's coaching you, what the scheme is and believing in the guys beside you, it makes a big difference. You can tell when he's talking, there are 25 sets of eyes staring at him the whole time."
Now, about that late fumble recovery that led to the game-sealing touchdown.
"Our kids always believe something good is going to happen," Jenerette said. "It's just one of those vibes when something is going your way, you're having a good run, then the ball bounces your way. A lot of people say we're lucky. But I'll tell you what, we're practicing on Thanksgiving, and a lot of other teams aren't.
"It's better to be lucky than good sometimes," he added. "But it's a great feeling when the ball is bouncing your way. Obviously, in years' past, it had bounced the other way around here. We want to relish every moment we have with the ball bouncing our way."
When the opponent has the ball, it's the Knight defense's job to make sure it keeps bouncing West's way.
"I'm really proud of how we're playing," Devlin said. "We have a lot of young guys at certain spots. At the beginning of the year, we told them they're going to be put in situations they're not used to. But we're going to depend on them to make big plays, and they've responded."
Seven defensive starters are back (five from all of the 2020 campaign. Current starters Franklin Emerson and Kelvin Hunter also joined the team from J.V. for that final stretch), and West has certainly created its share of havoc on defense.
Emerson, at linebacker, has a team-high 124 tackles with three fumble recoveries, a couple of blocked punts, a sack as well as two interceptions along with a TD. Hunter has two recoveries and two sacks and a score of his own. And, Deshawn Gamble has two interceptions, a fumble recovery, two sacks and three TDs on defense.
"We've told them that we will always hold them at a high level," Devlin said. "The expectations are high, and we're not going to lower it for any team or anybody. Our players know the standard, and we've held them accountable for the whole season, and they have risen to the occasion."