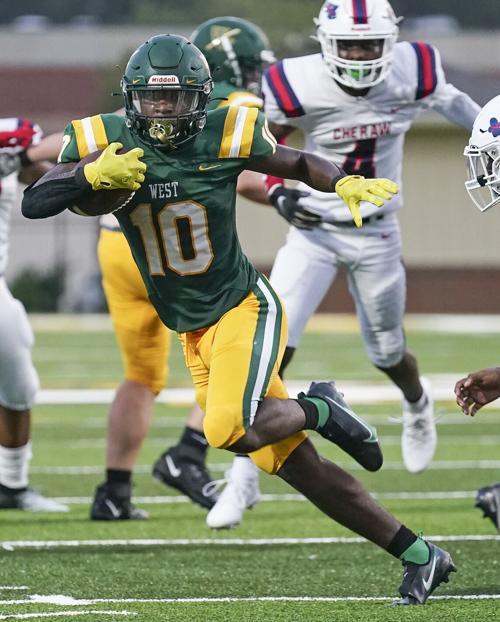 FLORENCE, S.C. – Terry McKithen zigged right, zagged left. Then, in the blink of an eye, he was gone – 67 yards down the sideline and into the Knight Stadium history book.
The West Florence senior's long touchdown was not only on Friday's first play from scrimmage, it was on the inaugural play from scrimmage in the history of the Knights' new stadium in regular-season play.
"It won't take long (to sink in)," McKithen said. "I come out every day trying to execute every play I can. I saw daylight, and I hit it."
After rushing for 66 yards and four touchdowns in last week's 42-33 win that opened the season at Lexington, McKithen's first home performance of 2021 was a worthy encore. He rushed for 130 yards and three touchdowns in the first half alone (115 yards and one TD during the opening period) during Friday's 35-14 win over Cheraw. At game's end, McKithen had 155 yards and four TDs on 23 carries.
"(McKithen) is what we want in a West Florence football player," said Jody Jenerette, the Knight coach whose team improved to 2-0. "He loves football, he loves his teammates, and he totes the ball the way you want it toted."
He sure toted that ball on Play No. 1 from the line of scrimmage.
"This is the last ride," McKithen said of his senior season. "I've got to make it happen."
When it happened, Jenerette saw the whole view.
"I was like, 'Man, we finally got this thing in,'" Jenerette said. "What a big moment for our fans; what a big moment for the community."
To put in perspective what a big moment this was, Friday's game was one that almost didn't happen for West -- not at home, anyway. The Knights were scheduled before the season for Friday to host Conway, but the Tigers' region changed games around and that left West looking for a new opponent. Right before West played at Lexington, it was at first thought West would have to play at Clover in order to play at all, and therefore give up that home game.
But after West discovered Cheraw -- a team the Knights scrimmaged in the preseason -- was available, the Knights canceled the Clover road game and got to have an Aug. 27 home game after all, against the Braves.
On Friday, McKithen also scored from 21 and 3 yards before halftime to help give his team a 23-7 advantage. The latter score happened after the Knights' Brody Cook blocked a punt deep in Braves territory. The other points before halftime came from a Sam Spence field goal of 24 yards.
Cheraw struck back on the opening series of the third quarter with a Dwight Harrington touchdown to get within 23-14, but West responded. McKithen converted a fourth-and-2 run on the ensuing series and eventually scoring from the 1 to account for his fourth score.
Knights quarterback Deuce Hudson rushed for 106 yards on 18 carries (he also passed for 40 on 5-of-5 attempts), and teammate Darren Lloyd accounted for 79 yards, including West's final touchdown of the game.
Cheraw's Damarion McCaskill, meanwhile, led the Braves with 105 yards on 15 carries, and quarterback Malachi Roscoe passed for 103 yards and a touchdown.
Sure, the Knights won this one on the field. But Jenerette was quick to point out the team effort off the field that made Friday such a special night. In the midst of an uncertain, pandemic-affected schedule, West on Saturday morning found a home opponent for this Friday: Lake City, a team the Knights were originally set to host Sept. 10.
While the Knights must still try to find a Sept. 10 home opponent, looking ahead in that area was not on Jenerette's mind.
He wanted to enjoy and embrace this moment.
"It was great to see our fans, see our community, it's unbelievable," Jenerette said. "This place is crazy. (Superintendent Richard O'Malley) did such an incredible job designing it. It's a lot of kudos to him. And, a lot of kudos goes to (Knights athletic director Greg Johnson) for what he did to make it ready to play tonight. There were a lot of good things, and the good things outweigh the bad. So, we're excited to be 2-0."
WF – Terry McKithen 67 run (Sam Spence kick), 11:47
C – Zay Brown 64 pass from Malachi Roscoe (Thomas Chapman kick), 9:51
WF – McKithen 21 run (Spence kick), 5:49
WF: -- McKithen 3 run (kick blocked), :32
C – Dwight Harrington fumble recovery in end zone (Chapman kick), 7:41
WF – McKithen 1 run (run failed), 1:49
WF – Darren Lloyd 13 run (run failed), 1:41
RUSHING -- C: Damarion McCaskill 15-105; Brown 6-25; Roscoe 2-0; Derreon Pegues 1-15; Jadon Scott 1-(-4). WF: McKithen 23-155; Deuce Hudson 18-106; Darren Lloyd 14-79.
PASSING -- C: Roscoe 6-15-0-103. WF: Hudson 5-5-0-40.