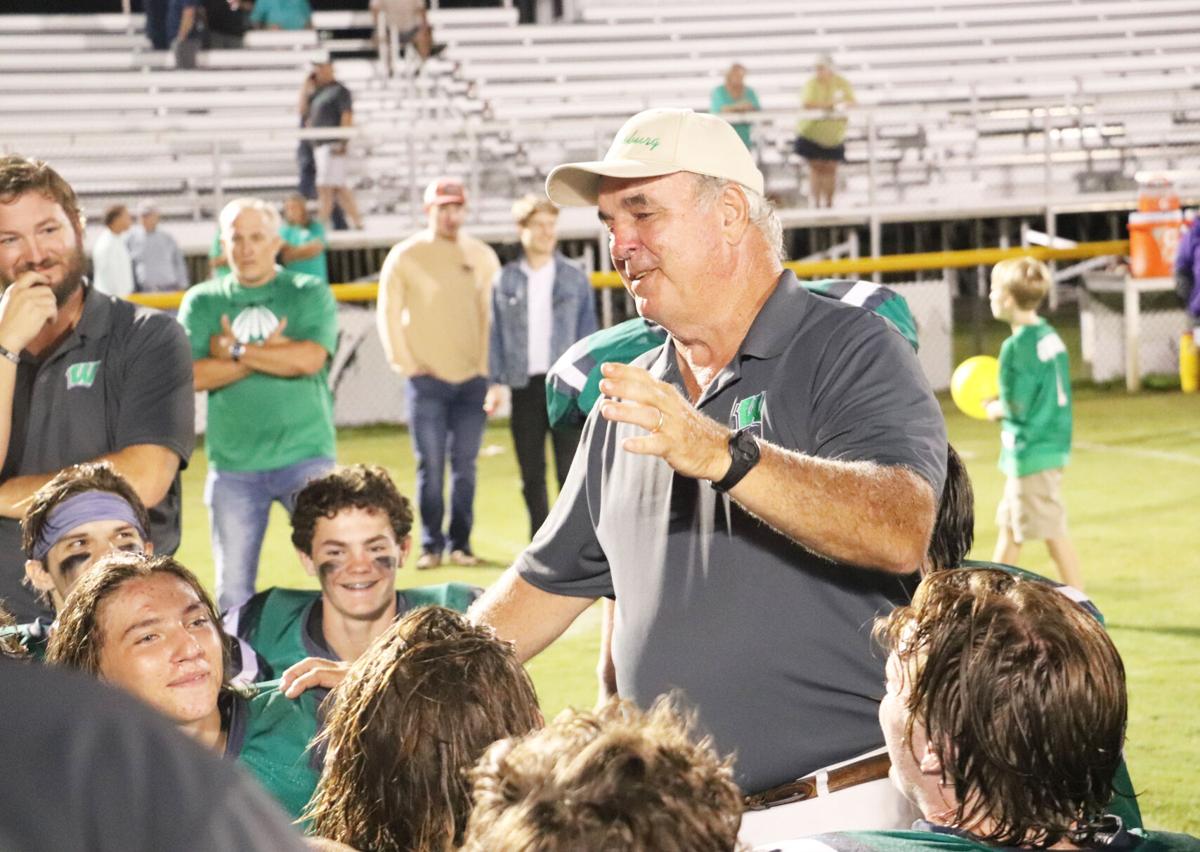 KINGSTREE, S.C. – Don Shelley has already run out of fingers to wear state championship rings, with 11.
A nine-time state championship coach at Orangeburg Prep, and winner of two more at Holly Hill, Shelley has Williamsburg Academy playing its best football since the Stallions' 2013 state championship run under then-coach Ken Kellahan.
A Pee Dee Academy alum and former Golden Eagle coach, Shelley is in his third season coaching Williamsburg Academy, and the Stallions made their biggest statement yet this season with a 35-14 home win Friday against none other than Pee Dee Academy.
"We played the best game we've played this year," Shelley said. "Pee Dee Academy is a good football team. We were just excited, happy to come away with the win."
The Stallions have been able to put together big quarters when they needed them. On Friday, they broke away from a 7-7 score and outscored PDA 21-0 in the third. Earlier this season, against Florence Christian, the Stallions scored 13 unanswered points in the fourth to force overtime and win 27-26.
Williamsburg Academy has been able to go 4-0 with a balanced offense. On Friday, sophomore quarterback Conrad Balder passed for 233 yards and a touchdown.
"He's calm, cool; he's a very intelligent football player," Shelley said. "He does a good job picking up on the pre-snap reads. When we're in a bad play, he can check us out of it and put us in a good play. We run a lot of (run-pass-options), and he also makes good decisions on those."
Balder's two leading receivers Friday were Joe Kellahan (eight catches for 103) and Teague Ward (six for 65).
"That puts other defenses in a bind because sometimes you've got one primary receiver, and your defense can kind of double up on him and stuff like that," Shelley said. "But having multiple receivers you can go to, that puts a lot of stress on the defense that you're playing."
At running back, Williamsburg Academy showed its balance with Caleb Kline's 181 yards.
"I talked to Caleb this past Monday about the two previous games, and I didn't really feel like he ran the ball the way he was capable of," Shelley said. "He sure ran the ball well the other night. He's a hard runner; he'll get that extra yard at the end of his runs, and was able to pop a few the other night. I'm really proud of him."
Williamsburg Academy even has Ken Kellahan back, helping coach its offensive line and secondary. And Tyler Boyd, son of three-time Lamar state championship coach J.R. Boyd, is the Stallions' offensive coordinator.
Shelley had always thought this would be an ideal program to coach.
"For years, particularly, when I coached at Orangeburg Prep, we went through one stretch where we played Williamsburg Academy in the regular season and playoffs three years in a row," Shelley recalled. "You could tell their fans are very supportive, they've got the booster club, and the school has really nice facilities. And I had known (Ken Kellahan) since he played in high school."