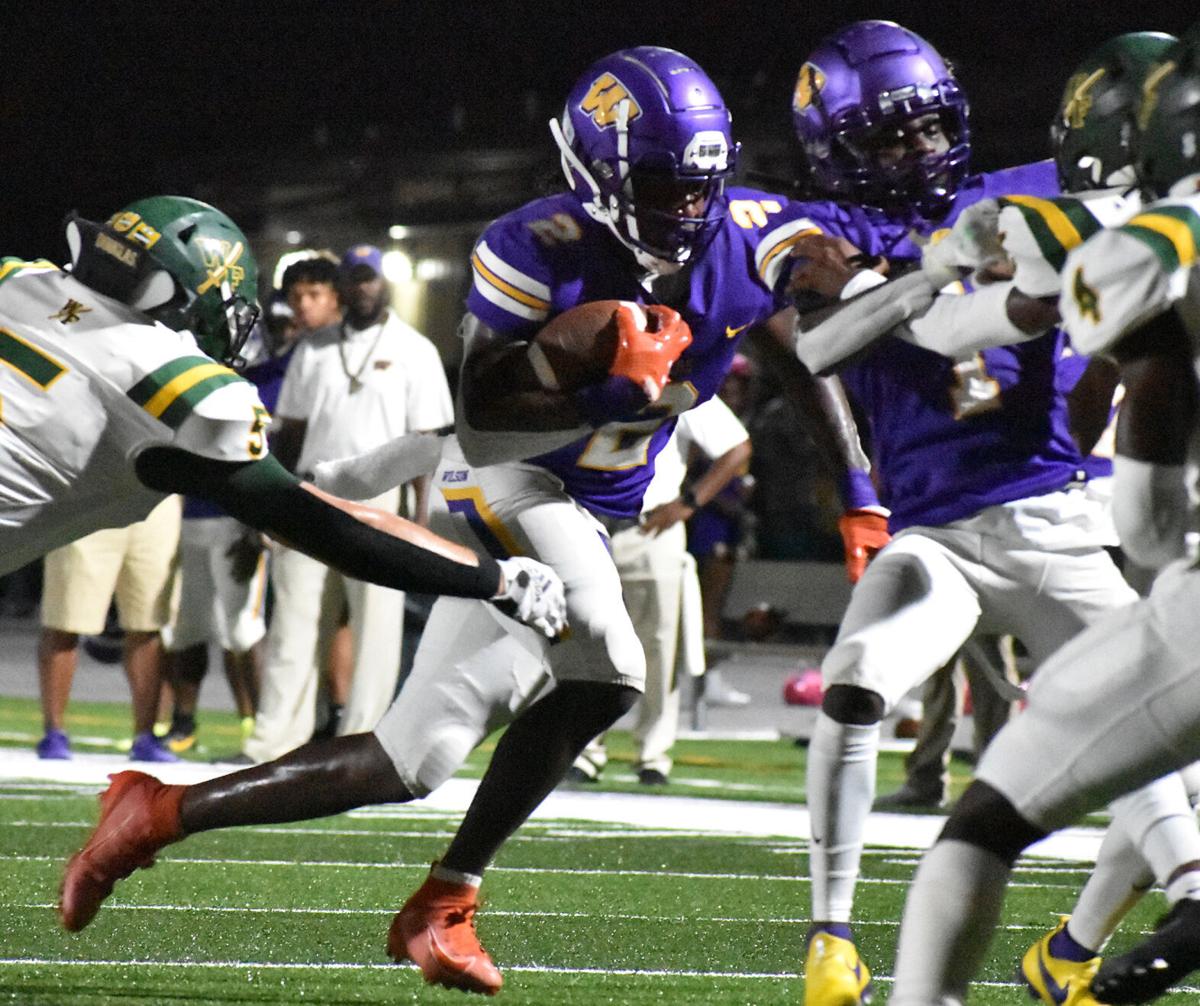 FLORENCE, S.C. – Zandae Butler has a simple rule when it comes to jump balls.
"A 50-50 ball, I feel like, has always got to be mine," the Wilson High junior wide receiver said. "If it ain't mine, it ain't nobody's."
Doesn't matter the coverage either, as first-year Tigers coach Rodney Mooney found out in a game against Goose Creek.
"There was one time where we just threw it up to him and we threw it into triple coverage," Mooney said. "He went up and made a play on it and made a touchdown. Everybody we've played against this year, he's made plays like that. It doesn't matter if you try to double-cover him or jam him at the line.
"He's just a pure playmaker."
One that's starting to garner attention throughout the state – and among Power 5 colleges. The 6-foot-1, 197-pound standout ranks in the top four in receiving in the Pee Dee with 368 yards and four touchdowns on 20 catches and has been one of, if not Wilson's top, go-to scoring threat.
"It's been a blessing," Butler said. "I can't do anything but thank God. I'm so excited and so happy to be out there with my brothers that I've played with since I was very little.
"It's just been a very good feeling."
The 2021 season has been especially rewarding for Butler, considering what he has endured the past two seasons. The Tigers' opening game against Ashley Ridge was the first time he played competitive football since his freshman season.
Butler, who's also a standout on the basketball team, appeared in six games for Wilson that year but spent time at quarterback and running back as opposed to wideout. He was 6 of 10 for 93 yards and a touchdown behind center and also ran the ball four times for 24 yards.
His sophomore season was supposed to be a breakout one, but those plans quickly went out the window when he suffered a broken hand. That kept Butler out of the entire, pandemic-shorted season.
"I was looking forward to a big year last year, and when I broke my hand, it took me out of it a little bit," he said. "But I got myself together and got refocused. But it was frustrating not being able to play the game that I love."
Even so, Butler took the added time to improve his game – namely, his footwork.
"I just went out there every day and worked on my footwork," he said. "Working on the feet; working on eying the ball and catching and tucking and things like that. Also, my routes. I wanted to work on running better routes and how to start on a route.
"For instance, if a corner is jamming you, how to get off that and run your route and be physical."
Primed for his return, Butler was dealt another setback leading up to the season after he broke his other hand during practice.
"When that happened, it took a lot out of me," he admitted. "I started to second-guess myself, like am I really supposed to be playing football? I worked so hard during the summer to get back to 100% for this year, and then I turn around and have the same injury happen again to my opposite hand.
"It just had my mind in all types of different places. But my coaches, my friends, my family − they told me to stay in it."
The hand required surgery. But luckily for Butler, it healed quickly and he didn't miss a game. His best outing so far probably came against Goose Creek when he had four catches for 110 yards and two touchdowns. He also ran for a touchdown.
Butler also caught five passes for 58 yards and two TDs against Darlington.
"Every week, we try to be creative and try to figure out ways to get him the ball so he can do what he does best − make plays," Mooney said. "I'm getting a lot of calls from Power 5 schools showing interest. And I expect, at the end of the year, he'll have a lot of offers, including some from Power 5 schools.
"He's just a tremendous athlete and a great kid on and off the field. He's a guy we're fortunate to have for another year. A special kind of talent."