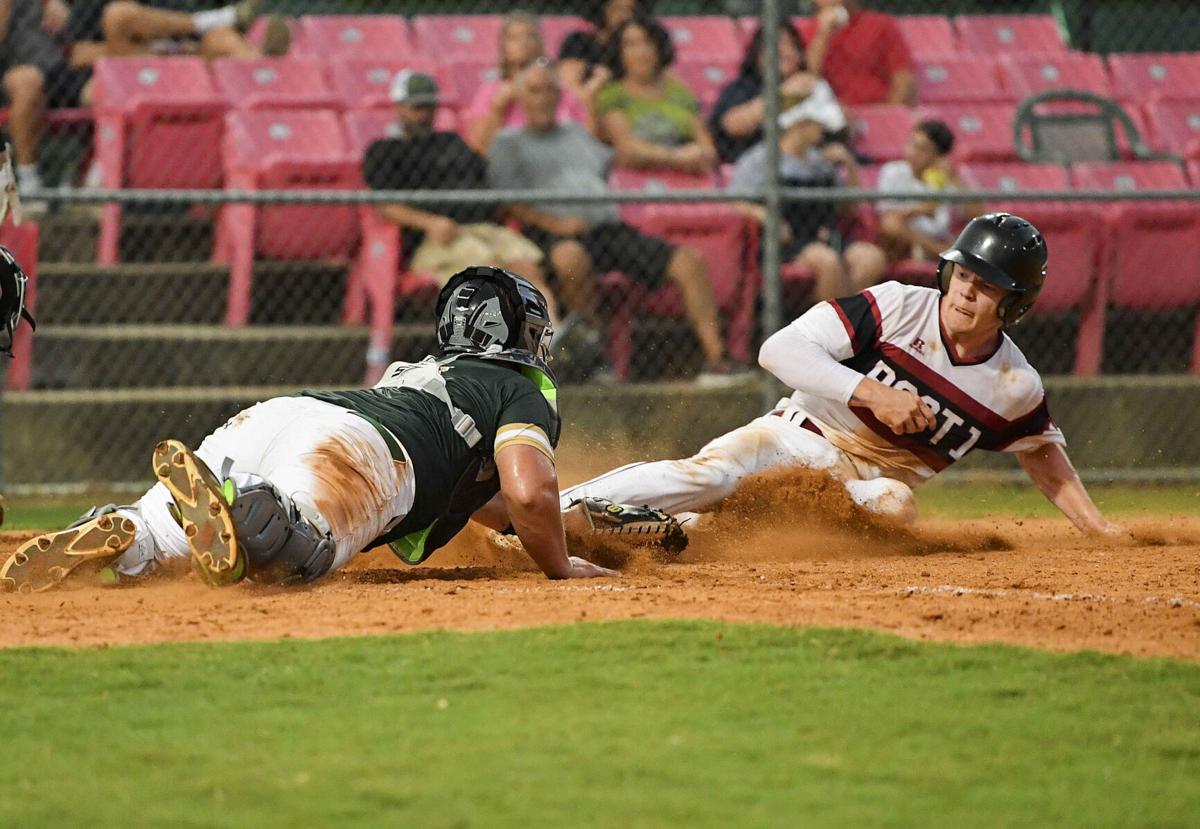 FLORENCE, S.C. – Camden starting pitcher Heath Stokes no-hit Florence for five innings, and the 17ers survived a seventh-inning rally by Post 1 to claim an 8-7 victory Tuesday in the opening game of the S.C. American League state playoffs at American Legion Field.
The two teams will meet for Game 2 on Wednesday at Legion Field as well, with Camden serving as the home squad. Game time is set for 7:30 p.m.
Owen Taylor broke up the no-hitter with a leadoff single in the sixth for Florence (15-6). His RBI single in the seventh capped a four-run outburst that brought Post 1 to within 8-7.
But all four runs came with two outs, and Florence could not completely dig its way out of an early hole.
The 17ers opened the game with a four-run top of the first – taking advantage of a passed ball on a strikeout, two walks and a hit batsman. Jansen Stokes was plunked with the bases loaded to drive in the first run, Johnathan Sanders followed with a two-run single and Brady White plated the final tally on a fielder's choice grounder.
Despite not getting a base knock until the sixth, Post 1 was able to take advantage of some wildness by Stokes and miscues by the Camden defense to keep the game from getting out of hand.
Florence got a run back in the bottom of the first when Caleb Oakley walked, reached third on an error and came home on a wild pitch.
In the third, D.P. Pendergrass walked, swiped second and third and then came home on Oakley's RBI groundout. In the fifth, Nik Mezzanotte reached on an error and wound up scoring on Oakley's sacrifice fly.
The score was 5-3 at that point following Tate Abbott's RBI double for Camden in the top of the fifth. The 17ers added three more runs in the sixth which proved to be the difference. Ty Dooley had an RBI double and Sanders added his third run driven in of the game on an RBI single. He finished 3 for 4 to lead Camden.
Abbott added a sacrifice fly to pick up his second RBI. He finished 1 for 2. Ty Dooley also scored three runs for the 17ers.
Taylor had two of Florence's five hits with Oakley, Noah Carter and Mikey Morris picking up the others. Oakley also scored a pair of runs for Post 1.
Florence starter Anthony Hopkins lasted just 1 1/3 innings, surrendering four walks and one HBP in his outing. Noah Skeen pitched four innings and allowed four runs, three earned, on five hits with one strikeout and one walk. Josh Collins finished off the game.