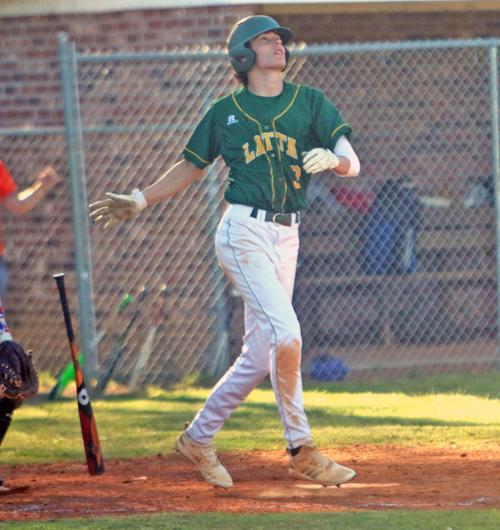 LATTA, S.C. – It took Dylan Brewer a moment to capture his memories playing high school baseball.
That's because the Latta High School senior had lived just about every one imaginable.
"It's been great. I won a state championship (Class 2A in 2018) and lost a state championship (Class A, 2016). I know how both of them feel," Brewer said. "I've played with a great group of guys."
Not to mention, Brewer was South MVP in the recent North-South Select All-Star game.
And also, not to mention, Brewer earns a second consecutive honor as the Morning News Baseball Player of the Year. This past season, he batted .408 with nine doubles, two triples, six home runs and 28 RBI along with 19 stolen bases. And on the mound, he won five games with a 1.66 ERA in 33 2/3 innings pitched along with 60 strikeouts.
He is a preferred walk-on at Clemson, and time will tell if Brewer is picked high enough in the Major League Baseball draft to the point that he forgoes college altogether.
"The biggest thing about him is a combination of things," Latta coach Don Cribb said. "Defensively in center field, he has great speed, which also helps him on the bases. He has good arm strength when it comes to hitting, and he can hit with a little bit of power; he always hits for high average. There's not many players who has so many things going for them." Brewer, a four-time all-state selection, played first base his first two years at Latta.
"He was outstanding at first base. But he ran so well that we thought we could utilize him in the outfield, and he did well there," Cribb said. "And when he pitched for us, it wasn't something he really loved doing – he loves to hit. But he certainly was effective as a pitcher. He's just a complete player."
After the Vikings graduated some key players from the 2018 Class 2A state championship team, Brewer knew he would be counted on this season.
"It was a lot of pressure on me," Brewer said. "There was more pressure this year than in the past. So I felt like I had to do more in every game because we weren't as talented and didn't have the help I had in the past. Basically, for me and (best friend/teammate/pitcher Noah Henderson), we had a lot on our shoulders. Every game, I felt like I needed to be the best version of me."
But for the first time since 2012, Latta (which also won a Class A state crown in '15) did not reach a state final.
"I learned you can only control what you can control," Brewer said. "You can't try to do too much or then you'll fail. The best thing you can do is play the game how it's supposed to be played, and do what you can."
For now, Brewer is focused on enrolling at Clemson on June 23 to take a couple of summer classes and join the Tigers in workouts.
"I'm about to go to Clemson where everybody will be as talented as me," Brewer said. "I can't try and do too much. I'm just going to go in and do what I need to do. God gave me this talent. I don't need to try and do too much with it. Just do what I can, just be me every single day."
Be the first to know
Get local news delivered to your inbox!