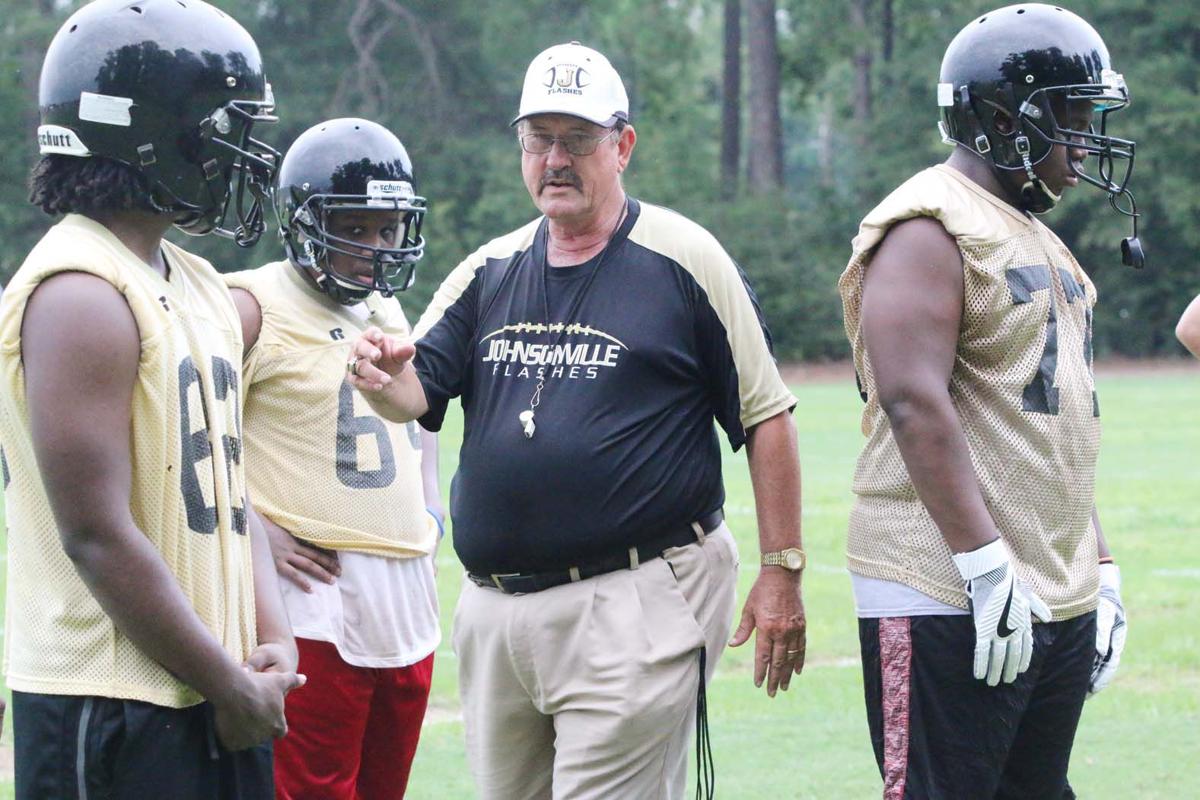 JOHNSONVILLE, S.C. -- Lewis Lineberger is retiring as Johnsonville's football coach, teacher and athletic director at the end of this school year.
Through 34 years of coaching (after seven years as a Hartsville assistant), including state championships as the Red Foxes' coach in 1987 and '88, Lineberger's career record is 253-154.
"I've been doing it for 41 years, and it's been a long time. I've been tied up between the months of July and sometimes October, sometimes the end of October, sometimes November and sometimes even December for football and on weekends seven days a week," said Lineberger, whose team went 3-7 last fall. "It's time to see what else is out there and see what other people have been doing during that time.
During his 21 years as Hartsville's coach, the Red Foxes also earned state runner-up finishes in 1984, '92, '93 and '97.
And in Lineberger's past 13 years as Johnsonville's coach, he guided the Flashes to a state runner-up finish in 2012. He was also inducted into the South Carolina Football Coaches Association Hall of Fame in December.
"It was a very tough decision to make," said Lineberger, who notified Florence School District 5 superintendent Randy Smiley Monday of his decision and notified the players Tuesday. "Sometimes, I think I can do it 10 more years, but sometimes I think I've missed out on a lot. I'm still healthy. It's tough, but you have to make tough choices and go on and do the best you can with what you've got and see what other opportunities open up."
After being asked if Lineberger would like to coach again, he responded, "Maybe I'd consider (being an assistant or coach) if the right job at the right time opened up. I'd possibly consider it. But I probably want to take a year off at least to see how it is without it and see if I can survive without it."
Lineberger certainly has had a hall of fame-worthy career.
"I've had a lot of good years and outstanding assistant coaches who have been loyal and worked hard, as well as a lot of hard-working players who dedicated themselves to football and did very well, so I'm very fortunate in that aspect," Lineberger said.
Lineberger does not know who will replace him.
"I'm not sure I'll have a say in that decision, but hopefully they get the best person for the job," he said. "I really care about the players coming back, and I told them I'll help them any way I can and hope they get the best person for the job."
As with any coach who retires, Lineberger will certainly miss being on the sideline.
"I'll miss being with the coaches and assistant coaches and the players," Lineberger said. "You spend a lot of time and shed a lot of blood, sweat and tears. And then you see the kids not only develop into football players but good people. I think I'll miss that the most."