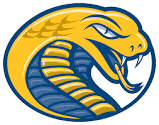 WINGATE, N.C.—Coker University outfielder Reilly Hall was named the National Collegiate Baseball Writers Association Southeast Region Player of the Week.
Hall led the Cobras to a SAC series win over UVA Wise last week with an outstanding performance at the plate. Hall belted six homers in the series, including five in the Saturday doubleheader. He finished the week batting .438 with six home runs, a double, 13 RBI, 13 runs scored and seven walks. His three-home run performance in game four of the series ties a Coker single-game record.
On the season, Hall is tied fourth in the conference for home runs with eight, and also has 27 RBI and 23 walks drawn.
This Hall's first career Player of the Week honor. The Cooperstown, N.Y., native was also named as the South Athletic Conference AstroTurf Player of the Week earlier Tuesday.
The Cobras will be back in action on April 10 when they travel to Queens University (N.C.) in a conference doubleheader series. First pitch of game one is scheduled for 12 p.m.Live coverage can be found at www.cokercobras.com.
Francis Marion JV 4 (8)FLORENCE, S.C. − Josh Patterson had two hits and drove in four and Gary Lora had three hits and two RBI as the Florence-Darlington Tech baseball team defeated the Francis Marion University JV squad 14-4 in eight innings on Tuesday at Sparrow Stadium.
Patrick Matthews finished with three hits for the Stingers and Josh Laffin doubled and drove in a pair. Patrick Baggett also had two hits for FDTC.
Trey Thacker struck out seven in two innings of work while Jacob Greer picked up the win with a pair of scoreless innings.
Davis nets double-double as Patriots fall to Braves
FLORENCE, S.C. – Sophomore hitter Gracie Davis registered a double-double with 10 kills and 10 digs, but Francis Marion University lost to UNC Pembroke 25-22, 25-16, 26-24 on Tuesday night in Peach Belt Conference volleyball action.
Francis Marion (3-6, 3-6) will host a pair of matches this weekend: Friday at 6 p.m. against Georgia College and Saturday at 3 p.m. against Flagler College. Admission is free, but spectators are limited to 250, including ONLY FMU season ticket holders, FMU students who pick up free tickets prior to first serve, and family members of players who reserve admission tickets prior to game day. Spectators will be required to wear masks and social distancing will be observed.
In addition to her kill and dig totals, Davis also served two aces and handled all 25 of her serve receptions flawlessly. Senior Kayla Arthur added eight kills and two blocks, while freshman setter Kaylee Gillespie dished out 32 assists, served a pair of aces, and dug up 12 balls for her second double-double of the season.
FMU junior libero Alexi Watts also recorded 12 digs.
Shannon Skryd led UNCP (6-5, 6-5) with 11 kills and four blocks, while setter Morgan Gibbs tallied 13 assists and 12 digs.
In the opening set, FMU took a 16-11 advantage after a kill by junior Alyssa Hansen. However, the Braves rallied to knot the score at 17-17, and then snapped a 19-19 deadlock with a 4-0 spurt. A kill by Arthur gave the Patriots an early 4-3 lead in set two, but UNCP rattled off eight consecutive points and never trailed again en route to the 25-16 win.
The third set featured 14 ties and three lead changes. A kill from junior middleblocker Lily Walton and an attacking error by the Braves got the Patriots even at 24-24, but UNCP earned the win with a kill and an attacking error by FMU.
This marked the 90th all-time meeting between the two I-95 rivals. FMU leads the series 55-35.