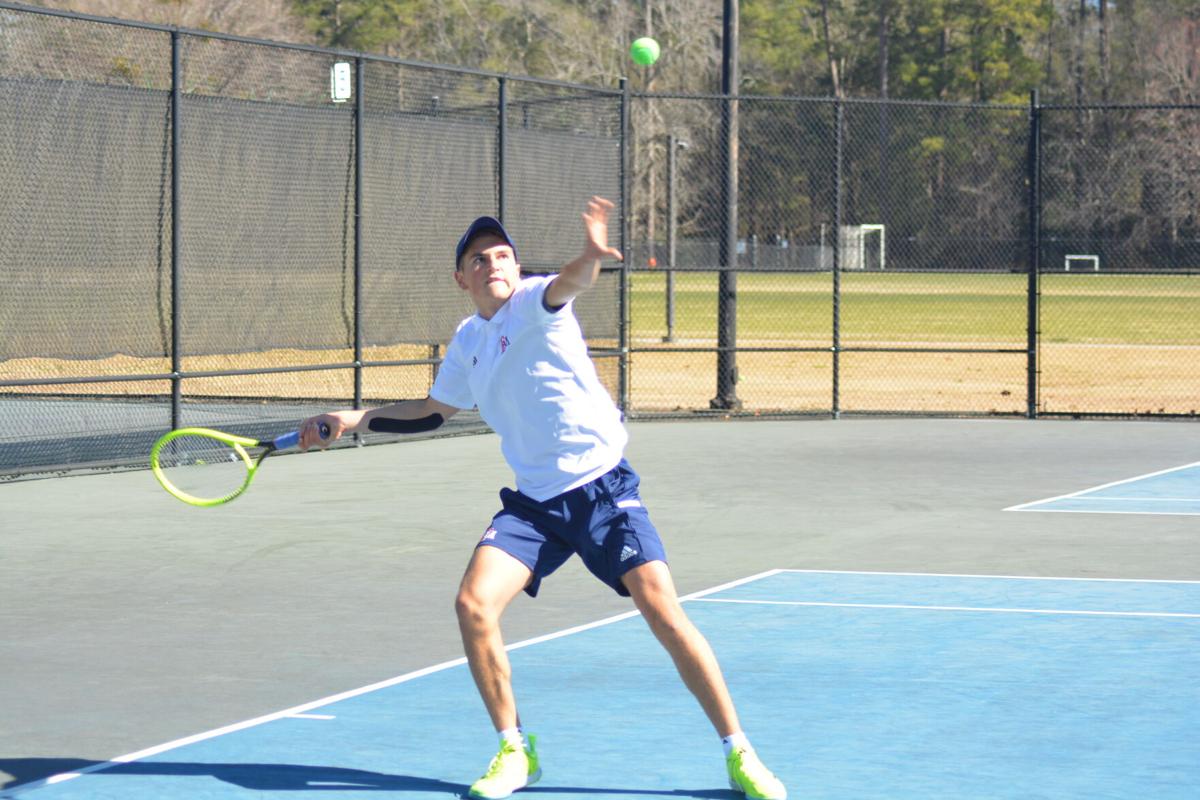 FLORENCE, S.C. – Francis Marion University earned the doubles point thanks to a marathon win at the No.1 position, and then freshman Leonel Gonzalez registered the clinching point at No. 5 singles as the Patriots claimed a hard-fought 4-3 victory over local-rival Coker University on Saturday in men's tennis action.
The Patriot women captured a 5-2 win over a short-handed Cobra squad in women's action.
Both FMU squads will host Barton College on Sunday at noon on the Kassab Courts.
The Francis Marion men (1-3) gained the doubles point when senior William Anth-Forsberg and freshman Adam Ernberg rallied to beat Carlos Pinedo and Isaac MacMillan 7-6 (10-8 in the tie-breaker) at the top doubles spot. Earlier, Coker's Luis de Vuyst and Thibaut Decaluwe were victorious at No. 3 doubles by a 6-2 count, while FMU graduate student Mauricio Guerrero and Gonzalez won 6-4 at the No.2 position.
Anth-Forsberg put the Patriots up 2-0 with a 6-1, 6-2 victory at No. 1 singles, but MacMillan countered with a 6-2, 6-1 win at No. 3 to draw the Cobras within 2-1.
Guerrero then won 7-5, 6-2 at No.2, but the Cobras' Sean Keane earned a hard-fought 6-3, 2-6, 7-6 (7-1) decision over FMU freshman Joshua Schaefer at No.4 to again pull Coker to within one at 3-2.
Gonzalez delivered the winning point for Francis Marion with a 6-2, 7-6 (7-3) win at No.5 singles. Coker's Decaluwe earned a three-set win (2-6, 6-3, 6-0) at No.6 to account for the final point.
The win avenged a 4-3 loss to the Cobras several weeks ago in the season-opening City of Florence Invitational.
In the women's match, Patriot sophomore Hermon Mikael and freshman Viktoria Leth defeated Charlotte Clarke and Zoe Heed 6-2 at the No.1 spot to deliver the doubles point to FMU.
With the Cobras defaulting the No.5 and No.6 singles matches, Francis Marion needed only one singles victory to clinch the match and Leth earned that point with a 6-0, 6-1 win at the No.3 position.
Mikael improved to 12-1 all-time in singles play with a 7-6 (7-0), 6-1 win at No.1 singles, while Heed (No.2) and Khushi Agarwal (No.4) garnered the two Coker points.
Northwest Florida State 3
PALATKA, Fla. − Scott McDonough went 2 for 3 with a grand slam as the Stingers powered their way past Northwest Florida State 12-3 early Saturday morning.
Patrick Matthews also homered and drove in four runs for FDTC. He had two hits as well along with Gary Lora who collected two RBI.
J.T. Marr also had a pair of hits while Luke Wood went 3 for 4 with four runs scored.
Hunter Parks (2-0) picked up the win after going 4 2/3 innings and allowing three runs, none earned, on two hits with three walks and three strikeouts.
Jimmy Curley got the save after tossing the final 2 1/3 innings and allowing no runs on no hits with two walks and two strikeouts.
FDTC lost its second game of the day 1-0 to St. Johns River State College.
DAHLONEGA, Ga. – The University of North Georgia plated four runs on just two hits in the first inning and the Nighthawks went on to claim a 5-2 win over Francis Marion University on Saturday in Peach Belt Conference baseball action.
The loss spoiled the Patriots' season opener and coach Art Inabinet's 1,000th game. North Georgia improved to 6-1 overall and in the PBC. The two teams will play a doubleheader on Sunday at noon to conclude the three-game weekend series.
Senior left-hander Weston Rogers (0-1) earned the season-opening start for FMU and he took the loss. He allowed all five runs, but only one was earned. Senior righty Bailey Wendel relieved Rogers in the fourth and tossed 4.2 scoreless innings, allowing only two hits and fanning five.
The Patriots took a 1-0 advantage in the top of the first when senior first baseman Leniel Gonzalez smashed a solo homer to left centerfield – his 12th career long ball. However, the Nighthawks responded in the bottom of the frame. A one-out error helped lead to the four unearned runs. The first tally came home on a bases-loaded walk and the second on a wild pitch. UNG left fielder Brady Eeles capped the outburst with a two-run double.
The Nighthawks added an insurance run in the second on an RBI-double down the left field line by second baseman Bill LeRoy.
Francis Marion trimmed the margin to 5-2 in the sixth inning on a two-out solo homer to right by junior right fielder Will Hardee. The Patriots threatened in the seventh when Gonzalez led off with a double and senior third baseman Todd Mattox was hit by a pitch. However, junior right-hander Parker Morrison retired the next three FMU batters – two by strike out – to thwart the rally.
Morris (3-0) pitched a complete game with 13 strikeouts and no walks.
AIKEN — A last-second three-point attempt came up short and the Francis Marion University men's basketball team fell to USC Aiken 73-70 on Saturday in Peach Belt Conference men's basketball action.
Francis Marion (3-9, 3-9) will return to action at home on Wednesday night at 7:30 p.m. against Augusta University. Attendance is limited to 250 and that includes only season ticket holders, FMU students with pre-acquired tickets, and player/staff family members identified on a pre-game pass list. No general admission game-day tickets will be sold.
Junior forward Langston Gaither, the nation's eighth-leading scorer, led FMU with 20 points, six rebounds, and two assists. He shot 9-of-18 from the field, including two three-pointers.
He was followed by his counterpart Holden Redparth who logged 19 points, nine rebounds, and three steals. Redparth shot 6-of-16 from the field and knocked down 6-of-8 from the charity stripe.
Patriot junior forward Uhana Ochan added a career-high 13 points and nine rebounds, while freshman guard Ja'Von Anderson contributed eight points.
USC Aiken (9-5, 8-4) was led by senior forward Anyeuri Castillo with a 17 point, 10 rebound double-double, and sophomore guard Donaven Hairston with 17 points, four rebounds and three steals. Senior guard Gus Rowland added 16 points.
The Pacers were first on the board, however the Patriots responded with a six-minute 12-0 run to take a 12-2 lead. USC Aiken didn't back down and battled back in the game with a 15-6 run to draw within one at 18-17. FMU then built its lead back up to five, 24-19, but USCA deadlocked things at 26 apiece with 5:00 remaining in the first half. The Pacers closed out the half going on an 18-9 run to take a nine-point lead, 44-35, into the locker room.
Francis Marion came out of the locker room and immediately chipped away at the USC Aiken lead. The Patriots held the Pacers to just one basket in the first five minutes of the second half, going on an 11-2 run and narrowing the lead to two at 48-46. FMU continued to battle back thanks to a three-pointer by Anderson to draw with one, 50-49. Then a quick steal by Anderson and a layup by junior guard Alex Cox gave the Patriots a 51-50 lead with 13:53 remaining.
Both squads continued to battle before heading into the under-12 media timeout knotted up at 55-55. USCA and FMU proceeded to trade long-balls before spending the next three minutes of play scoreless. The Pacers broke the scoreless streak and quickly built a 64-61 lead thanks to a couple of Patriot turnovers, but a quick jumper and layup by sophomore forward Darius Dawson gave Francis Marion a 65-64 lead with 3:17 remaining. A three-pointer by Castillo and a steal and layup by Rowland gave the Pacers a 69-65 lead.
The Patriots responded with a deep three by Gaither and a layup by Cox to gain a 70-69 lead with 59 seconds remaining. A blocked shot by Castillo led to a USC Aiken fast break that gave freshman guard Jalen McCoy a chance to give Aiken the lead from the free throw stripe with 17.5 seconds left. After knocking down both free throws, a Patriot turnover gave the Pacers the ball with seven seconds left, and sophomore guard Tehree Horn added two more free throws for the Pacers giving them a three-point lead (73-70) with 6.8 seconds left. FMU had a chance to force overtime, but a Gaither three-ball fell just short.
HARTSVILLE, S.C. - The Coker University men's basketball team dropped its Senior Day contest to Tusculum on Saturday by a score of 81-67.
Tusculum jumped out to a double-digit lead a few minutes in, before extending the lead further in the first half and taking a 54-26 lead to the break.
Coker would rebound for a better second half out-scoring Tusculum 41-27 in the frame, but the Cobras were still unable to catch up.
Coker shot 39 percent in the game, aided by two three-pointers. Williams Onyeodi led the Cobras with 20 points, while Anthony Thomas also added 10 points.
Eight other Cobras scored in the game, including senior Ja-Juan Victor who netted his first career points on Senior Day.
Courtney Murrell Jr. led the Cobras on the glass with six rebounds, while Anderson Keller dished out a team-high three assists.
The Cobras return to the hardwood on Monday at No. 19/22 Queens (N.C). Tip-off is set for 5:30 p.m., with video and live stats available at www.cokercobras.com.
HARTSVILLE, S.C. - The Coker University women's basketball team fell to Tusculum on Saturday by a score of 84-59.
Tusculum jumped out to a double-digit lead just past the five-minute mark of the first quarter, before taking a 29-14 lead to the second. The Pioneers extended their lead further in the second quarter, taking a 46-24 lead to the half.
Coker would win the third quarter 19-17, but the Pioneers maintained a double-digit lead headed to the fourth. Coker would keep things close in the fourth quarter, but the Pioneers held their advantage until the final horn.
Coker knocked down nine three-pointers in the game. Emily Davis paced the Cobras with 13 points while Raya Coley also had 10.
Hope Richardson led the Cobras on the glass with seven rebounds, while Coley dished out a team-high three assists.
The Cobras return to the hardwood on Wednesday at Newberry. Tip-off is set for 5:30 p.m., with video and live stats available at www.cokercobras.com.