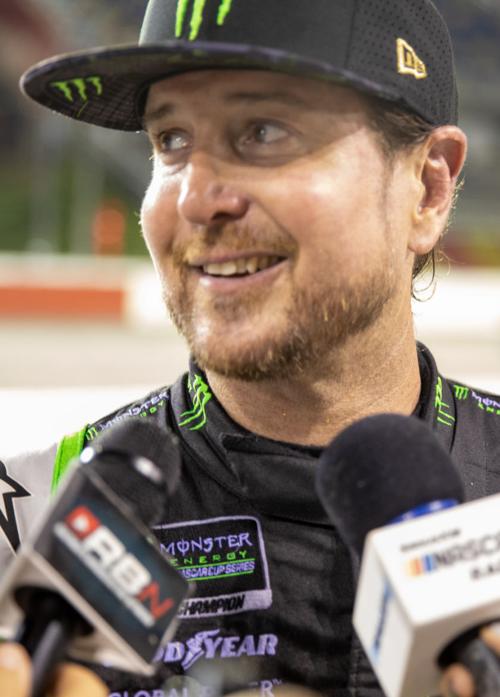 DARLINGTON, S.C. — Jimmie Johnson might have won the last Cook Out Southern 500 to be part of NASCAR's playoffs in 2004, but Kurt Busch was the one who hoisted the Cup points championship.
When it comes to the playoffs, Busch is a seasoned veteran, making his 14th postseason appearance (and eighth in a row) when the 71st Southern 500's green flag waves at 6 p.m. Sunday on NBCSN at Darlington Raceway.
Ranked 14th in this year's playoff standings, out of 16 drivers, Busch has his work cut out for him if he wants to win his second points crown.
One big boost to making up for lost track would be a win at Darlington on Sunday. If that happens, it would be his first. Sure, Busch is known for that harrowingly close runner-up finish to Ricky Craven in Darlington's 2003 spring race, but he has also come close in other instances.
In Busch's first Southern 500 in 2001, he started from the pole but placed 39th. He also started from the Southern 500 pole in 2004 (finished sixth) and 2013 (placed 14th). Although Busch has four top-10 finishes in his past five Southern 500s (his best being third in 2017), he has yet to win at Darlington.
With four top-five finishes and 14 top 10s this year, including third-place finishes at Fontana and the first spring Darlington race, Busch likes his chances this time around.
"I think we're in a good spot," Busch said. "We're in that underdog-type position. But also, the tracks that are coming up — Darlington, Richmond and Bristol — those are all my favorites. And the team needs to run well at those tracks, not get too far ahead of ourselves and execute."
Busch has two crown-jewel wins, already: The 2017 Daytona 500 and 2010 Coca-Cola 600. But Busch wants to add a Southern 500 win, which his younger brother, two-time Cup points champion Kyle Busch, already has from 2008.
"It would mean the world to me," Kurt Busch said. "It's a track I really enjoy running. I feel like I'm competitive every time I go there, but I haven't won. It's one of those challenging tracks — you love it, you hate it. But you have to respect the race track, and you have to do your job as a driver, communicating to the crew on what changes are needed. The pit crew has a large responsibility at Darlington because it is an abrasive surface and how the tires wear out there. But I want this crown-jewel race. I want to put this trophy right up beside my Daytona win and right alongside my 600 win."
Busch also talked about what it would take to win at place known as the Track too Tough to Tame.
"It's the way you have to race the race track and somewhat ignore the other cars while racing," Busch said. "It takes an old-school mentality. You race the track, stay patient and find the right setup and change and adjust to the track because the track changes constantly. It's one of the crown jewels, and it's one of the playoff races, so we're going after it strong."