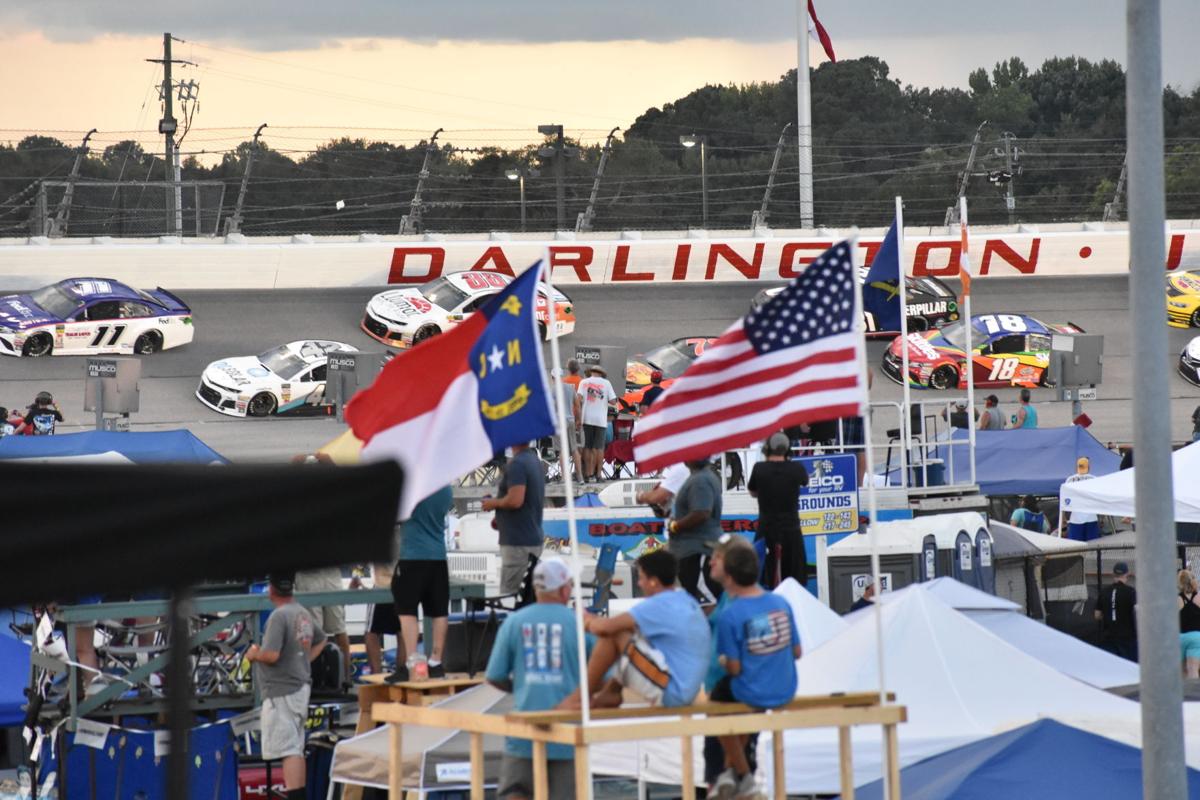 DARLINGTON, S.C. — It's possible that Darlington Raceway can host limited infield camping on Mother's Day Weekend (May 7-9), according to track President Kerry Tharp.
There will be a NASCAR race each day: Trucks at 7:30 p.m. on May 7, Xfinity at 1 p.m. on May 8 and a 310.6-mile Cup race at 3:30 on May 9. This is NASCAR's throwback weekend.
"We certainly are hopeful that we may be able to have a few camping in the infield, possibly," Tharp said. "I don't want to go too far on that. But there's a possible opportunity for that."
At Daytona International Speedway for Sunday's Daytona 500, limited infield camping is open for self-contained RVs and travel trailers (tent camping not allowed). Also, those self-contained RVs must have toilet facilities on board. 
Darlington is in the same ownership group as Daytona (owned by NASCAR).
"We're still working through the complexities of that as it relates to how we approach everything with our protocols," Tharp said. "What we had in place last fall, from a protocol standpoint, is going to be intact again in the spring, as far as temperature checks while coming into the facility, asking our patrons to wear masks, social distancing, those types of things.
"We're going to allow coolers into the grandstands in May, like we always have — except for last fall, when we didn't do it from a procedural standpoint," he added. "There are some things we still have to work out. Probably, in the next three to four weeks, we'll determine what our capacity is going to look like."
Up to 8,000 fans were allowed to attend last fall's Southern 500 with socially distanced protocols (no fans were allowed at September's Darlington Xfinity and Truck events). The normal grandstand capacity at Darlington is 47,000, and the 2019 Southern 500 was a grandstand sellout.
"I'd say the capacity in May will be similar to what we saw in the fall," Tharp said. "But we're still working through that with NASCAR, and with the state. But I'll tell you this. We'll host as many fans as we possibly can in a safe environment that is agreed upon by the public health agencies in the state and NASCAR."
Tharp talked more about fan access for May.
"Access to the garage and pit row for fans will be restricted in May," Tharp said. "We'll just have to wait and see for when that's able to take place again."
Tharp said the outside camping sites will be open for the May weekend.
"Last fall, the Petty and Pearson (Boulevard) outside camping was available for fans, and they will be in May," Tharp said. "Those are behind the frontstretch."
Tharp talked about other ways the track is getting ready for its first regularly scheduled spring races since 2014 (the 2020 May races at Darlington were scheduled after the season began).
"Once (the Daytona 500) starts, things start to happen very fast. We're selling tickets, and we're getting our marketing plans in order," Tharp said. "We've got our first pre-race organizational meeting with all of our support staff, law enforcement, fire and safety and those types of entities at the end of the month. And we've got some things we're doing on the inside of the track, making a few repairs here and there and making some repairs in the grandstands on some steps."
When it comes to tailgating, rules will be somewhat similar to last fall.
"We are allowing a little bit more. We are still asking people to tailgate with the people they came with," said Tharp, who added that works are still ongoing to secure main sponsors for each of this year's races. That's also the case with finding a grand marshal for May. "I think we're going to allow portable grills this time, and that was not the case last fall. There are some things we're trying to do to get back to where we were two years ago. But we're not totally there, yet."