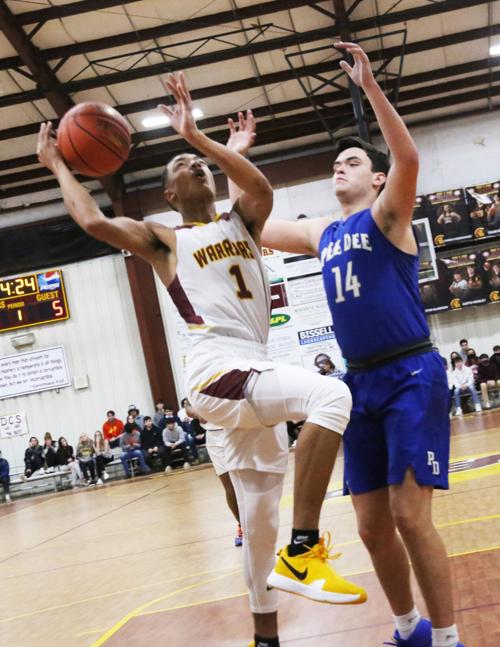 DILLON, S.C. – Supremacy in SCISA Region 3-2A belongs to Dillon Christian School alone – at least for now.
In a matchup of two undefeated teams in region play, it took overtime to decide whether the Warriors or Pee Dee Academy would hold the top spot after Friday night.
In the end, it was a clutch three-pointer by Adam Norman in overtime followed by a late turnover by the Golden Eagles that spurred DCS to a 63-60 victory.
Dillon Christian is now 12-3 overall and 7-0 in region play while PDA fell to 8-2 and 5-1. The two teams will meet again in Mullins in February.
The Warriors weren't quite as prolific from beyond the arc as they have been, but seemed to come up with clutch shots from downtown when they needed them. They only hit four in the second half, but one tied the game in the fourth quarter and Norman's shot in overtime gave DCS a 61-60 lead with 14.4 seconds remaining.
The Golden Eagles had one last chance to potentially tie or win the game, but a slippage on the floor led to a turnover and DeWayne McCormick iced the game with a scoop and ensuing score for DCS.
It was a nail-biting finish to what had a very closely contested game all night. PDA got off to a fast start and led by nine in the early going, but that lead had dwindled to five at the break.
The largest advantage for either team in the second half was five, and after trailing for most of the night, DCS took its first lead of the game with 1:59 left in the third quarter.
Neither team had more than a three-point lead throughout the fourth quarter, and the Warriors held a late 54-51 advantage. However, Cameron Weston sank an off-balance trey with less than 30 seconds remaining that sent the game into OT.
Weston finished the night with 20 points for PDA, trailing only Hudson Spivey who posted a game-high 26. Caleb Oakley added 10 for the Golden Eagles and was a force on the boards all game as well.
Colby Thorndyke was one of just two DCS players to reach double digits with 16 points. Cameron Sweat was the other with 10.
But the Warriors got contributions from all over as seven players finished with at least six points, including Norman.
Hudson Spivey 26, Cameron Weston 20, Caleb Oakley 10, Caulder 4.
Colby Thorndyke 16, Cameron Sweat 10, McCormick 9, Singletary 8, Brewington 7, Glassgow 7, Norman 6.
RECORDS: PDA 8-2, 5-1 SCISA Region 3-2A. DCS 12-3, 7-0 SCISA Region 3-2A.
NEXT GAMES: Pee Dee travels to Conway Christian on Tuesday while Dillon Christian hosts Christian Academy on Tuesday.
GIRLS
Pee Dee Academy 62
Dillon Christian 36
DILLON, S.C. – Ashley Martin posted a game-high 20 points and Lizzie McCaskill finished with a double-double as the Golden Eagles cruised past the Warriors.
McCaskill finished with 17 points and 20 rebounds for PDA, and had a strong third quarter with eight points to lead the team.
PDA had five other players reach the scoresheet, with Abby Johnson's eight points leading the way.
The Warriors also had a pair of high scorers in Katie Collins and Briannon Brewington. Collins led DCS with 17 points and Brewington finished with 13.
Thirteen of Collins' points came in the first half while all of Brewington's were scored in the second, and the list included a trio of three-pointers.