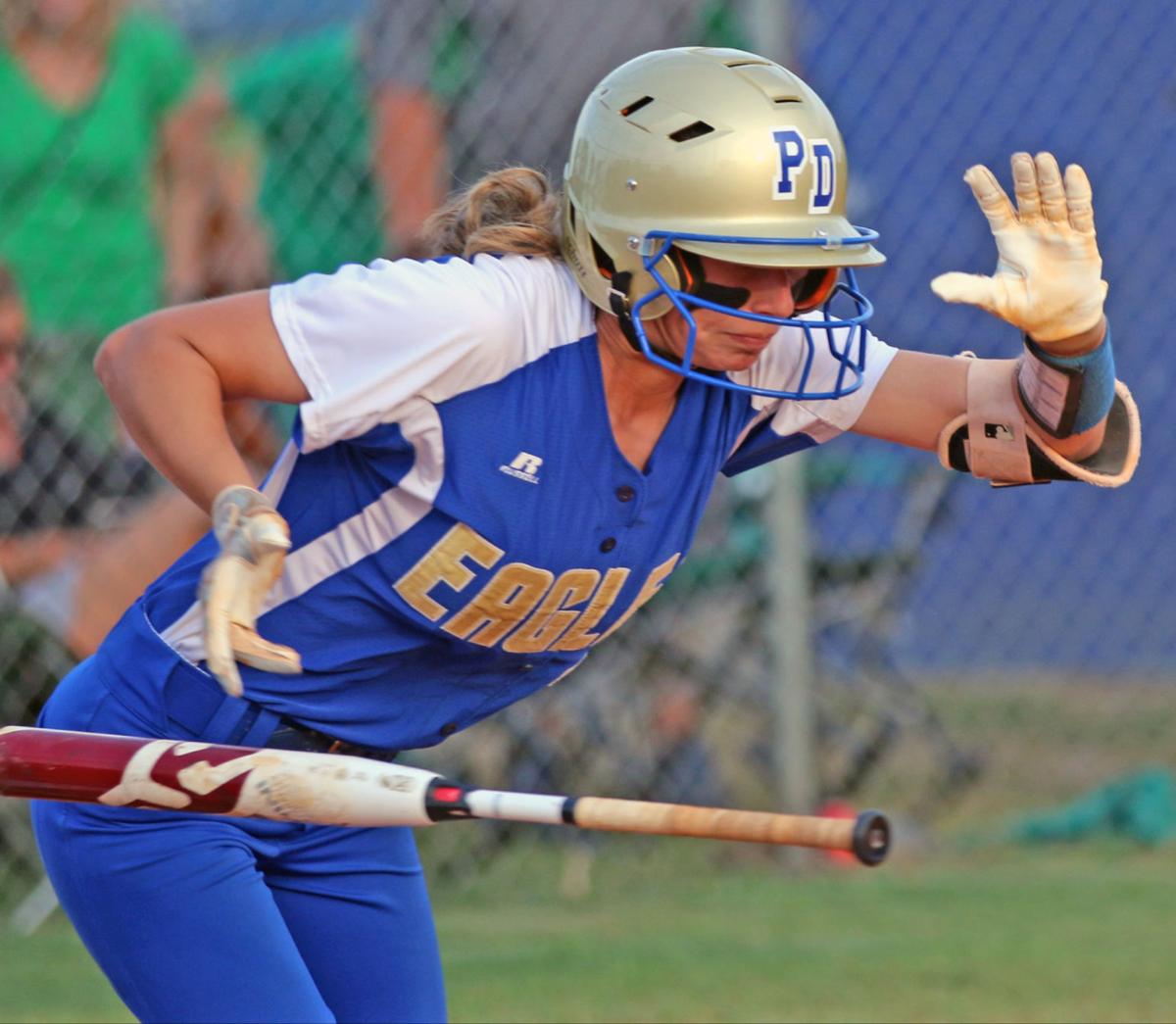 MULLINS, S.C. – After three close games against Williamsburg Academy, Pee Dee Academy made sure Monday would not be decided by one run.
With Lacey Johnson's swing – or more precisely, a tap – the Golden Eagles soared to a 5-0 lead in the first inning and won 6-4 in Game 1 of the Class 2A state softball championship series.
With every big postseason play, there's a big back story. This lead-off bunt was no different.
"(Johnson) doesn't like to swing at the first strike – ever, bunt or strike," PDA coach Bill Rogers said. "But I told her, 'You've got to bunt or strike at it.' And, she put one down. That's the first time all year she swung at the first strike."
Teammate April Lewis followed with a single that was then misplayed, and Johnson scored to make it 1-0.
"That was a good spark," Rogers said. "When (Johnson) gets on base, we always have a good chance."
Anna Grace Johnson's RBI single and Bailee Elvington's run-scoring double then made it 3-0. After the Stallions made the change at pitcher, substituting Kinslee Wilson for starter Madison Lamb, the Golden Eagles added two more runs with an RBI single from Lauren Eskridge and RBI double by Brittany Moore.
In the top of the first, Pee Dee Academy also set the tone as Williamsburg Academy tried to start a surge of its own. But after Wilson singled to start the game, she was thrown out at second by catcher Anna Grace Johnson.
The Stallions, who recently won state titles in 2015 and '16, were not about to go away. After one runner scored on an error in the third, Kendall McKenzie followed with an RBI single, as did Madi Wadford.
But the Golden Eagles responded in bottom of the third with Eskridge's second run-scoring single of the night.
Elvington, the winning pitcher, went the distance while striking out three.
"She's a competitor," Rogers said. "She fights and will never give up. She changes speeds, she's really good. She just did a fantastic job tonight."
Game 2 is 7 p.m. today at Williamsburg Academy, weather permitting. And if Game 2 is able to be played today and the Stallions win, the third and deciding game is scheduled for Thursday at a time and place to be determined.