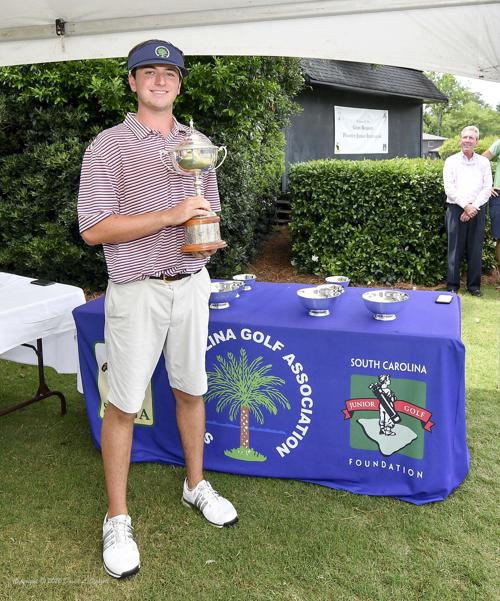 FLORENCE, S.C. — Drew Harrill will have more memories about winning the 69th annual Grant Bennett Florence Junior Invitational than just the trophy.
After his tap-in for par clinched the championship, he was greeted by more than just his grandfather, who had been with him all week. His parents drove down from Spartanburg, and his grandparents drove up from their vacation house in Litchfield Beach.
It was Harrill's ideal ending after two ideal rounds that elevated him to his first victory in a South Carolina Junior Golf Association event.
Harrill finished the three-round tournament with a 12-under-par 201 for a six-shot win over first-round leader, Max Green, of Hilton Head Island. An eagle on the penultimate hole in Thursday's second round gave Harrill the lead, one shot ahead of Green.
It was a lead Harrill never relinquished, as Green scored a 72 and finished with an overall 207.
"I don't have the words right now, to be honest," said Harrill, who carded five birdies and a bogey during Friday's final round. "It's unlike anything I've ever felt. There's a whole bunch of emotions going on."
Harrill's celebratory plans are rather simple.
"I think I'm going to take a long nap, first," he said with a laugh. "Then, at home, I'll hopefully get a big meal."
Harrill's feast on Florence Country Club's par-71 layout started after he converted an up-and-down to par Hole No. 1.
"I was out of place on my driver, so I knew I needed to make par to maintain that one-shot lead from the day before," Harrill said. "After that, I was ready to make birdies and grow that lead."
That happened with birdies at Nos. 2 and 3.
"That was a big momentum change. That put me 3 up," Harrill said. "It felt good to have a little bit of cushion."
When leaders are in the same group on the final day, they sometimes resort to a match-play mentality.
Not Harrill, who in match play last year lost 3 and 2 to none other than Green in early round play of the SCJGA Match Play Championship.
"I still needed to play my game today. If I wasn't playing against the field, I was playing against the course," Harrill said. "So, I took it one shot at a time and saw what the score added up to at the end."
After Harrill's lone bogey of the day, at No. 6, he took command with birdies at 8 and 9.
"(Green) was in pretty tight on nine, so I knew I needed to make a birdie," Harrill said. "And, he missed the putt (to make par). That's when I knew three shots was a pretty good cushion, and it kept growing from there."
While Green bogeyed Nos. 12 and 13, Harrill remained steady and even birdied 14 before parring the rest of the way.
Then came the moment of truth for Harrill at No. 18.
"I had an eight-foot birdie putt, straight up the hill, and a lot of thoughts were running through my mind," Harrill recalled. "How would I react if I made it? How would I react if I missed it? And it hit the right lip of the hole, but that left me for a three-inch tap-in I could make."
After that went in, Harrill was jubilant.
"It was more of a relief after I made it," he said. "I knew it was over. I was excited that I didn't have to be nervous anymore. I was super nervous before the round. But now, it's just joy."
There was a three-way tie for third at 210: Beaufort's Jerry Bruns and Woodruff's Trey Howard and Daniel Brasington. Last year's Grant Bennett champion, Pake June, of Florence, was the highest local finisher by tying for 13th (217 total).
Mount Pleasant's Dallas Johnson won the Boys' 13-14 division with a 223 over Walker Felton (224), also of Mount Pleasant. Pageland's David Oliver IV scored a 71 Friday to climb into third place with an overall 225.
In the Boys' 11-12 class, Columbia's Owen Atkinson won. He was followed by Moore's Will Ruth.