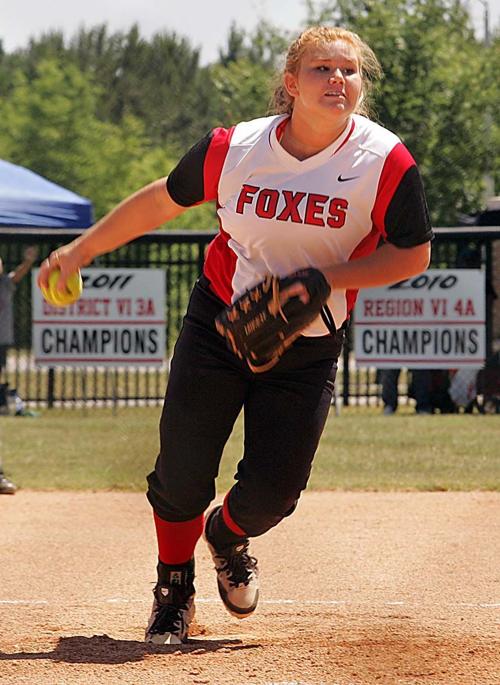 Hartsville High School pitcher Cayla Drotar has a state championship softball ring.
She has twice been named the South Carolina Gatorade Player of the Year, and four times the Morning News Player of the Year. Not to mention, she has already signed with the University of South Carolina.
Drotar isn't satisfied, however.
First of all, it has been a while since she earned a state championship ring – her eighth-grade year, to be exact. Her Red Foxes lost in the past two Class 3A state final series.
That just makes Drotar hungrier to chase a second ring.
"Oh my goodness, that'd be amazing," Drotar said. "We should have won the past four years, but you have times like that. It'd be amazing. I'd love it. It'd be the best thing ever."
Last season, coincidentally, was Drotar's best ever at Hartsville. She went 21-3 with a 0.68 ERA and struck out 209 batters in 143 2/3 innings. At the plate, she set school records with a .635 batting average to go along with 14 homers and 62 RBI.
Make no mistake, though. Drotar is known mostly for her performances on the mound.
And she has the awards to show for it.
"It's an honor to get those awards," Drotar said. "I'm humbled to get those awards, but I'd love another ring. I got one in the eighth grade, but it would really make it great if I got one with this team because I grew up with them through travel ball and rec ball."
One more thing enthuses Drotar about the season: She's healthy.
Before the 2014-15 school year, she injured her back in a California tournament and could not play for six months. Although she was cleared to play in January 2015, she had missed a lot of offseason conditioning.
"It took a lot of work off the softball field and inside the facility every day trying to get my speed back," Drotar said. "This year, I think I'm ready. I think I have the full mind that I'm going to go out and get everybody.
"This year, I'm just thinking in my mind that everybody needs to watch out."
With that mindset, Drotar has still found ways to improve, mainly with her screwball.
"Whenever I started softball, the screwball was my dominant pitch," Drotar said. "But when I was 12, it fell off and my curveball was my best pitch. So my screwball has improved tremendously."
And she also has improved as a leader.
"It has its good and bad times," Drotar said. "You know, you have to also do your job and help everybody else in the process. You don't want to do bad and get on everybody else while you're not doing your part. I just feel like if I can keep believing in myself, I can lead these girls in the right direction."
Then there is the process of what Drotar goes through on the mound.