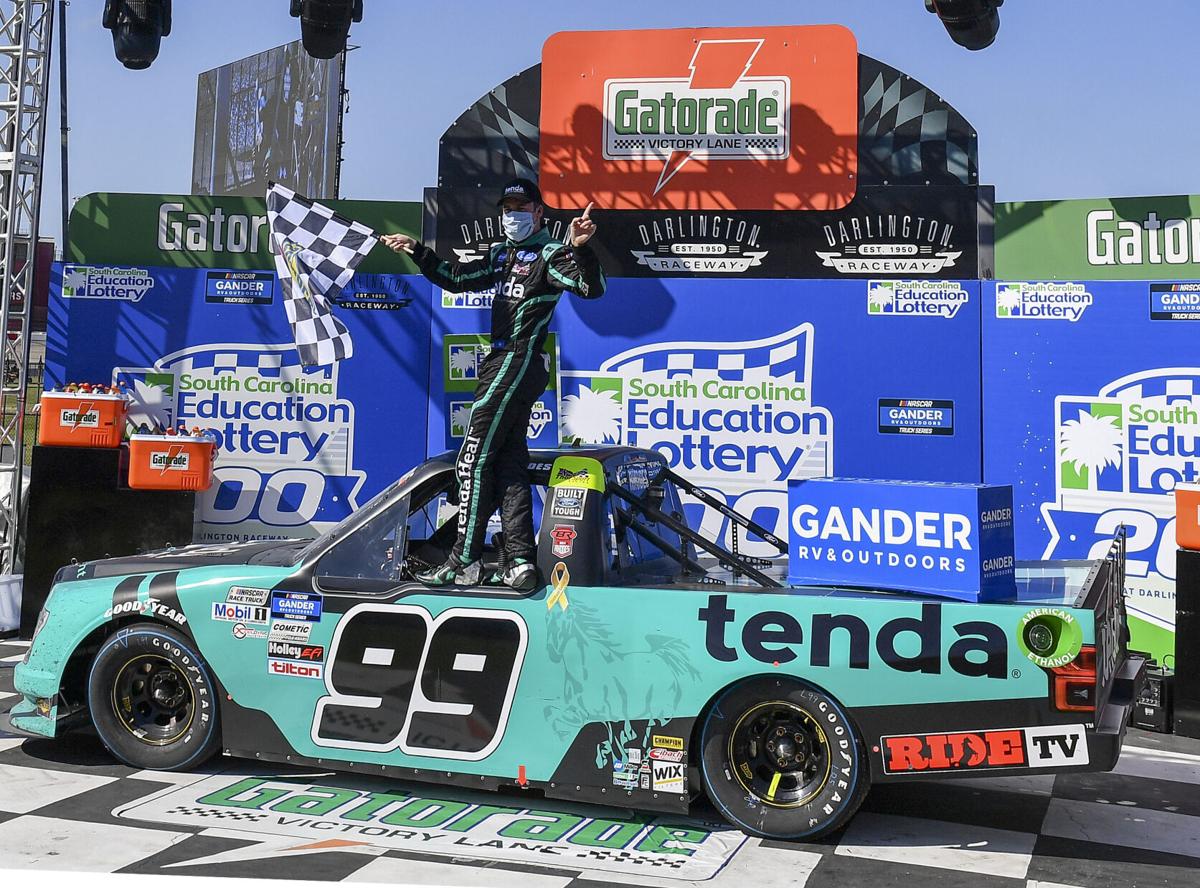 DARLINGTON, S.C. − Ben Rhodes won the South Carolina Lottery 200 on Sunday at Darlington Raceway in overtime.
Rhodes led twice for four laps, and this is his first win since June 2018. In between was a 48-race winless drought in the Gander RV & Outdoors Truck Series.
"That was a lot of fun," he said.
The green-white checkered occurred after a crash that involved David Ragan and Josh Reaume with two laps left. After that, many drivers – including then-leader, Sheldon Creed – chose to pit for four tires.
Meanwhile, Rhodes took a gamble by staying on the egg-shaped oval.
"Gosh, that was a tough win. We weren't the best truck all day," Rhodes said. "I was actually really disappointed when the caution flag came out, because we were in fourth place and I felt like we were in a pretty good spot. I knew we'd be in the playoffs with that. But I'm not letting this checkered flag go; it's been a long time coming. I'm so proud of this team for staying consistent."
Once overtime started, Rhodes passed beside Derek Kraus on the backstretch heading into the penultimate lap. Kraus did hold on to finish second. He was followed by Austin Hill, Grant Enfinger and Christian Eckes.
Two-time Southern 500 champion Greg Biffle, meanwhile, finished 19th.
There is one week left in the trucks' regular season, but the playoff picture is clearer. Rhodes' win locked him in the playoffs. And, Eckes and Brett Moffitt also earned spots in the 10-driver postseason field.
On Sunday, Creed led 82 of the event's 152. But a speeding penalty on pit road nixed his chance at taking the checkered flag after his team elected to pit under the final caution.
"That one hurts," Creed said.
Creed took the green-white-checkered flag in Stage 2, and Moffitt battled off Hill and Creed for the Stage 1 victory.
But Rhodes walked away with the day's most important stage victory.
"We come here with no practice and never being here before and we were able to get the win," Rhodes said.