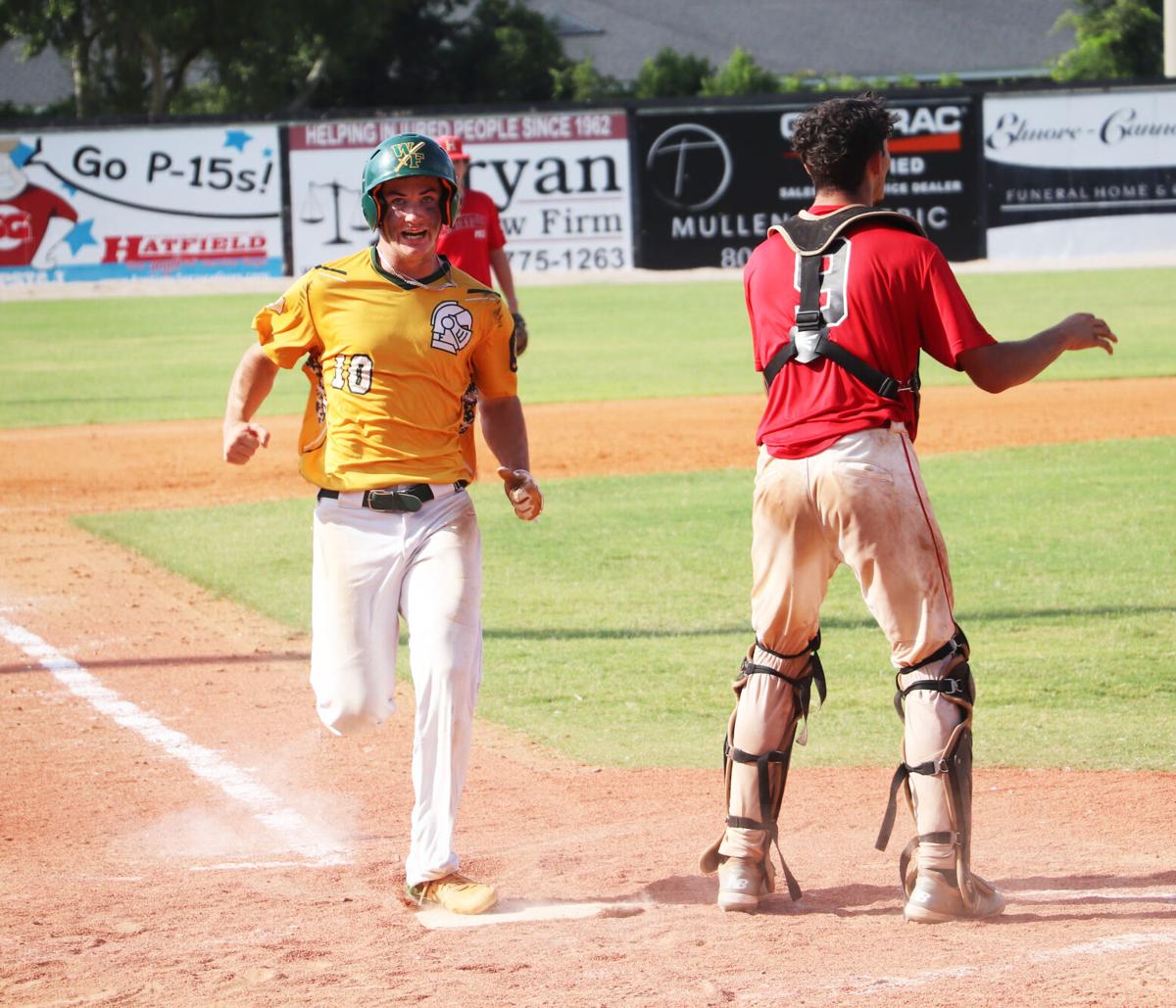 SUMTER, S.C. — The momentum shift was drastic and it was almost instantaneous.
After Hartsville Post 53 mounted yet another comeback (this time from six runs down), West Florence Gold's season was in serious jeopardy of ending Wednesday evening at Riley Park.
But West was able to work around a bases-loaded jam in the bottom of the seventh inning – and carried that momentum into its next at bat as Hartsville's pitching reserves finally hit a wall.
The result was an 11-7, eight-inning victory for WF (18-3-1) as it advanced to Thursday's Junior Legion State Tournament championship game against Fort Mill at 10 a.m. West only needs one victory to earn the title after Hartsville (14-6) knocked off Fort Mill earlier in the day 3-2.
But Post 53 could not overcome WF in either game this tournament. After rallying from 12-1 down in the bottom of the fifth of Sunday's game, West still pulled out a 15-13, 10-inning victory.
"The kids have done it all (tournament)," WF assistant coach Joe Edick said. "We haven't had all of our coaches because of work and things like that, but they've been able to do a lot of it on their own.
"But that seventh inning was everything."
With the score tied 6-6, Hartsville got its first two runners on via error and a walk. Post 53 had runners on second and third with one out when West decided to intentionally walk the bases loaded.
The strategy worked as WF brought the infield in and got a force out at home plate before a flyout to right field ended the inning and the threat.
"We had a runner on second with no one out in the bottom of the seventh and unfortunately weren't able to bring him in," Hartsville coach Joseph Star said. "We followed the game plan – didn't do anything different and it didn't go our way.
"…We threw everything we had at them and didn't hold anybody back and unfortunately came up on the short end."
West began the top of the eighth inning with seven of the first eight batters reaching. A throwing error on a pickoff attempt helped Camp Keels score the go-ahead run on Brock Shelor's sacrifice fly and WF was able to tack on four more from there.
Brody Cook walked with the bases loaded and Carson Haynes and Keels each singled home runs in the inning as well.
Post 53 added a run in the bottom of the eighth on John Alexander's RBI single, but that was all for Hartsville.
It was a bittersweet ending following another unlikely comeback. West plated six runs in the top of the second inning thanks to five hits, two hit by pitches, a walk and a wild pitch.
But that was it for WF as Hartsville's bullpen put up zeroes until the eighth. Daniel Parker went 5 1/3 innings and struck out four in relief.
West meanwhile had to use Coleman Kelly for 3 2/3 innings of relief as well. He picked up the win after striking out five and walking four – allowing just two hits.
Mac Sawyer tossed the first 4 1/3 innings for WF. He allowed six runs, but only one was earned as West committed three crucial errors behind him to help Post 53 claw its way back.
Kelly had four hits to lead West at the plate followed by Keels and Shelor with two hits each. Kelly drove in a pair as did Andrew Love with a two-run double in the second.
Jackson Moore collected three hits for Hartsville and an RBI.
In the earlier game against Fort Mill, Moore's sacrifice fly in the bottom of the third proved to be the difference. He drove in two while Daniel Parker was 2 for 2.
Cole Winburn was stellar on the mound – tossing all seven innings and allowing two runs, one earned, on four hits with five strikeouts and three walks.