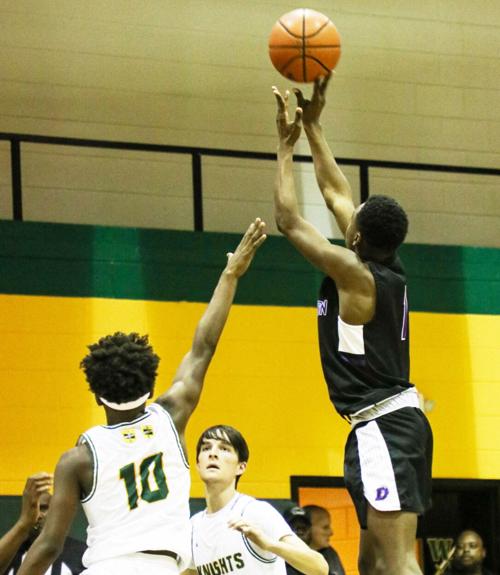 DARLINGTON, S.C. — Darlington High School is the defending Turkey Shootout champion, but defending that title is not the only thing on Falcons coach Anthony Heilbronn's mind.
After the pandemic did not allow teams to have much of an offseason, a start to the 2020-21 campaign is this six-team, three-day Turkey Shootout which begins today at West Florence High School and has one game Tuesday at Darlington.
Heilbronn's team, which begins tournament play against Lancaster at 6 p.m. today at West, sees game situations as the best way for his Falcons to prepare for their Dec. 8 region opener at defending Class 4A lower-state champion, Myrtle Beach.
"For me, you can't simulate what you can get from a game in practice, going against each other. You don't get after it the same way," Heilbronn said.
Whatever game experience Darlington can get, the better.
"I know for me, it's a relief we're even able to play right now," Heilbronn said of the tournament, which was originally scheduled to have eight teams. Now, it has six due to teams backing out. "Before we started practice, I hadn't been able to see my guys since we were put out of the playoffs last February. We had no offseason, no fall workouts, it was tough.
"With COVID-19, we're just excited to get to practice and have an opportunity to practice this week."
The Falcons began practice Nov. 2, but did not get the majority of their starters, including last year's tournament MVP Deuce Hudson, until Nov. 9 because of football season. The other three Darlington starters who finished the football season were Tre'Quan Scott, Qua'liek Lewis and Daniel Perkins. Perkins, however, broke his arm in football season against West Florence, so he has a cast on until early December.
Key reserve from last year, Jonah Ham, suffered a torn ACL the night before team tryouts, and Keenan Dubose is coming off a hip injury.
With that in mind, Heilbronn has to coach those he has available.
"Our big thing is we want to get three games where we can improve each night," Heilbronn said. "We play Lancaster the first night. And we don't know anything about them, other than they're also a Class 4A team. That's it. Then after that, if we win, we possibly can play Marlboro County. And then, if we win that, we have the chance to play, possibly, either West Florence or (three-time defending Class 2A state champ) Gray Collegiate."
Be the first to know
Get local news delivered to your inbox!